What do you call jetlag when you experience the same symptoms but no jets are involved?
"Jetless lag," our editor Brooke Herron interrupted.
Our team broke out into hysterical laughter.
But it was a serious problem we were suddenly confronting, and the word, along with the entire digital conference experience, needed some defining.
In very short order, we would be digitally exhibiting at and covering the American Society of Cataract and Refractive Surgery (ASCRS 2020) Virtual Meeting — from our base in Asia-Pacific.
For many of our team members, that meant networking, promoting and doing live coverage of the show at, or near a 12-hour time difference. You might say we'd all suddenly have 9-to-5 jobs over the weekend (9 p.m. to 5 a.m. local time, to suit the 9 a.m. to 5 p.m. Eastern Standard Time meeting).
Additional factors would make this an even more grueling process.
First, we would be publishing digital "show dailies" — what amount to ophthalmology congress newspapers, where you typically start with blank pages in the morning (well, in this case, evening), and need to complete a full newspaper by the end of the "day." This happens in sequential days over the course of the congress, such that your team virtually turns into an actual newspaper publisher. Now, we were actual newspaper publishers . . . virtually.
That meant we'd be adding a few elements. We would create video collages of the ASCRS event on the fly, to be inserted into our show daily e-blasts. We would create content that would filter directly to our online news site. We would still create our standard show daily e-books. And in between all of that, we would be posting regular updates on social media to reach our thousands of fans… mostly to feed off their support to get through the night.
What quickly became apparent was our shophouse in Da Nang, Vietnam, became a mini virtual conference center. Laptops were strewn about — the kitchen dining table, the front office workspace and couches — but all were tuned into different sessions at ASCRS Virtual. Much like in a convention center, people were going and coming at all hours — some to go take a nap at home in between sessions; some just getting in from taking in a late-night live show at "The Workshop" down the street, which is an artists enclave; and some, by sheer willpower, pushing through to yet another media task at dawn.
Needless to say, we learned a lot that weekend (yes, all this was over a weekend!). Below, I've rounded up my Top 10 list of what to expect when you're expecting a digital exhibition.
Top 10 Things to Expect at Digital Exhibitions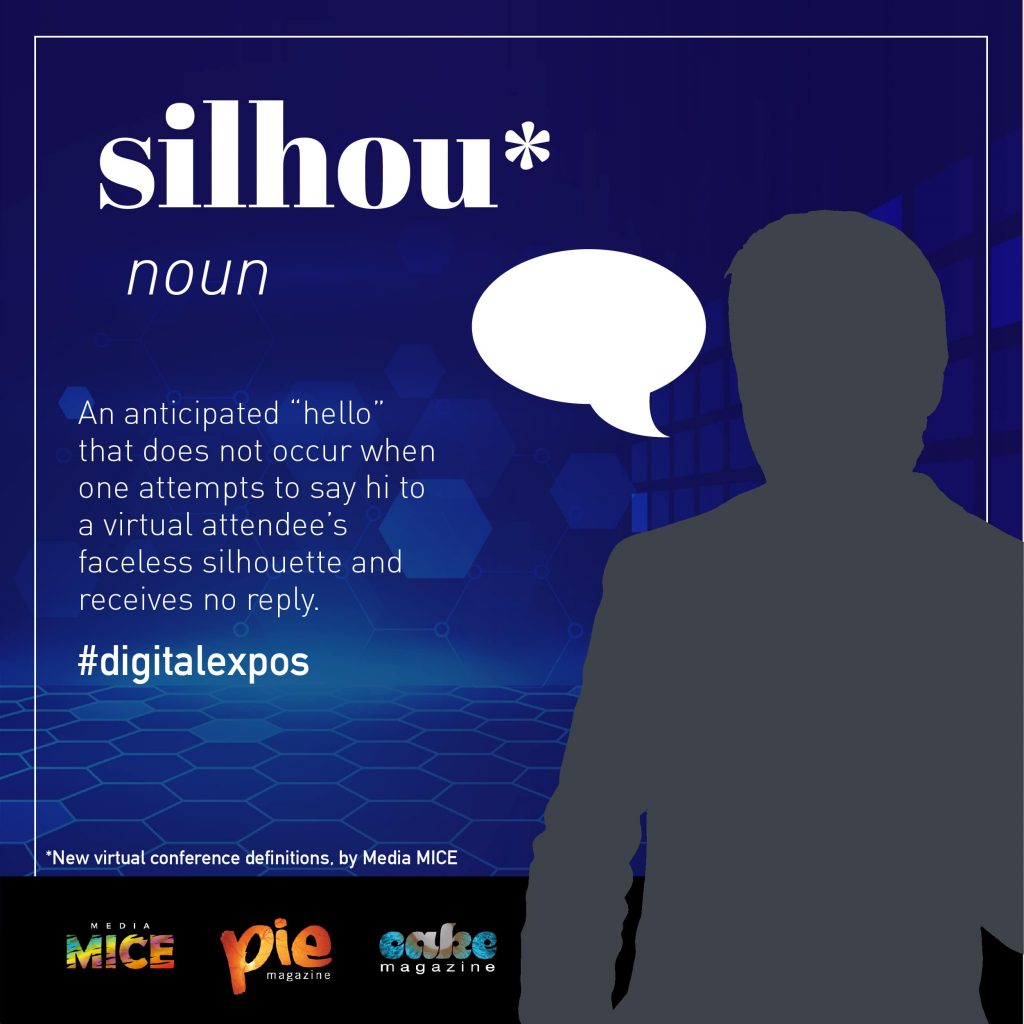 Intense engagement. You'll be glued to your seat more than you expect. There's a lot going on during a digital congress (these are not the same as mere "webinars"). You have symposiums you want to attend. You have networking sessions you'd like to be a part of. You have contacts you'd like to make. There's an exhibition hall you'd like to explore. And you probably have to do this all in a curtailed exhibition environment, because these aren't going to run 3, 4 or 5 days like they used to. Time is of the essence. Others might not be glued to their desks the whole time. That would be a mistake.
Nervous energy. As mentioned, our shophouse is at my home. And yet I experienced the same nervous energy surrounding our home-based conference activities I experienced during a standard convention. While it was more convenient to stay home and not have to travel a far distance, other factors made this more challenging. There was no real upside of seeing friends in person, which exude support and assuage doubts. You are in your bubble, and while in our case teammates were around, everyone was extremely busy doing their own thing. So there was a strange mix of conference adrenaline, and often there was nowhere for that adrenaline to go other than right into your laptop, which isn't the same as an engaged person.
To be wired. Make no mistake, this is a paradigm shift in conference attendance. The entire experience is digital. If you're not used to playing video games, it can feel like you are suddenly totally "plugged in" and "wired." This is a shift that is happening in the world around us. Coronavirus encouraged us to engage with our devices more than ever before. There is talk of man eventually becoming a machine. But this is one more step along the way in which your work life becomes almost completely digital, save for the breaks because nature still calls.
Creativity. Because you are exploring a new digital frontier, you are going to be in a new environment. No real creature comforts to be had here, despite the home-based amenities. Those are a mirage. You're a digital animal, exploring the binary wilderness of 1s and 0s for quite possibly the first time in this scenario. New thoughts will come to you. From there springs an idea. Suddenly: Fire! Fire good! But it's not about creating actual fire, as in the woods of yesteryear. That's the fire in your mind. Embrace it.
Jetless lag. As briefly explained above, you're not getting on a flight, but if you plan to attend a digital conference across multiple time zones, be prepared for some odd hours. Many of our team members started shifting their sleep cycles days in advance to prepare. Digital conferences almost certainly are going to be held at inconvenient times for many people. Are they worth attending? Absolutely. Do you need to crack a red bull to get through it? Absolutely. 
Missed connections. Digital conference communication software is in its infancy. I completely overlooked this prior to ASCRS Virtual. I assumed that one could casually agree to meet at ASCRS Virtual, and it would be as easy as stopping by a physical booth almost anytime to meet up and either have an ad hoc meeting or make an appointment for another time. That was absolutely not the case. One of the trickiest parts of a digital conference — we have observed — is setting valid meeting appointments within the virtual venue. One can set an appointment in advance by offering to Google Meet, Zoom or have an old-fashioned call. And in virtual terrain there are ways — but unfamiliar to users and possibly just not used by many. When in congress cyberspace with everything going on, there has got to be a better way to "exp" (send a text message in a virtual expo, per our virtual exhibition definitions by Media MICE) and easily meet up. Otherwise, prepare to be "silhoued" or "schedultated" — see our accompanying digital conference definitions.
You'll want a set of "trous". Admittedly during ASCRS Virtual, I wore shorts that didn't match my colorful blazers for the obvious reason — the chest-and-up video interviews. Being a stylish guy, but also moderating from 99°-Fahrenheit-Vietnam (that's 37° Celsius), I chose the half-measure. But, given that I design my own funky tailored suits, I am definitely getting matching sets of "trous" for the next digital conference (trousers that have been cut in half to be worn more comfortably on business webinars without anyone realizing it — also per our new digital exhibition definitions).
Sales change-up. The sales game has changed. You're not going to be able to press the flesh to seal the deal. You can't expect delegates to walk out of a corporate symposium, all jazzed up, and straight to the relevant booth to make a purchase. Instead, you're going to have to adjust to figure out how to sell digitally. Hopefully, the digital conference organizer will help. But unfortunately, they have relied on floor space sales since time immemorial. Societies and organizers are out of their digital league here. Does it mean you give the virtual meeting a pass? No. There are few if any physical conferences still happening currently. So what else are you doing with your day? You still need to stay connected. You still need to work whatever sales angle you can. You still need to show up with your digital booth and suggest that you're all well and good, despite the pandemic. The more you pivot digitally now, the better off you'll be not only currently, but for when hybrid meetings come into play in 2021. You'll need to be ready to exhibit and attend both virtually and physically. Why not get the learning curve over while you have nothing better to attend?
Innovation in communication. For years, I've been preaching innovation in ophthalmic communications, and often I've gone to extremes to make a point. I've worn banana outfits — to say the least — in a sea of conservative suits. What's clear now is that digitally, traffic and eyeballs are more important than ever. We have witnessed the All India Ophthalmological Society (AIOS) membership wear strange hats during a webinar just to stand out and be different. What seemed crazy before now has logical impact and ROI. Boring methods of communication will continue, to be sure. Victory goes to those who think outside the booth, physically at least, and explore new creative terrain in the digital realm. 
Financial loss. I said expect it, and then look forward to the upside. No way 2020 gets back on track financially for the vast majority of companies. But, what if 2021 or 2022 is brighter because we not only have a physical space to engage one another, but we now also have refined virtual spaces? That's eventually more connections. That's eventually more engagement. That's eventually more sales. We should not hope so. Together, we should make it so.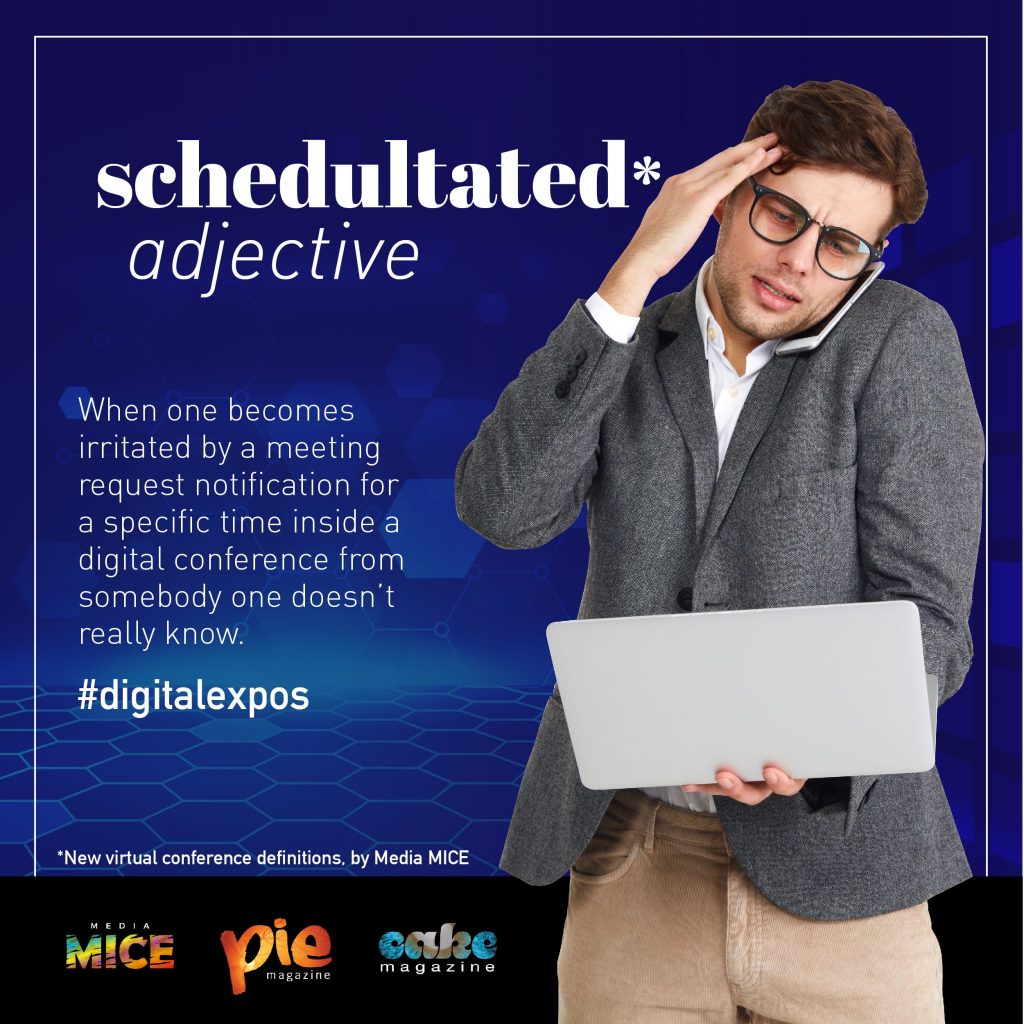 Stepping It Up
Home has returned to normal. There are no more conventions here — at least not until the World Ophthalmology Congress (WOC), where we have been named Media Partner and are anticipating yet another "home-based" congress. At least we'll be covering a more civilized time zone from Asia this time.
Warren Buffet once said, "Be fearful when others are greedy and greedy when others are fearful." Based on that, my final advice is: Now is a great time to be greedy, and get involved in as many digital exhibitions that you can afford while the competition is busy attending nothing.
EDITOR'S NOTE: The ASCRS A2020 Virtual Annual Meeting — the world's first-ever successful virtual ophthalmic conference — was held on May 16 to 17, 2020. Reporting for this article also took place during the virtual ASCRS 2020 conference, where CAKE Magazine's parent company, Media MICE, was the only company exhibiting independent media.