DOC stands for the International Congress of Germany Ophthalmic Surgery, or in German, Internationaler Kongress der Deutschen Ophthalmochirurgie. And for its 35th year, DOC was held on June 15 to 17 in Nuremberg (as always).
In my mind, I had imagined it as a big German conference that happens sometime during the year. But during the annual meeting of the American Society of Cataract and Refractive Surgery (ASCRS 2023), Christian Eggert, director of marketing and sales for HumanOptics (Erlangen, Germany), while stopping by our Media MICE booth, really encouraged me to visit the DOC.
I thought: This is the year I have to go.
And by the time I was through, I was convinced it was the "mini ESCRS" of Europe. Except for possibly European Society of Retina Specialists (EURETINA), I had never been to an exhibition that size in Europe outside the European Society of Cataract and Refractive Surgeons (ESCRS) congress.
Several factors perhaps contribute to this. First, Germany is a hotbed of ophthalmic innovation worldwide. Second, the congress always is in Nuremberg, so there's likely a steady understanding of what it's going to be like year after year, which helps in planning. Third, surgeons in countries that can afford the latest innovations are present. Fourth, delegates from other nearby countries — Austria, Switzerland, and some farther afield — all show up.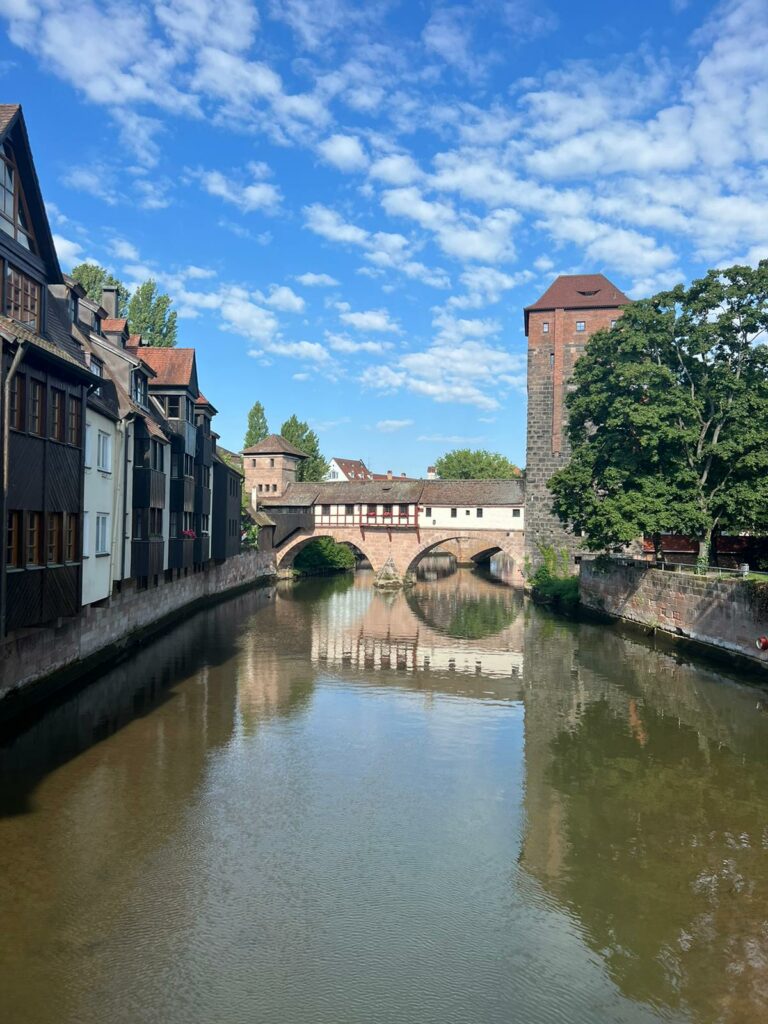 As for me, why I'll be coming back now year after year: The show floor greeting was one of the warmest in recent memory. It was as if no one expected me to come to a largely German-speaking show. But the fact that I did, m'eye friends were overjoyed. And it was so endearing to see the delight on their faces.
Here are a bunch that I got to meet there, and I'll run through them real quick as 50 is a lot!
Christian Eggert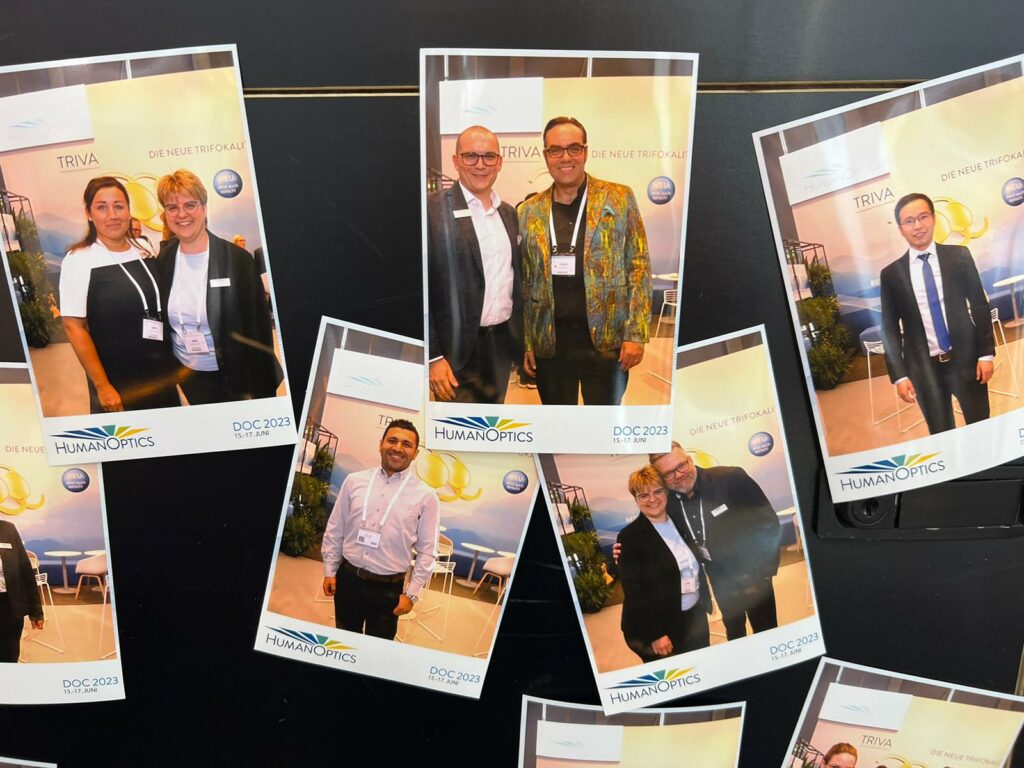 As mentioned, Christian is the man of the hour — or the article — for encouraging me to get over to DOC. He's also helping to revitalize the image of HumanOptics in our field, which is doing important work. Yes, they have trifocal lenses and premium IOL solutions, but they also have the very novel CUSTOMFLEX® ARTIFICIALIRIS — an iris prosthesis for medical and aesthetic reconstruction of eyes with complete or partial aniridia. Look for more innovations in this space from HumanOptics (Erlangen, Germany) to come.
David Ortner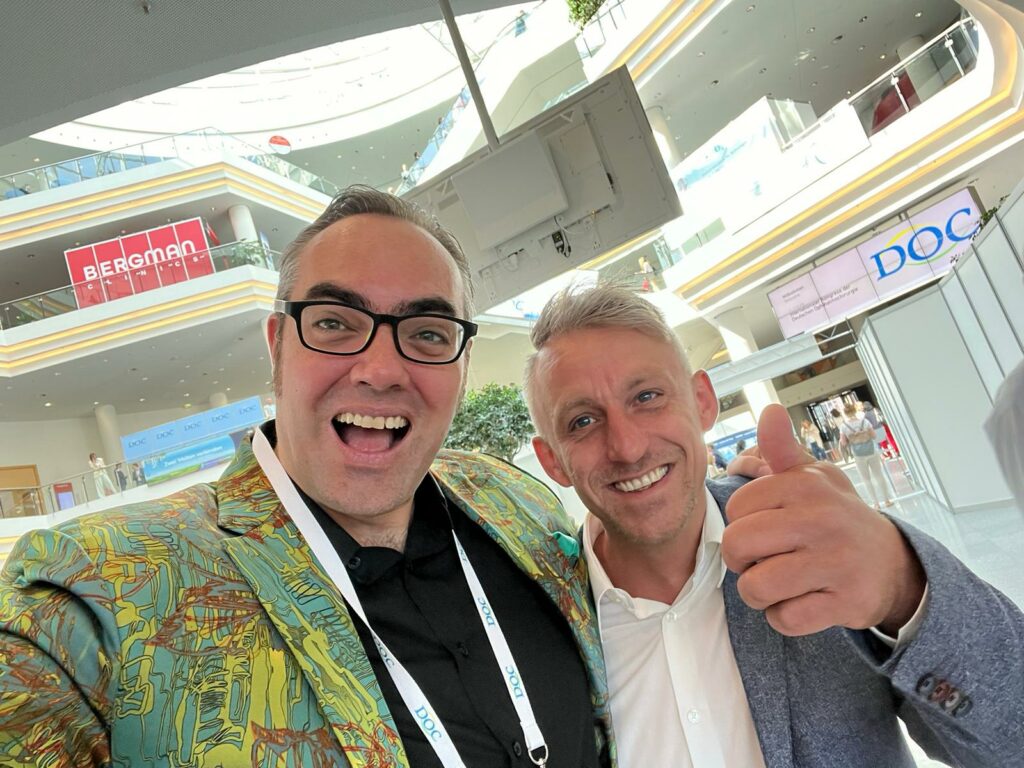 David is the CEO of eyecre.at GmbH (Kematen, Tirol, Austria), a leading design and manufacturing company for ophthalmic wet lab equipment and solutions. David showed me one of the most innovative ideas I saw at the DOC. It's called STOW, and it was parked outside the convention center. STOW stands for Surgical Technology on Wheels, a charity that has a groundbreaking mobile treatment solution — on a bus — engineered for deployment in regions like Ghana. 
Dr. Liliana Werner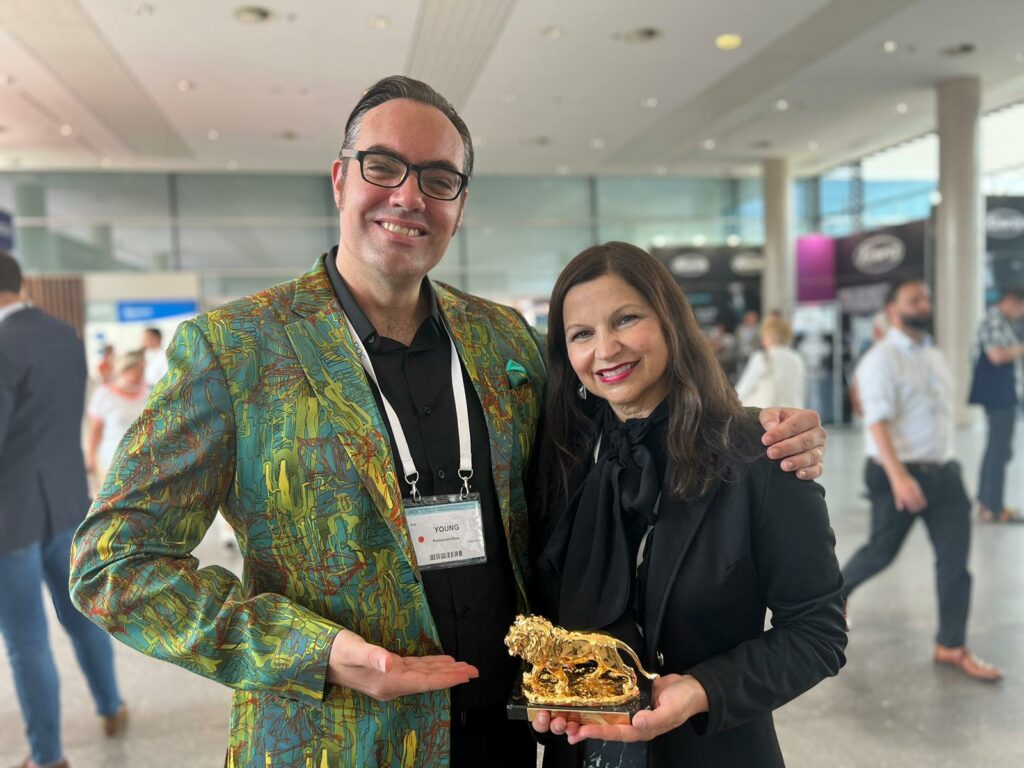 Liliana, a friend for many years, is one of the most award-winning ophthalmologists I know, and she won another at DOC. In addition, she presented the Richard P. Kratz Lecture — Dead Bag Syndrome: Pathological Background and Clinical Impact of a Neglected Entity. Dr. Kratz was an early advocate of phaco and IOL implantation, and once upon a time a student of Sir Harold Ridley.
Dr. Detlef Holland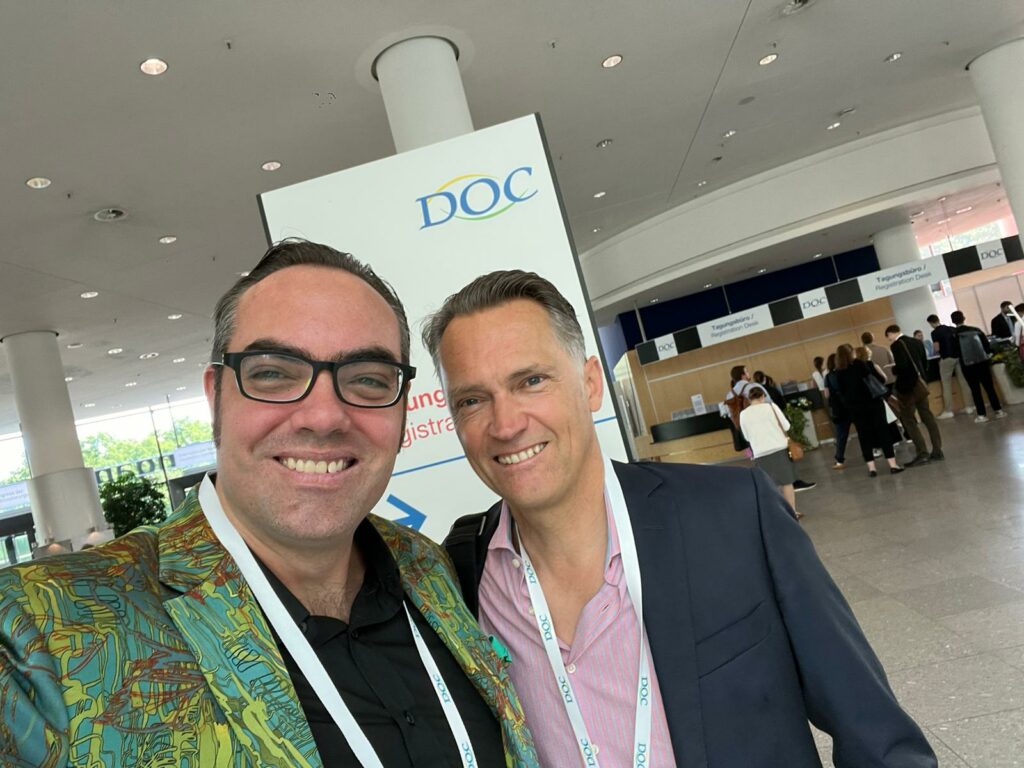 Detlef, an ophthalmologist friend for some years, invited me to one of the greatest parties at DOC — the Teleon boathouse party! The fours rowing by reminded me of my rowing days in college. Good memories. It was also great catching up with Nick Curtis, CEO of LENSAR, Inc. (Florida, USA), which also has been a partner of Teleon Surgical BV (Spankeren, Netherlands). Thanks, Teleon!
Dagmar Breuer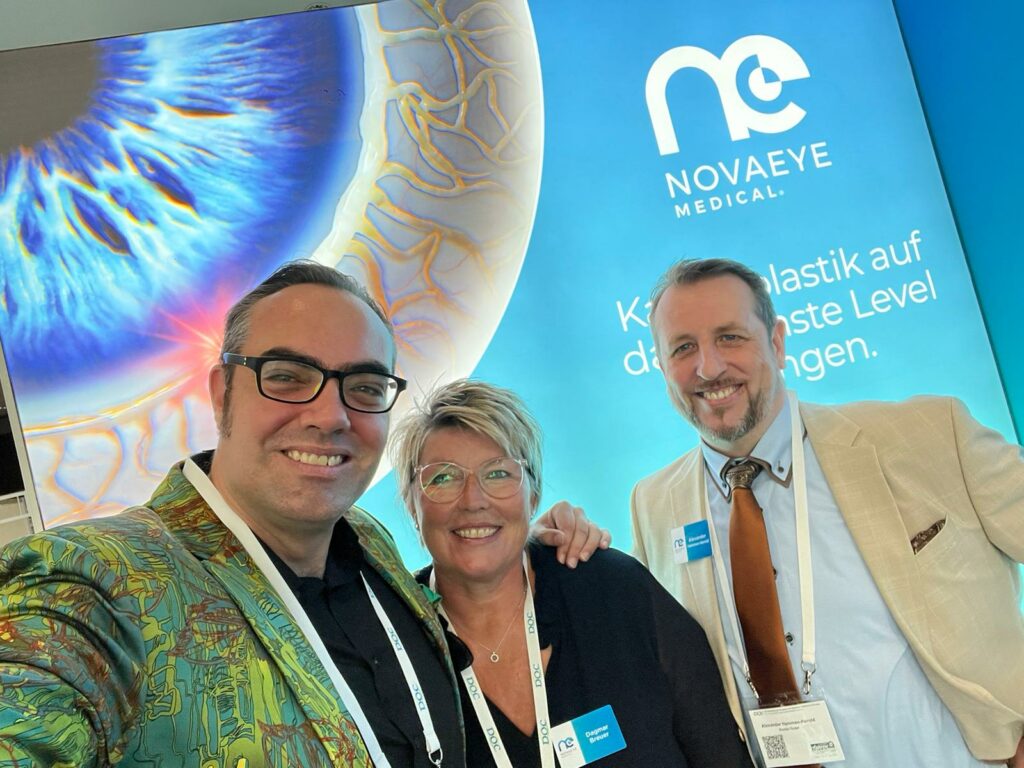 The Nova Eye booth was the first I visited at DOC, and I was warmly greeted by my new friend, Dagmar!
Dr. Oliver Findl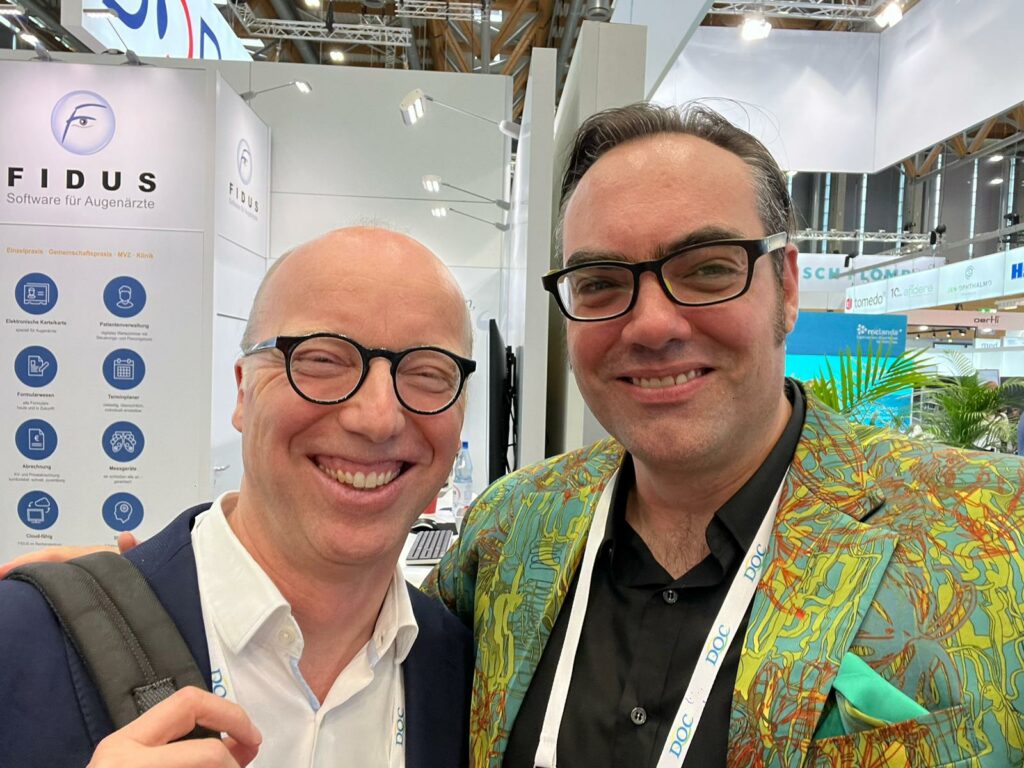 The more I get to know Oliver, the more I realize I have a lifetime friend in ophthalmology. He's the ESCRS President, but he's also so much more. I'd encourage anyone to get to know him. A great soul in our field. We also are continuously thrilled to be an ESCRS Digital Media Partner in Vienna.
Theo Reininger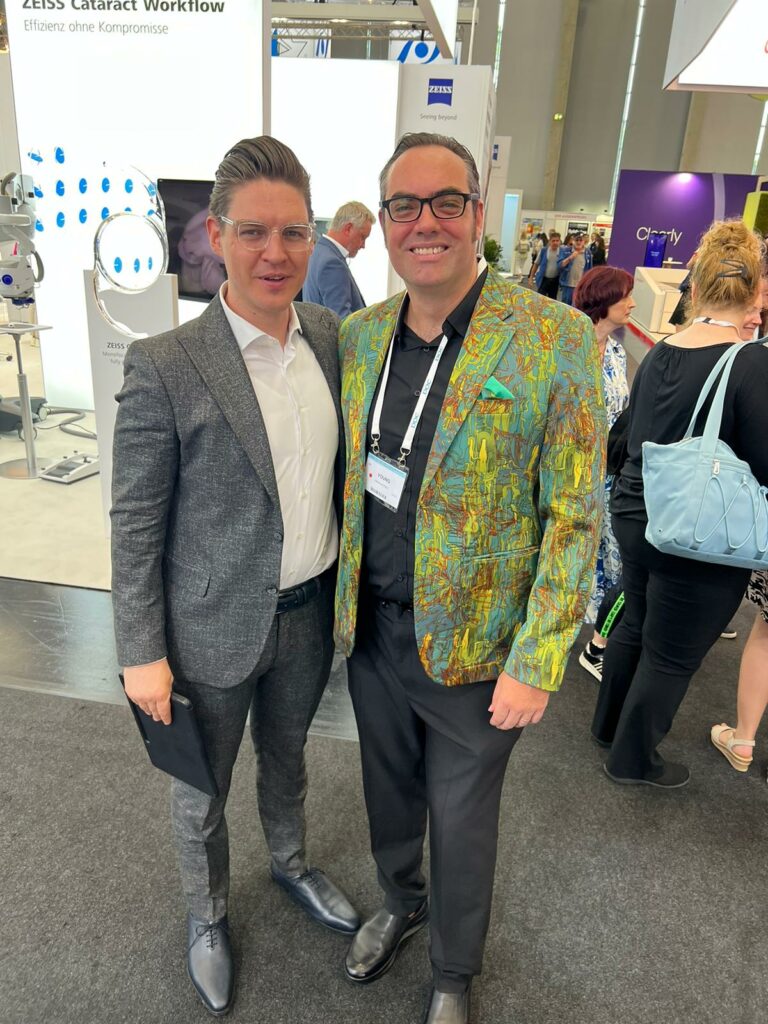 You can check out my post about Theo in my APACRS wrap-up story, and he was one of the friends I met in rapid fire sequence, at APACRS followed by DOC. Some at the DOC noticed my dance moves, and Theo helped me find a new home for them in some amazing German dance spots. Thanks, Theo!
Tim Brown and Nathalie Martin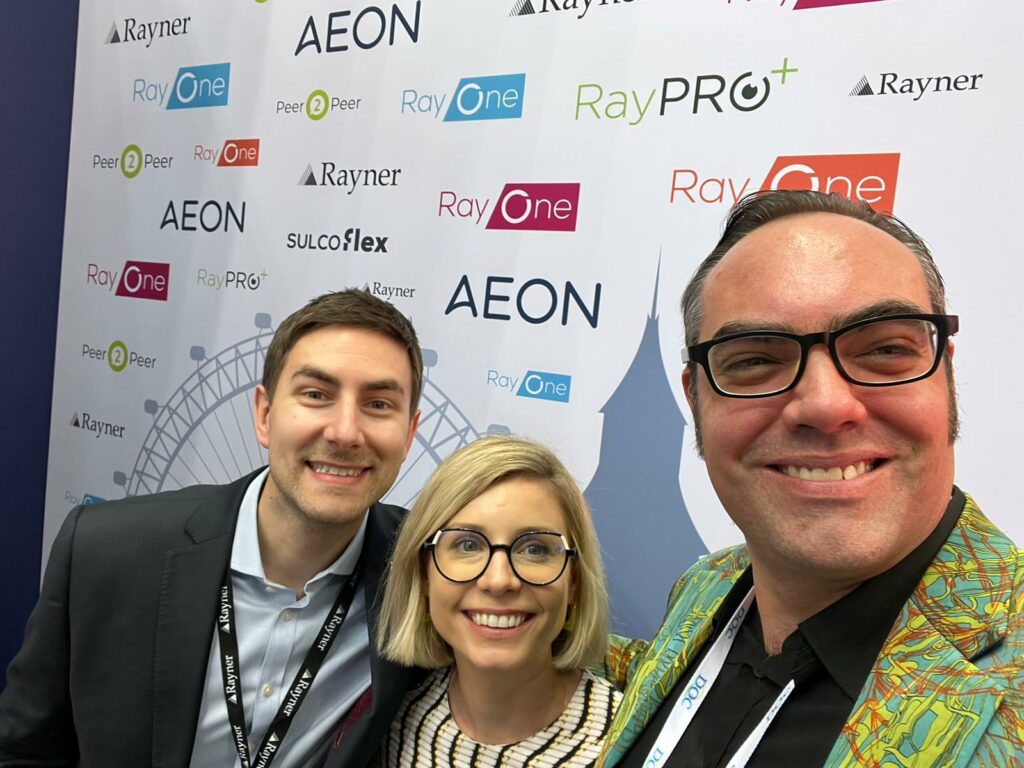 Tim and Nathalie presented me with some great new Rayner socks.
Look at these. IOLs!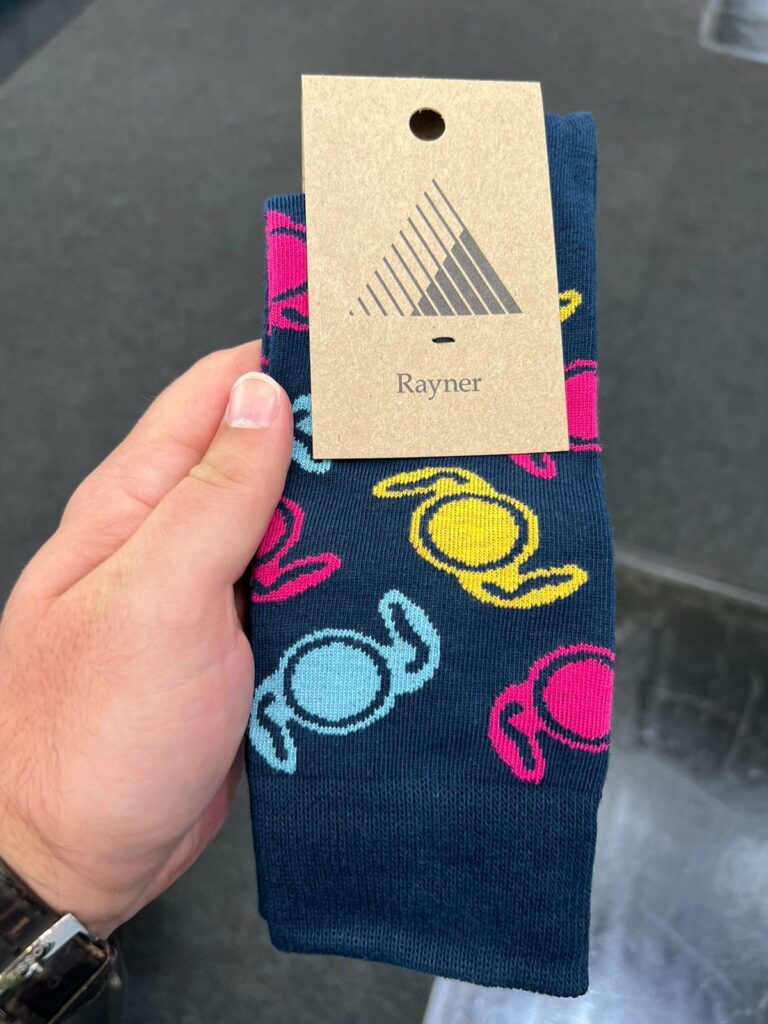 I, of course, then gave them a go at their booth.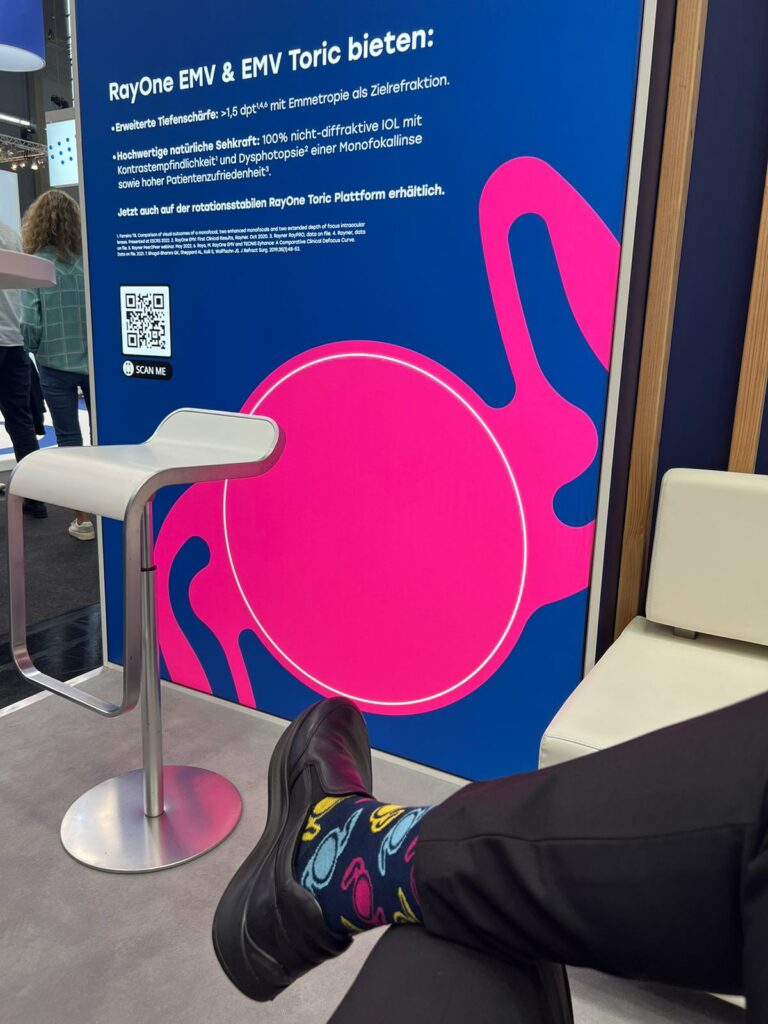 Cynthia Wong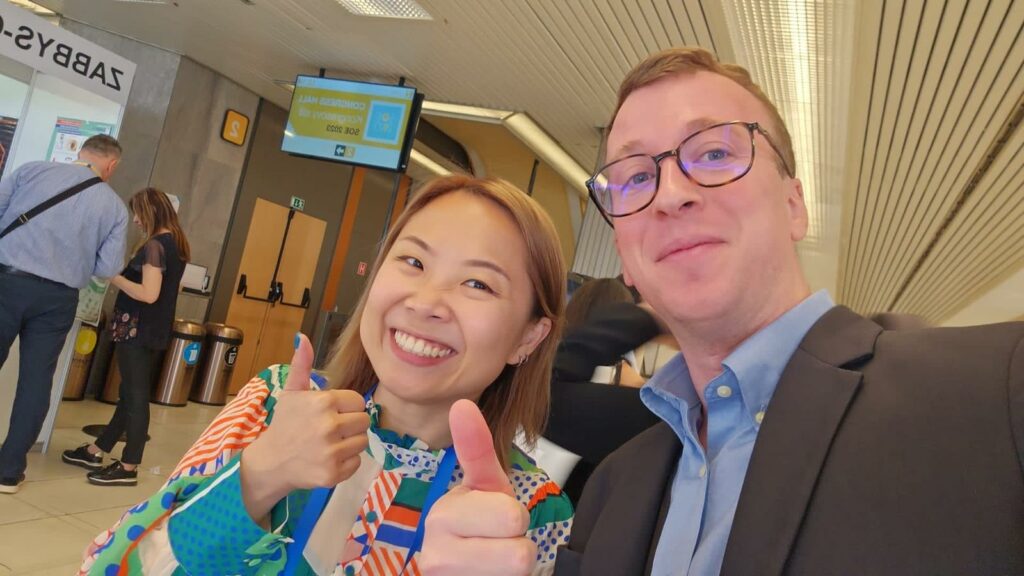 Cynthia Wong, our partner at the APAO, actually was at the SOE in Prague at the same time, but appeared at the DOC via my WhatsApp. My colleague Rob Anderson was happy to see her, so he messaged me. The DOC and SOE were literally happening on the same dates this year, with the DOC having hundreds of booths while the SOE had more like dozens.
Robert Anderson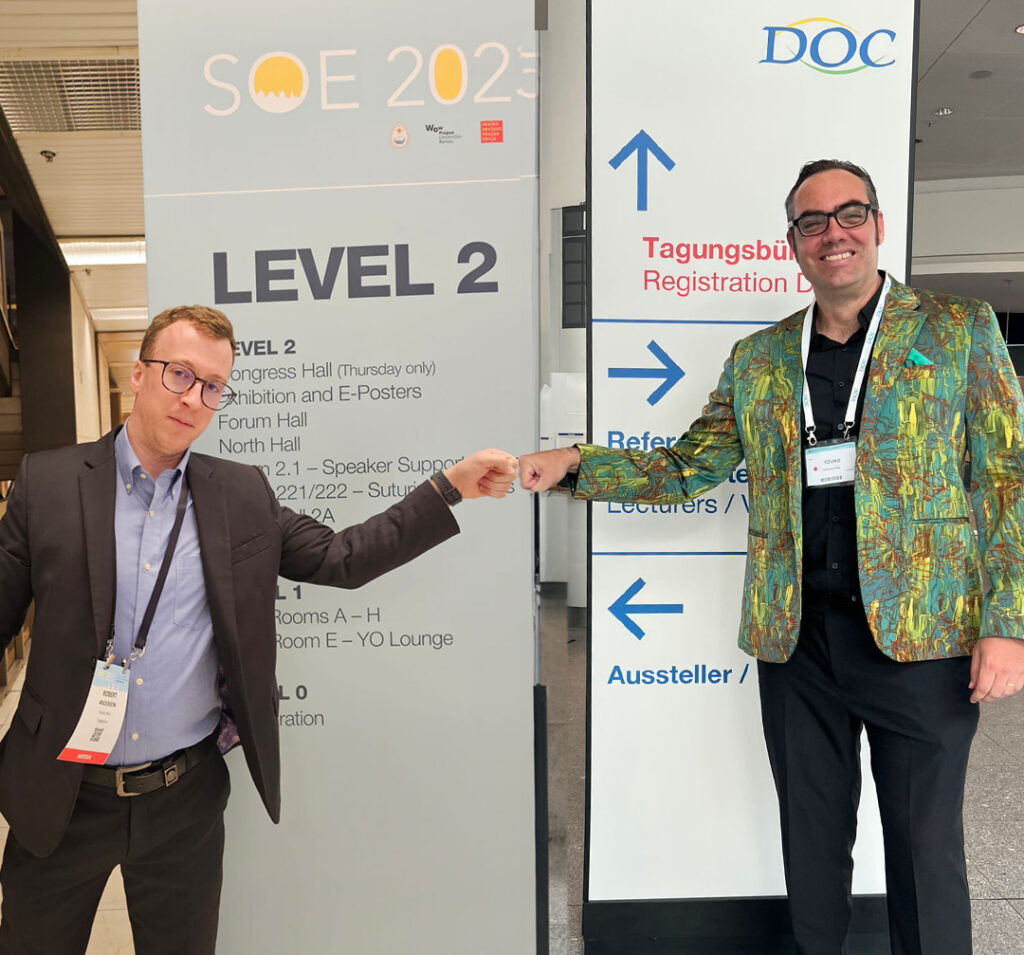 Once again, thanks to this guy for holding down the fort at the European Society of Ophthalmology (SOE) 2023 Congress in Prague. We made it happen, side by side, but in separate countries. Anyways, he appeared in my LinkedIn feed virtually during DOC, which is essentially the same thing as being there nowadays. Who doesn't look at LinkedIn?!
Christian and Jürgen Scherrieble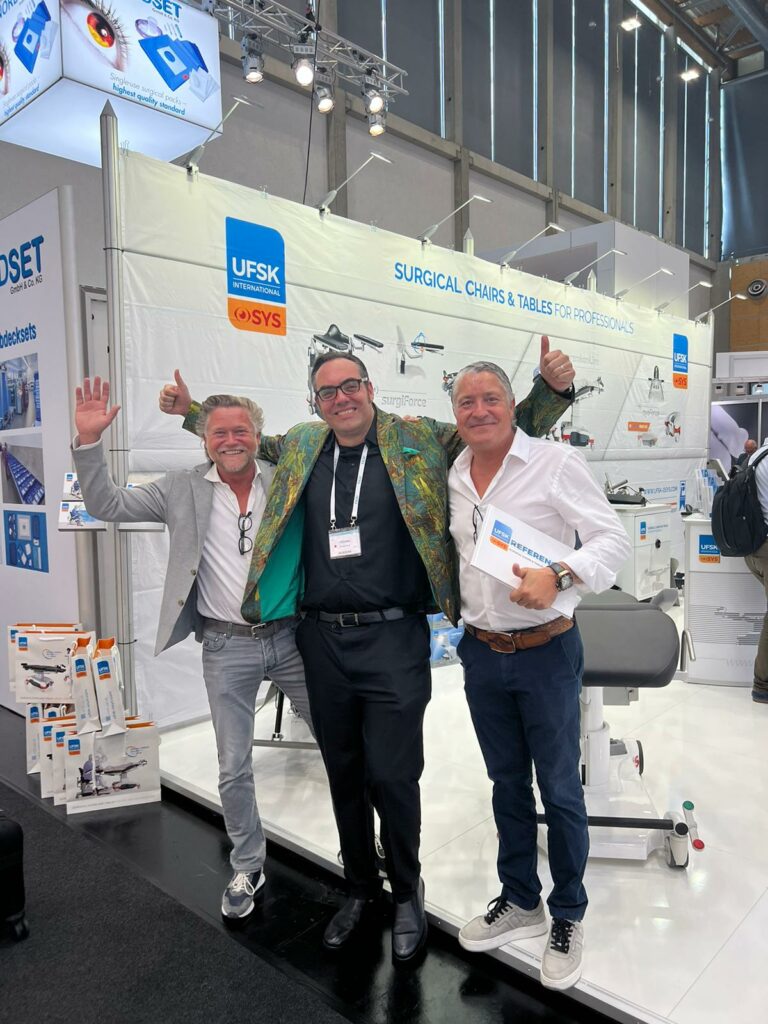 I met Christian at the PAAO 2023 [The XXXV Pan American Congress of Ophthalmology, co-organized by the Pan American Association of Ophthalmology (PAAO) and the Argentine Council of Ophthalmology (CAO)] in Buenos Aires, and we had planned to touch base at the ASCRS in San Diego. It turned out we were both busy but coincidentally saw each other at DOC, and he introduced me to his brother Jürgen. Together, they run UFSK-International OSYS GmbH (Regensburg, Germany), which makes mobile treatment tables and chairs, specifically for outpatient eye surgery.
Mely Medel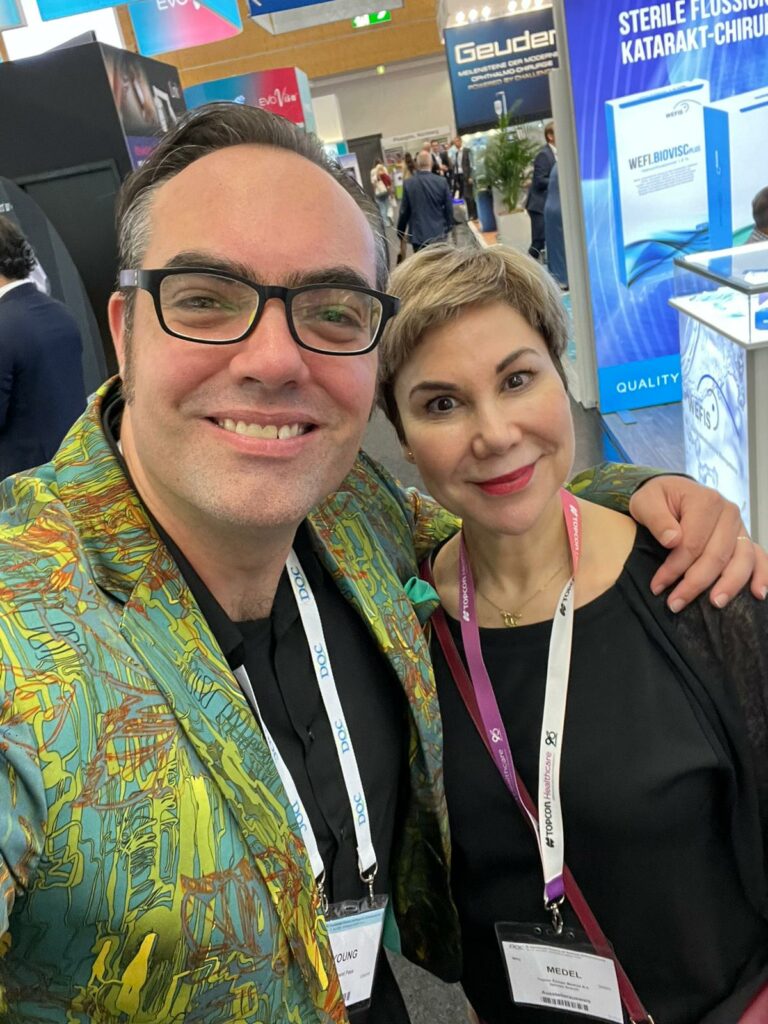 It was great to see Mely in such joyful spirits at DOC. We have been working with Topcon APAC for some years successfully, most recently surrounding the APACRS meeting. We look forward to working with Topcon (New Jersey, USA) more globally in the coming years, as their diagnostic capabilities are indeed innovative. Google "MYAH" to see what I mean.
David Geuder, Julius Müller-Albinus, and Olcayto Gülec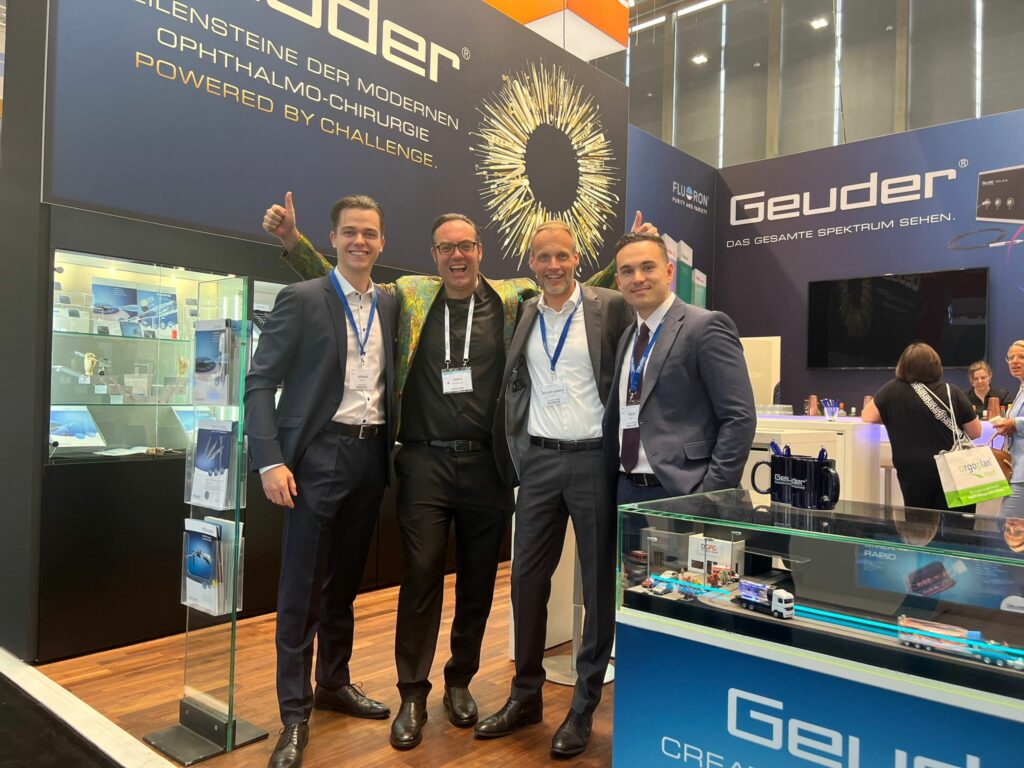 David Geuder, the Chief Information Officer of Geuder AG (Heidelberg, Germany), flanked by Chief Sales and Technology Officer Julius Müller-Albinus and Global Sales Director Olcayto Gülec, were in high spirits. But then again, they always have the best spirits — or beer rather — at the Geuder booth. Expect no less at ESCRS in Vienna, and prepare for a good time with these guys.
Andreas Zahn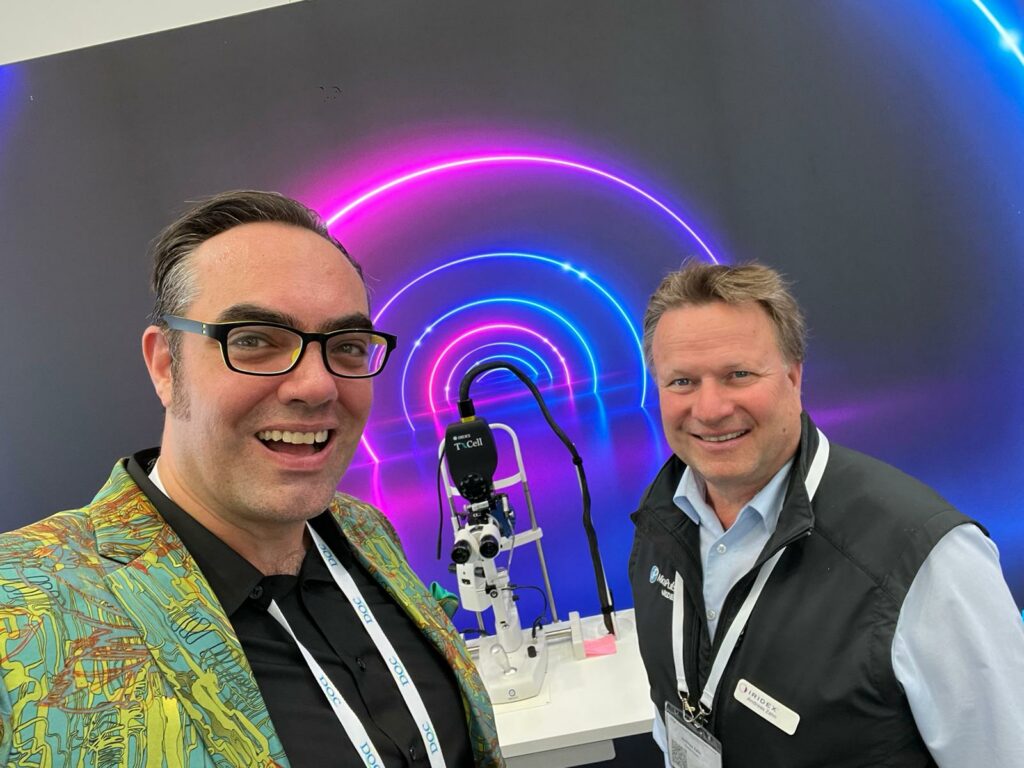 I stepped in front of one of the coolest booth visuals I came across at DOC — at the Iridex booth, with Andreas Zahn. That's an Iridex (California, USA) TxCell™ Scanning Laser Delivery System behind me, by the way. It provides multi-spot pattern scanning.
Dr. Adjoa Frimpong-Boateng and Dr. Reka Bölöni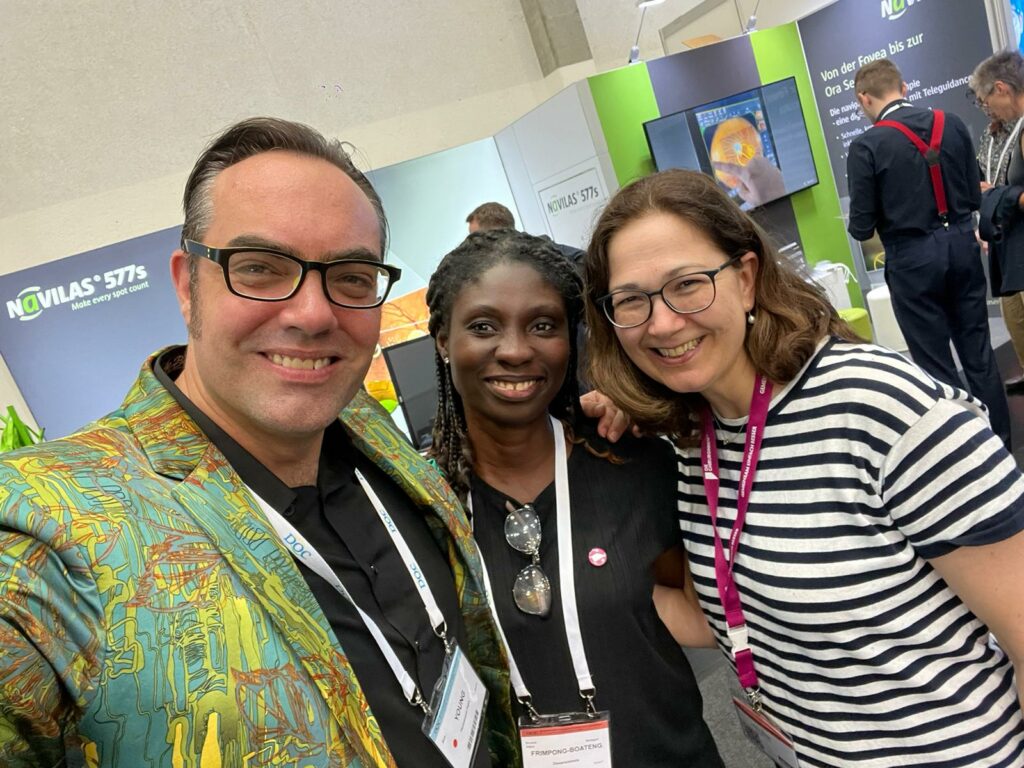 There I was, having a solitary lunch at the DOC when Adjoa and Reka said hello in the most enthusiastic of ways. Well, of course, we can get a picture together! I love it when LinkedIn friends come out of the woodwork to say hi!
Cristina Gonzalez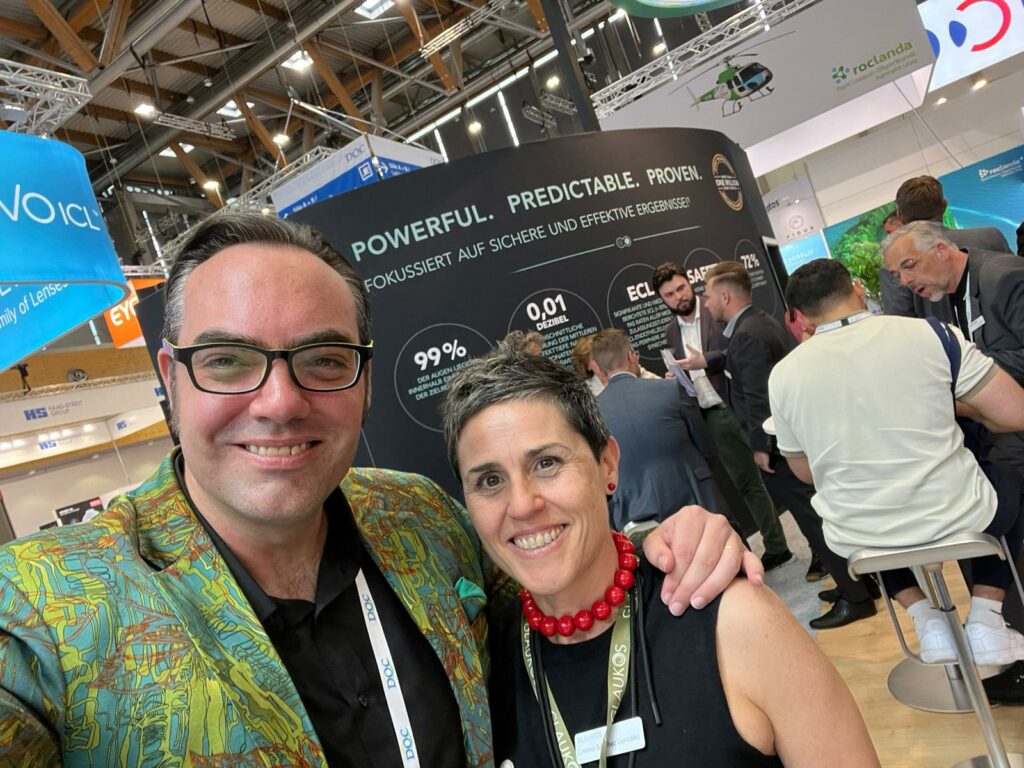 Cristina was easily one of the most subtly stylish women I saw on the show floor. Taking a page out of Christina's style book, it's all about the accessories. Meanwhile, Cristina represents Glaukos (California, USA). If you didn't know it, Glaukos is working on therapies in spaces beyond glaucoma, now in corneal cross-linking for keratoconus (iLink®), and developing sustained-release drug delivery for retinal diseases as well. Expect expanded offerings in the years to come.
Michael Frevel and Ursula Jaen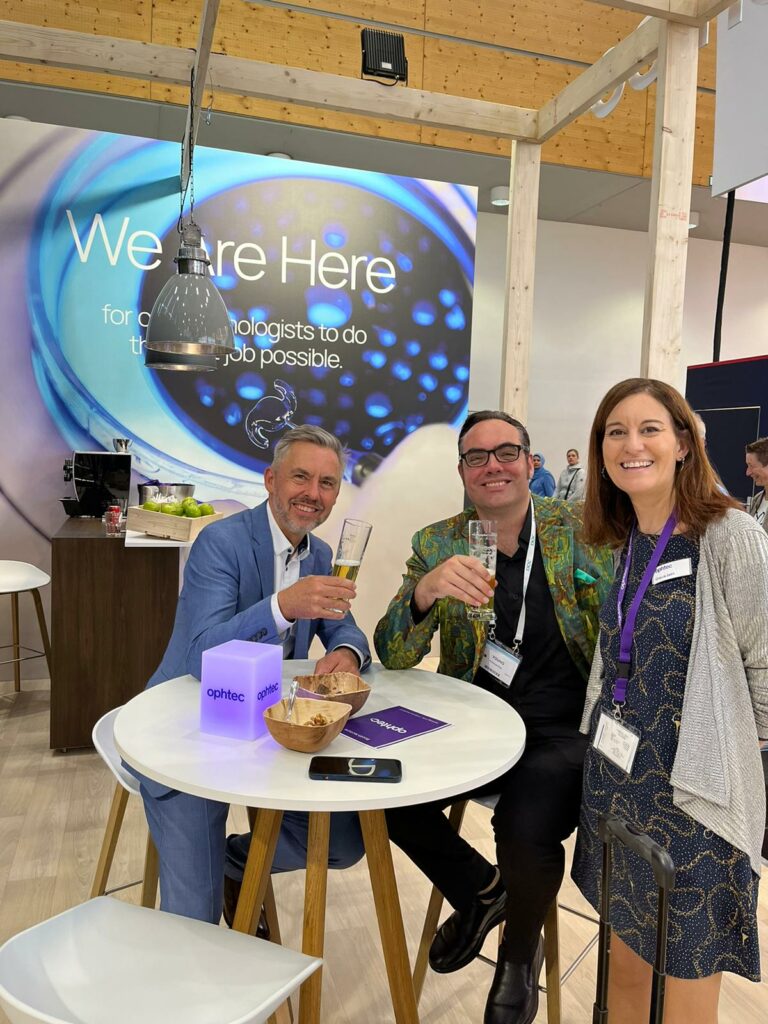 Michael Frevel was one of the most outspoken delegates I heard about the internationalization of the DOC. It is truly a show that can connect Germany and the DACH business area of ophthalmology with the greater world. I experienced the international magic of the DOC myself and am indeed a believer. Together with Ursula, we kept the rebranded image of Ophtec B.V. (Groningen, Netherlands) going strong for all to see.
Sascha Ruecker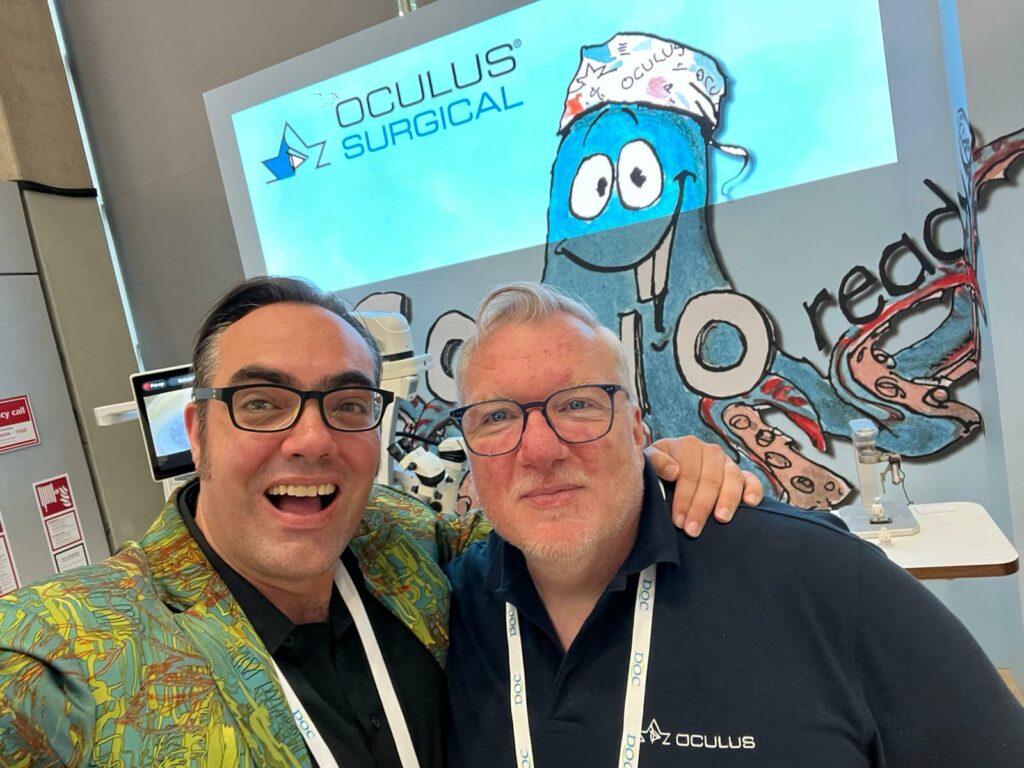 After what was the strongest social media greeting to the DOC that I came across from the cheery Oculus staff, Sascha came out of the booth to warmly greet me. And I have to say, after all the video reporting we have done on the OCULUS GONIO ready® (OCULUS Optikgeräte GmbH, Wetzlar, Germany), it still remains in my mind an ingenious gonioscopy lens allowing for a hands-free view of the angle. So essentially, what you get is two-handed MIGS possible. Cool!
Dr. Jörg Pauly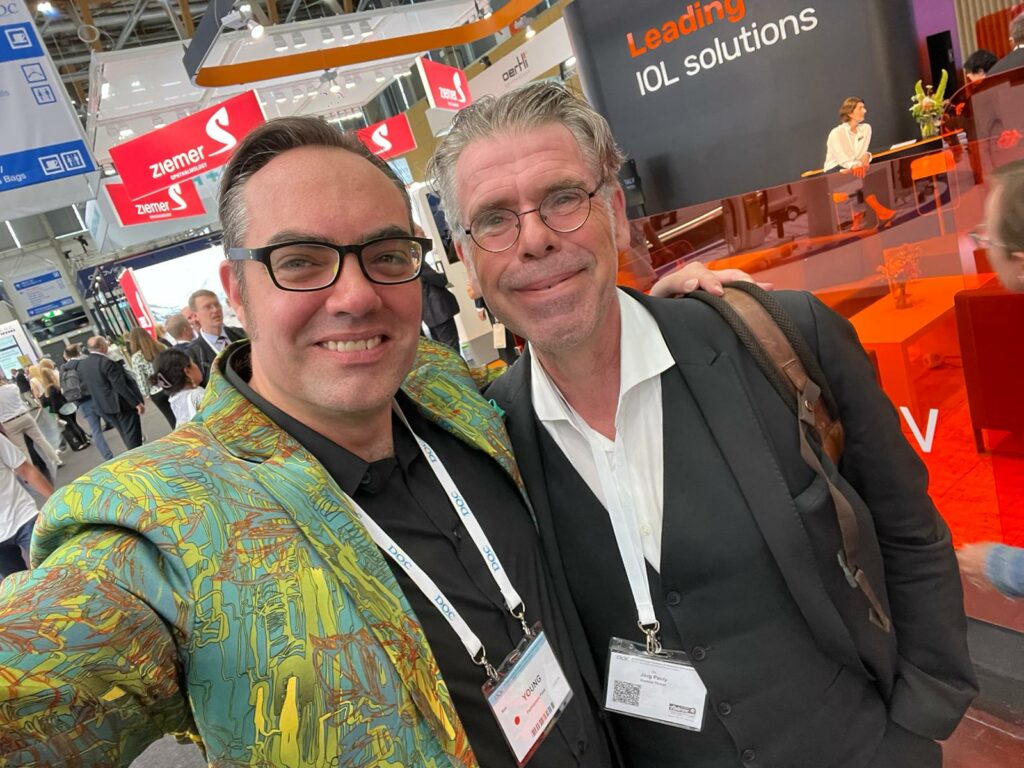 Dr. Jörg Pauly, head of sales for ophthalmology at Novartis Germany, offered up the best coffee I had at the show. While I sipped, I thought to myself that Novartis shouldn't only be known for Lucentis or Beovu in this space. It also, in international markets, licensed LUXTURNA® (voretigene neparvovec-rzyl), a gene therapy to restore functional vision in children and adults with balletic mutations of the RPE65 gene. I had just met some Novartis reps noting this back at the APACRS meeting in Singapore.
Gene therapy is likely to be a very hot topic on the horizon, and so we can see Novartis leading the way in this regard, provided that they stay in the space (Novartis has been divesting some ophthalmology assets recently, including Xiidra, to Bausch + Lomb).
Antonio Gianno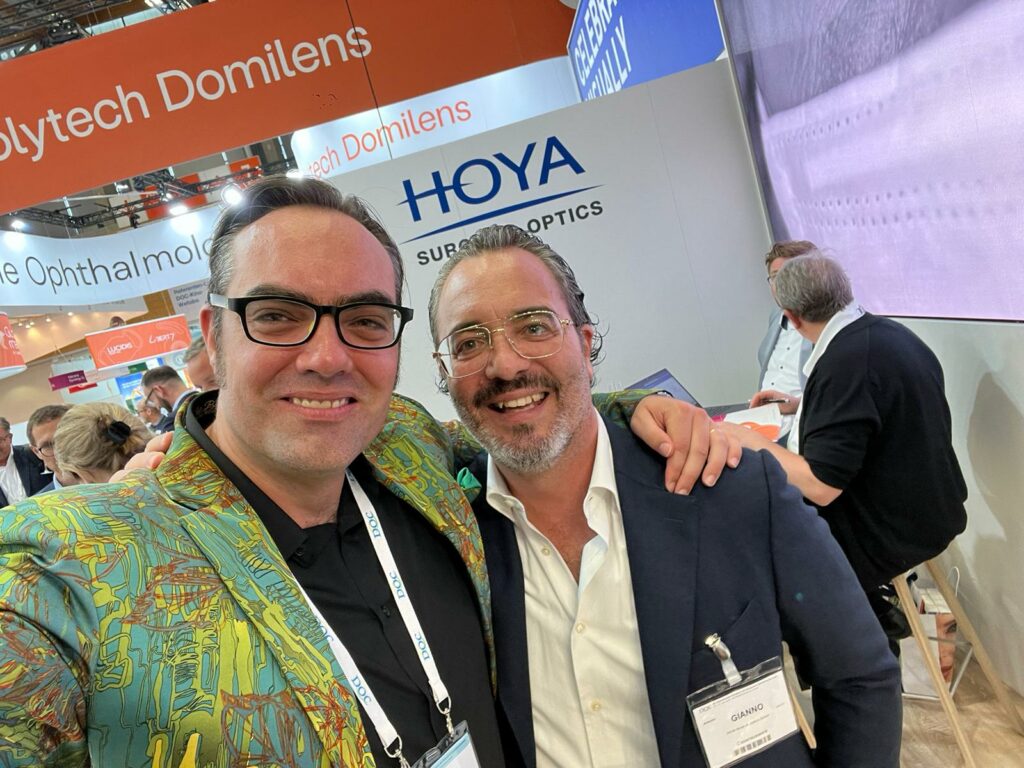 I have known Antonio since his days at Alcon (Geneva, Switzerland), but Antonio is making much bigger moves these days as the Chief Commercial Officer of HOYA (Tokyo, Japan). He is also a great cook, which is something he has in common with my colleague Brandon Winkeler. Antonio and I almost met up in Brazil earlier this year, where HOYA is making strong inroads into the market, but alas our schedules conflicted as the PAAO was happening at the same time in Buenos Aires. But when you don't get to meet in this industry as planned, you collide in another place incidentally — in Nuremberg as it turned out. Two of the biggest ophthalmic markets by the way in South America are Brazil and Argentina. Shows to be aware of there are the BRACRS and the CAO meetings, respectively. And, of course, there is another strong meeting called Ofthalmo Cordoba by our good friend Dr. Ticiano Giobellina, in the second-most populous city of Cordoba, in Argentina as well.
Martin Tembl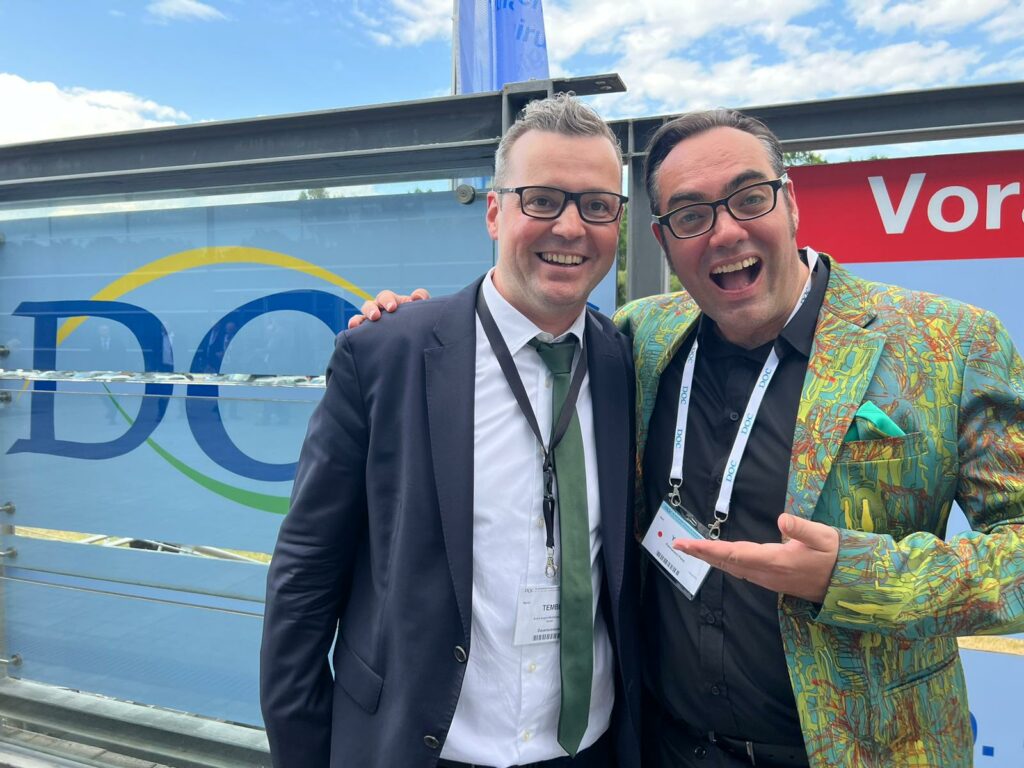 Martin, a product manager for André Augen Medizinprodukte GmbH (Dornbirn, Austria), provided a hearty greeting outside the convention center. The company distributes the Oertli OS 4, Ziemer Z8 NEO, Leica Proveo 8, and Tomey CASIA2 products. I imagine they will be very busy at ESCRS in Vienna!
Charles Holmes and Nick Helme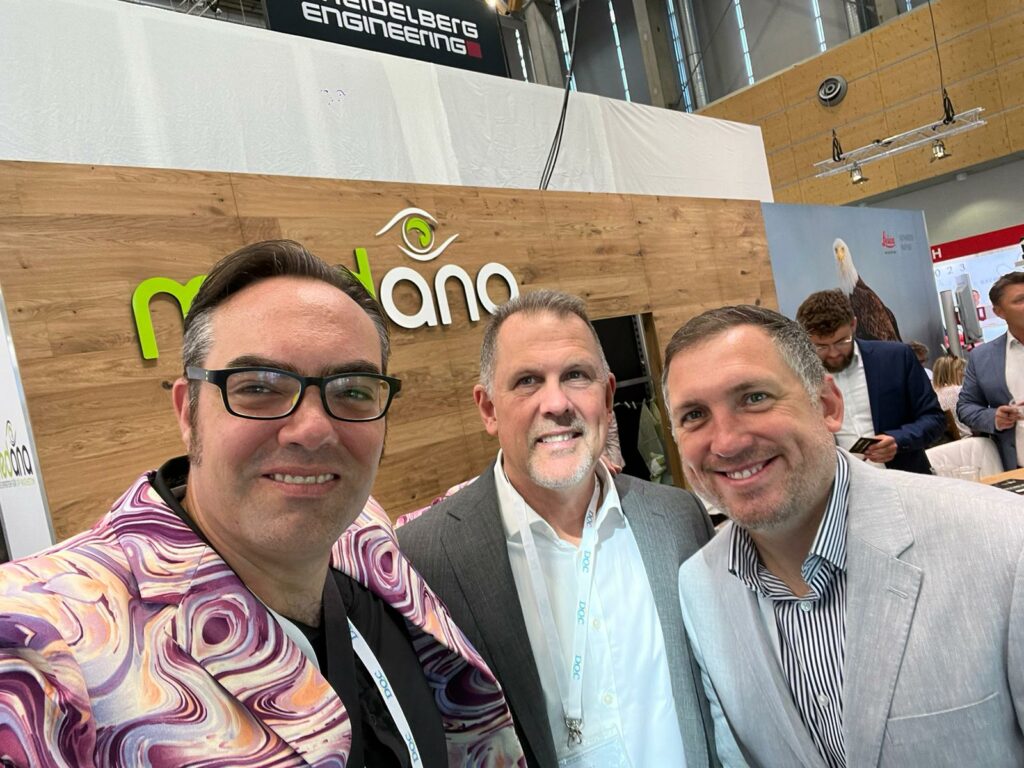 I was delighted to find that my old friend Nick Helme recently joined EyeYon Medical (Ness Ziona, Israel), and smiles here along with Charles Holmes, Chief Commercial Officer. EyeYon is developing novel solutions to heal corneas, like EndoArt, which the company calls "the first synthetic implant to treat corneal edema and save vision."
Dr. Burkhard Dick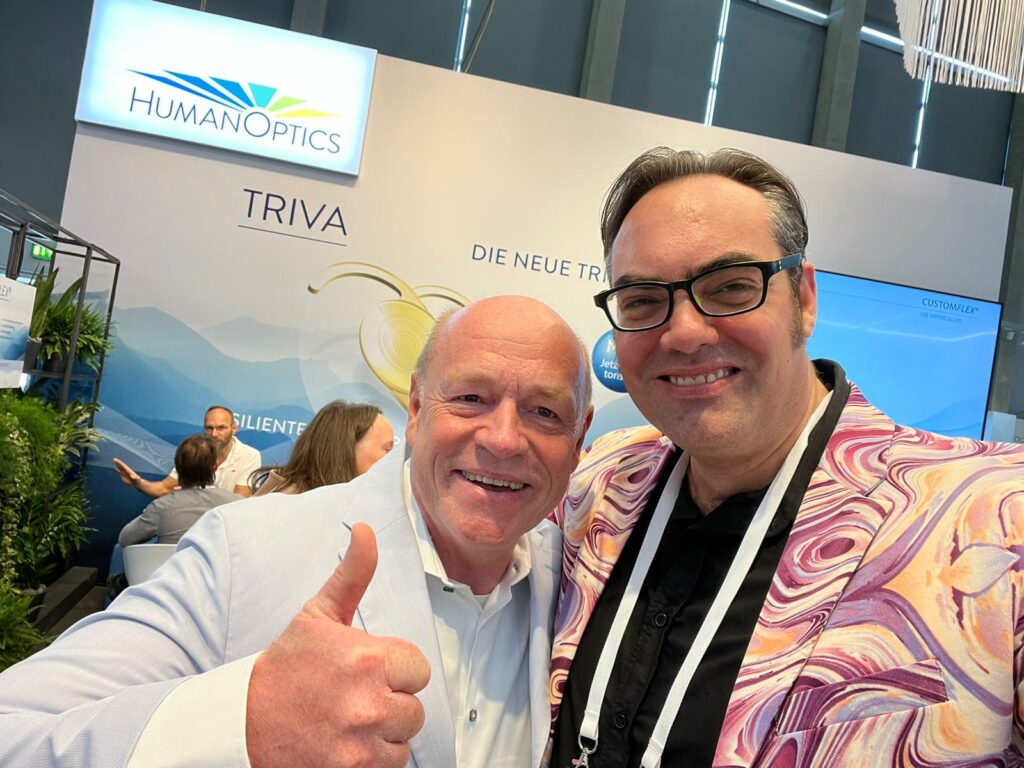 Burkhard is one of the most jovial doctors I've seen making the show floor rounds of late. And he should be. As secretary of the ESCRS, Burkhard is helping put together what is likely to be one of the greatest shows ophthalmology has ever seen. ESCRS. Vienna. 2023.
Cameron Hudson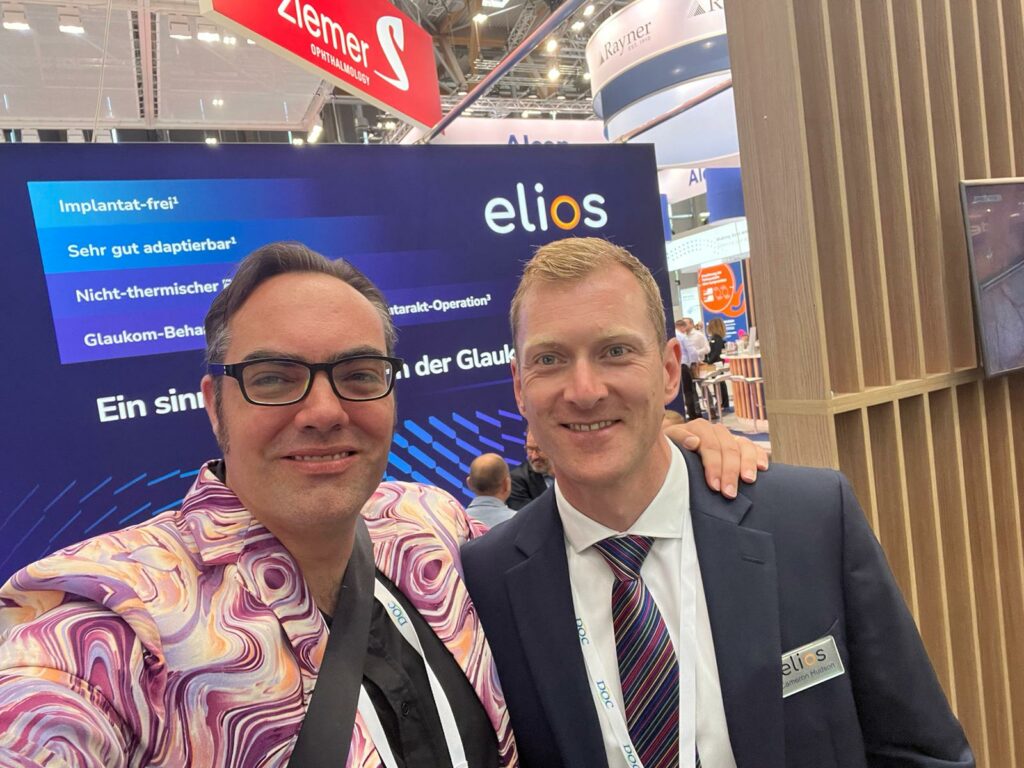 Cameron's booth was so delightfully well put together, and sophisticated, that I meandered over there with the HumanOptics team to admire it. There were wooden elements for walls that reminded me of my Malaysian furniture conference days — yes, I made the rounds there, too.
The Media MICE team (for design kicks) actually used to run a magazine called Furnish Now, by the Malaysian International Furniture Fair (a top 10 furniture export fair in the world). And sometimes we would perform photoshoots for our Cover Story to help illuminate the furniture design through a photo story. Deep into Malaysian towns and factories we would go to perform these photoshoots, which would then adorn our magazine.
While the photoshoots never quite carried over to ophthalmology (yet…), we always are delighted by good booth design, which the furniture industry always produced well. The future of ophthalmology is getting more stylish, so you never know when an eye care photoshoot opportunity for our magazines might come up…
Eric T'Scharner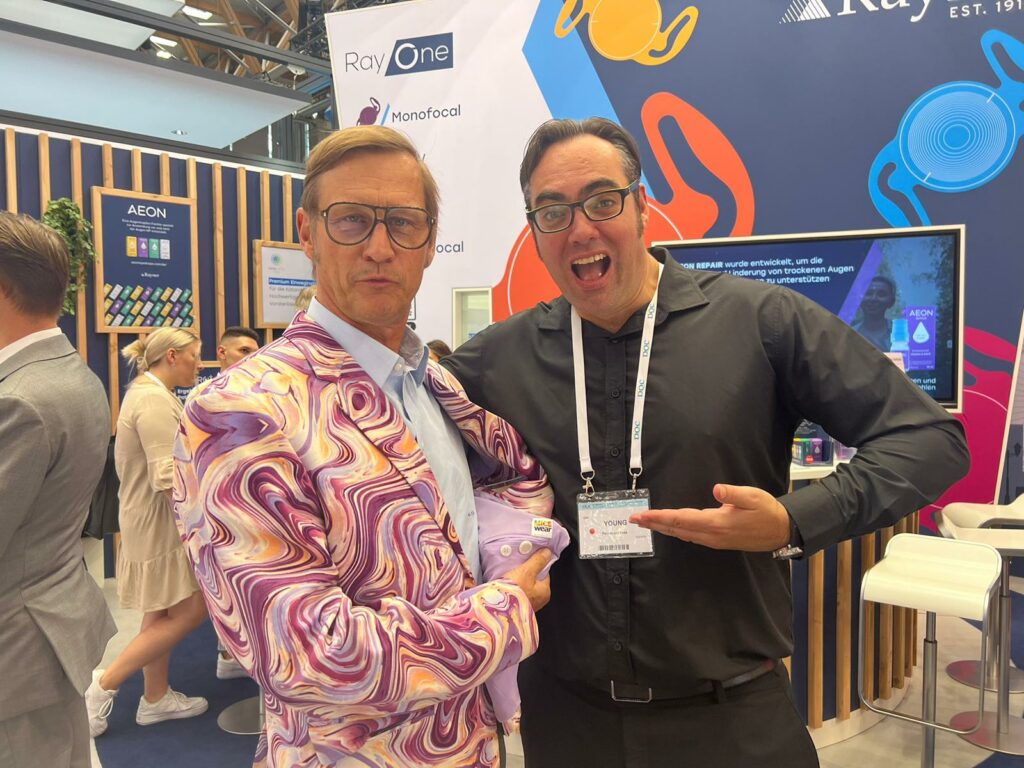 Eric not only is the visionary CEO behind Hasa Optix, a Brussels-based medical device company that manufactures high-quality recyclable surgical ophthalmic instruments, he also is the CEO bold enough to try out one of my MICE Wear jackets right off my back for a photo. And he's graciously pointing to the MICE Wear logo here.
I tell you guys, one of these days, Media MICE is going to stop growing quickly enough so that I can focus on my other passion — running a successful jacket label!
For Now, Eric had to give me my jacket back… Thanks, Eric.
Benjamin Graf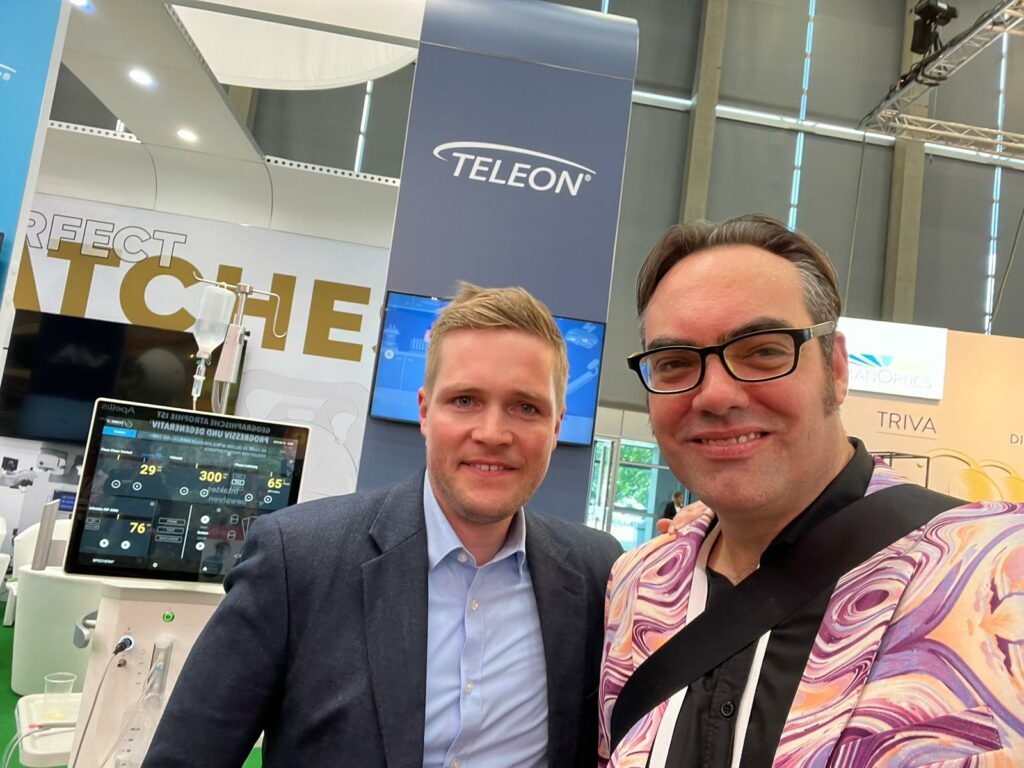 I had a great time hanging out with This AG (Heerbrugg, Switzerland) Managing Director Thomas Köppel and Sales & Marketing Head Benjamin Graf at the Teleon boathouse party. And as it turns out, Teleon and This AG's Sophi — a Swiss Ophthalmology Innovation phaco device, are also supporting one another. To quote a Teleon website: "The Sophi phaco system is an exceptionally reliable partner in the operating room as well as perfectly rounding off the Teleon Surgical portfolio in Germany."
Kathrin Benedikt and Brigitte Bark Leuch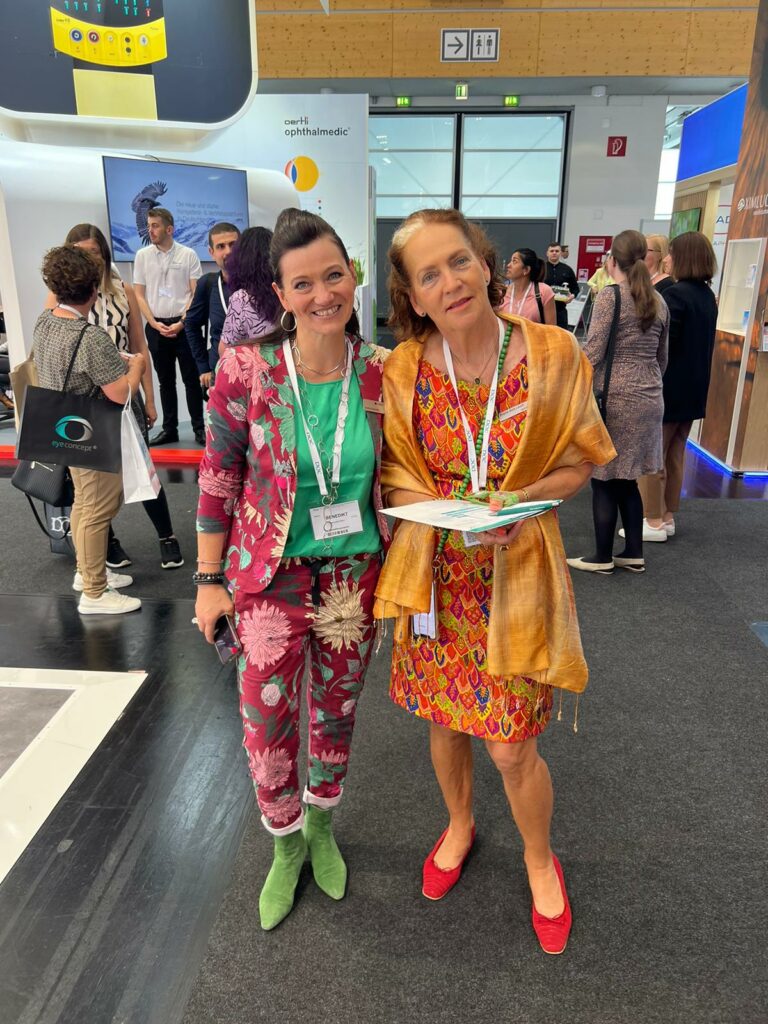 Kathrin of Tomey (Nagoya, Japan) and Brigitte, supporting Aprofol AG (Appenzell, Switzerland), came dressed to impress, so much so that they deserved the spotlight all on their own. If anyone hasn't noticed, Kathrin brings her style game every meeting, while I haven't seen Brigitte in ages and she was looking more fabulous than when I last remembered.
Dr. Ruth Lapid-Gortzak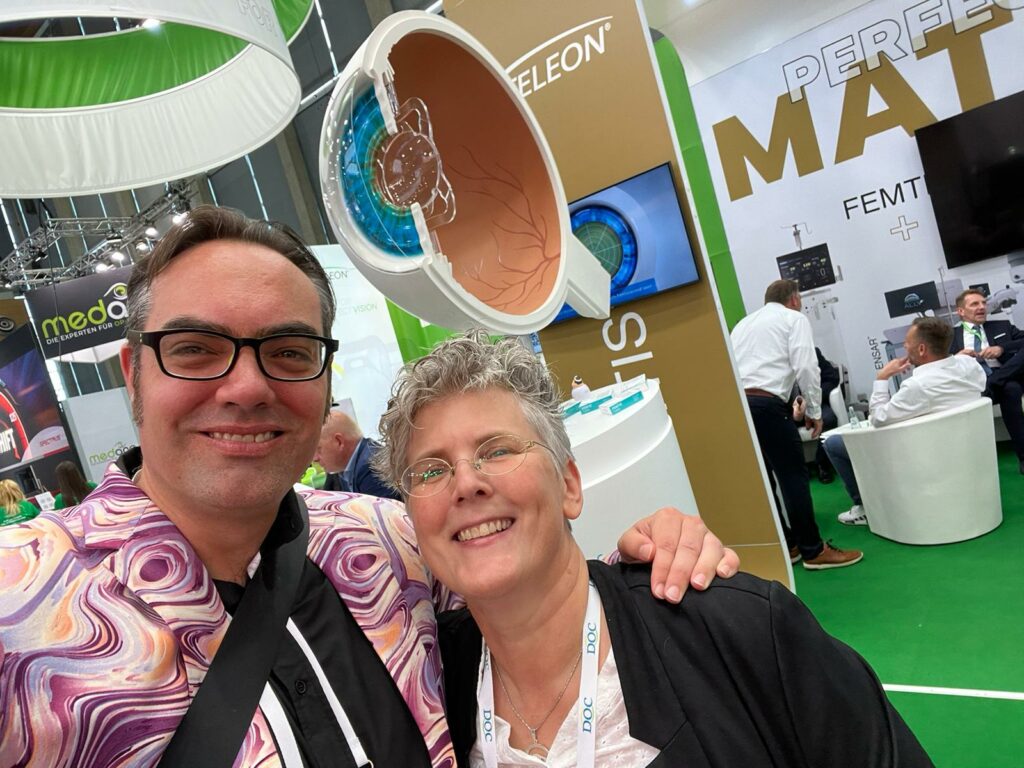 Ruthie, as she is known by friends, is one of our dearest ophthalmologist friends. She recently contributed to a great CAKE magazine cover story: "The Road Ahead for the Mighty IOL." Check it out if you haven't read it. We plan to hang out next in Amsterdam, alongside EURETINA in October.
Sascha Burger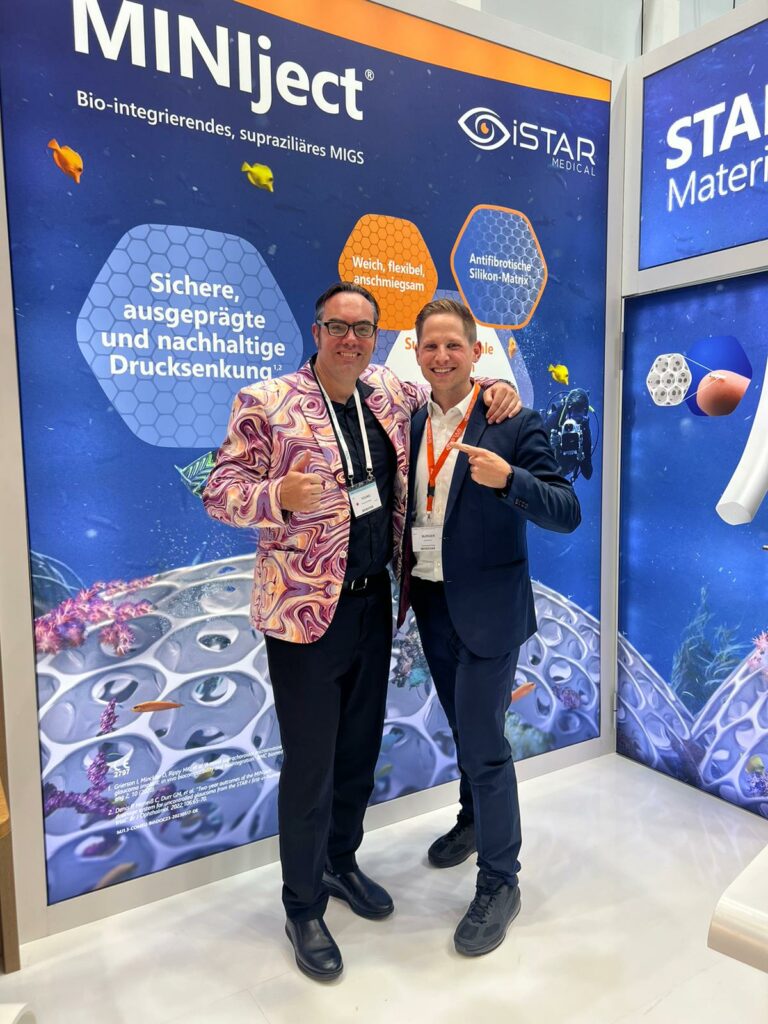 Sascha is an old LinkedIn friend, but a new physical friend — and it was so good to meet at DOC. The MINIject (iSTAR Medical (Wavre, Belgium), according to the company, is "the only commercially available minimally invasive glaucoma surgery (MIGS) implant that enhances natural flow in the supraciliary space, and has been shown to deliver safe, meaningful, and sustained control of intraocular pressure (IOP)."
Andrea Bewermeier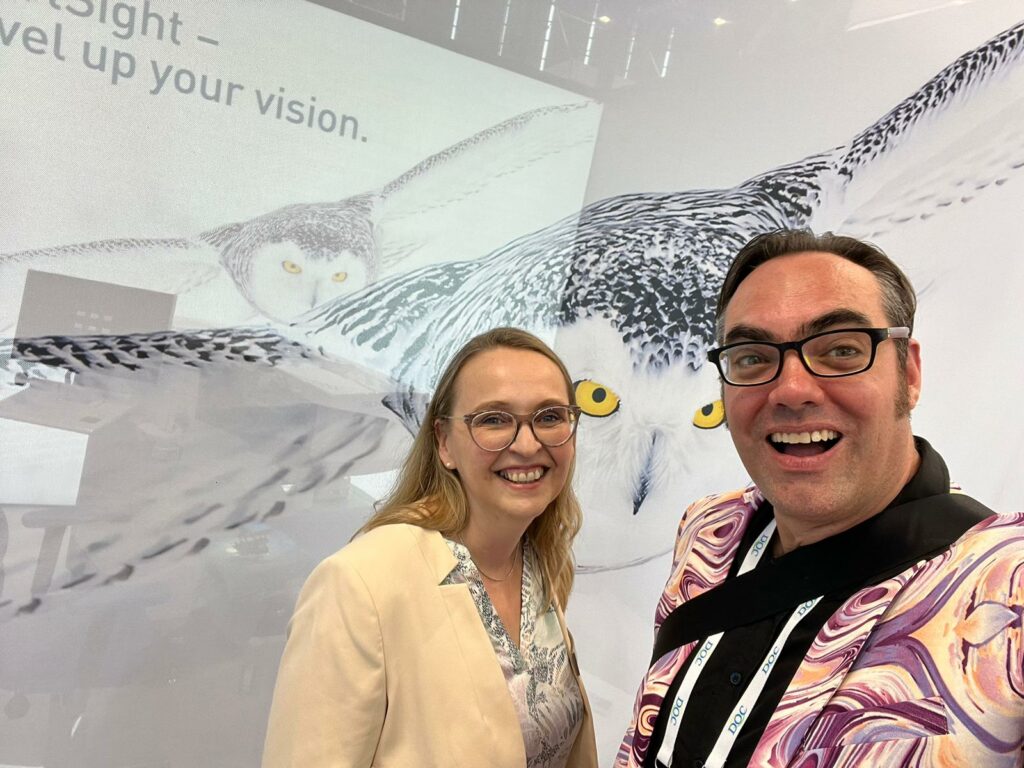 While I missed grabbing a beer with Schwind CEO Domenic von Planta (next time, Domenic!), this photo I managed to have with Andrea was a hoot! Be sure to check out our recent coverage of SCHWIND eye-tech solutions (Kleinostheim, Germany) at Eyecelerator in San Diego, on MICE TV here.
Thomas Bosshard and Moritz Beyhl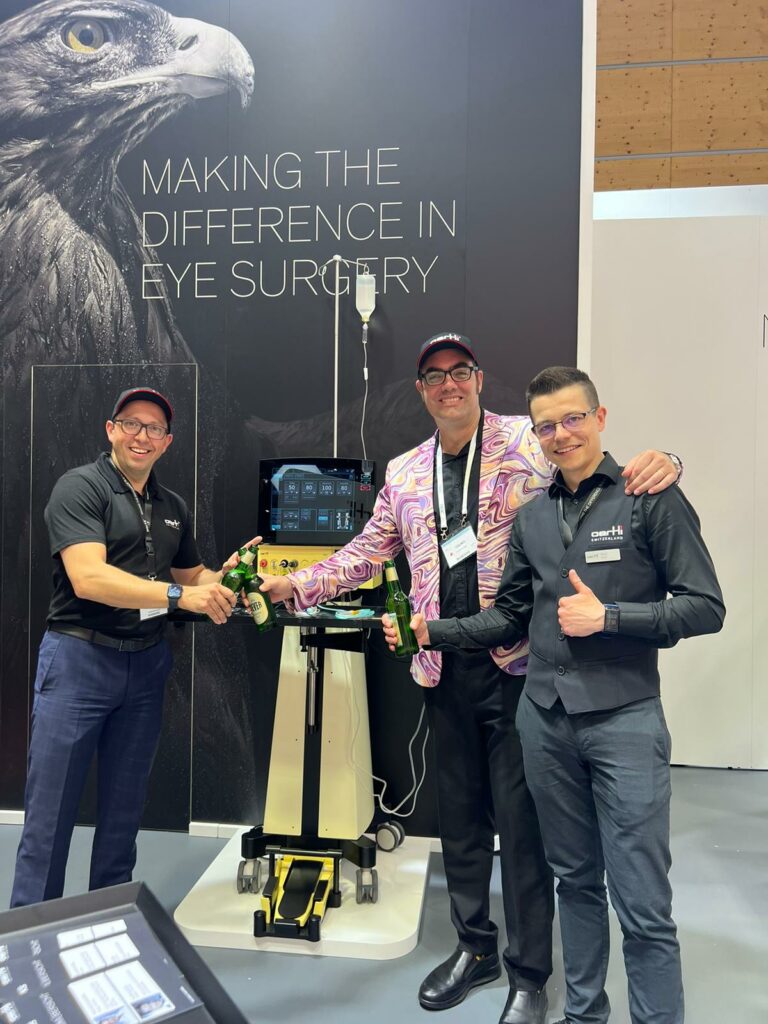 I shared a Jever Pilsener beer with the Oertli team — deeelicious! This beer is from the far north of Germany and really is worth a try. "Hardly any other premium beers have stayed as true to their roots as Jever has," according to Jever." Jever has now been cultivating its very own unique taste for 170 years. The special combination of the best brewing water and high-quality hops is what makes our Jever so unique and refreshing at the same time!" Cheers to Jever, and to Oertli Instrumente AG (St. Gallen, Switzerland), who you can see bestowed me with a new hat.
Nick Smith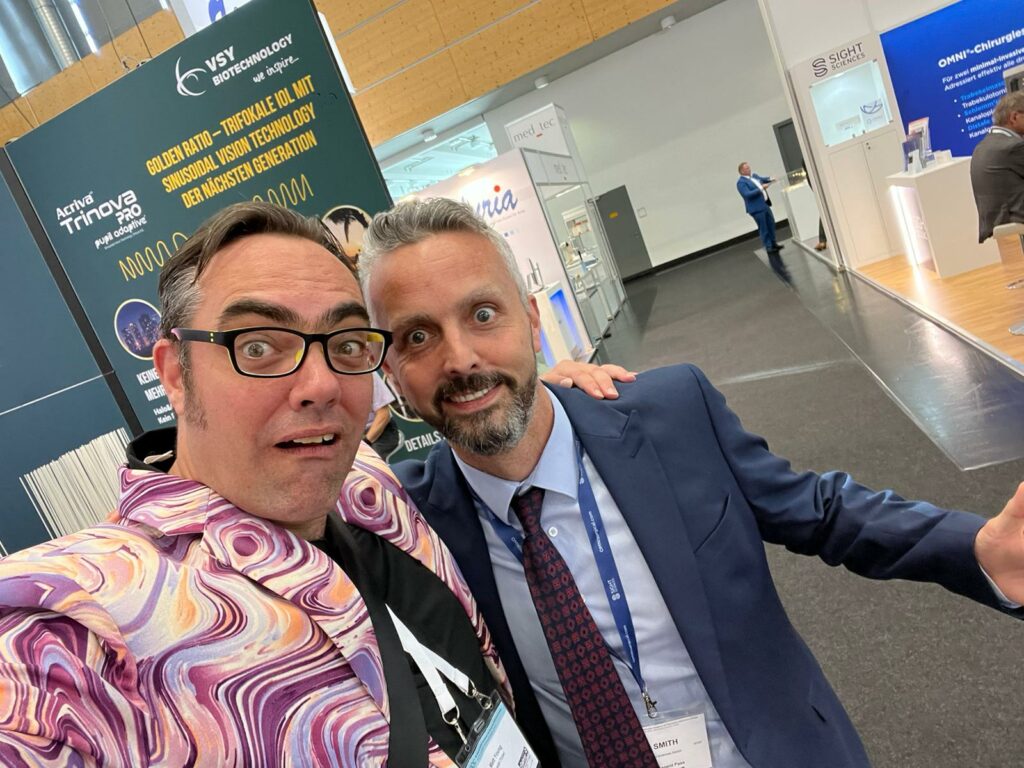 Nick is an old friend from earlier ESCRS days, and yet he's doing new stuff with Sight Sciences (California, USA). He was part of a crew showcasing the OMNI Surgical System technology for the first time at the DOC. According to the company, it's one of the fastest-growing MIGS technologies, which can be used before, during, or after cataract surgery. By the way, by using OMNI, surgeons can target "all three known points of resistance in the aqueous outflow system." These include the Schlemm's canal, collector channels, and the trabecular meshwork.
Giulia Guffanti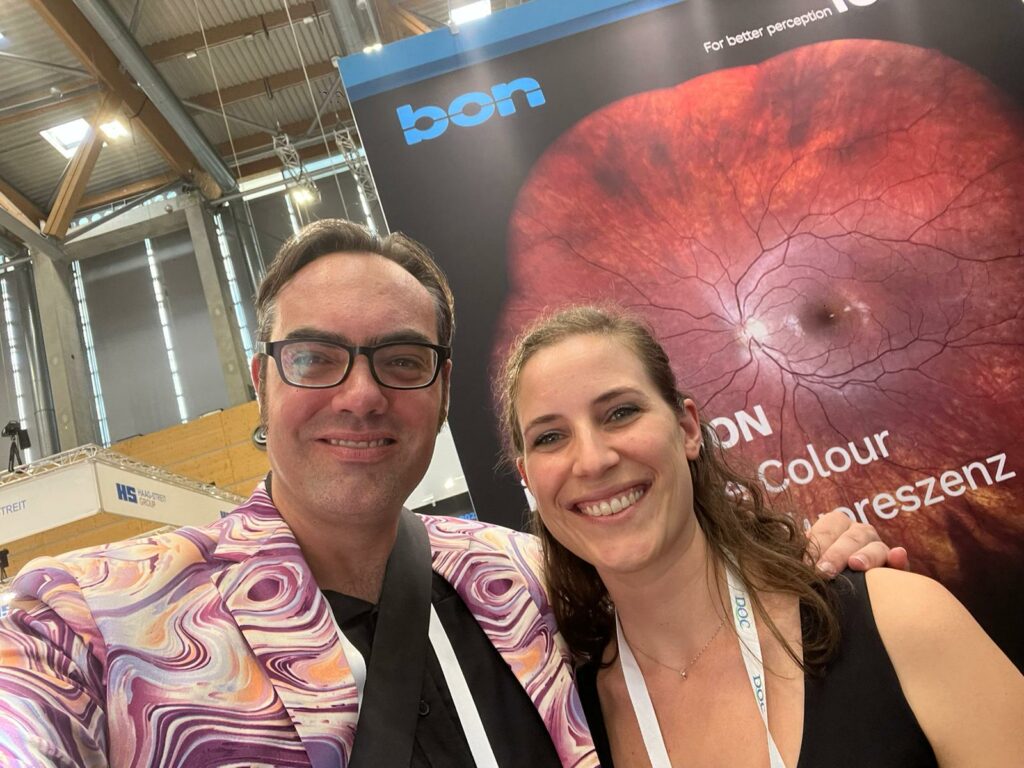 I've seen Giulia at multiple points across the planet now. She is a delight to behold, and currently, the iCare HOME2 is helping patients take IOP measurements throughout the day during normal activities. It can even be used lying down, and everything is uploaded to the cloud, accessed by both doctor and patient.
Dr. Magda Rau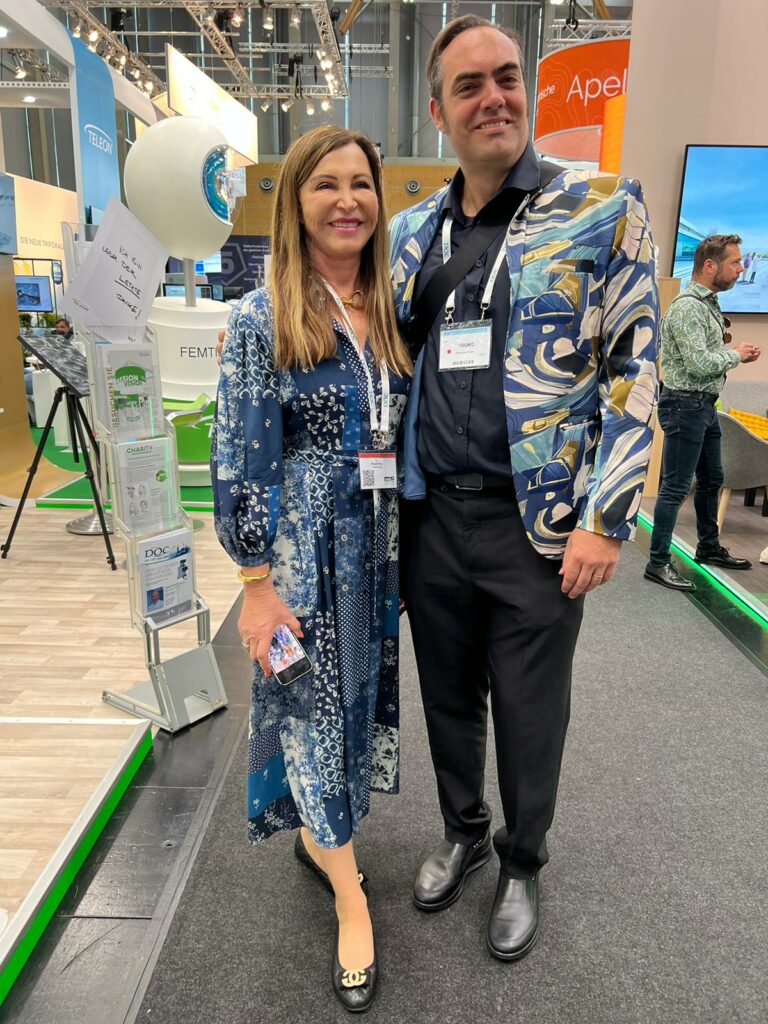 I keep mentioning the Teleon boathouse party, but we all had a fantastic time. Magda and I rocked the house with some funky dance moves. We were also color-coordinated by chance here. Great minds think alike, indeed!
Pascal Blaser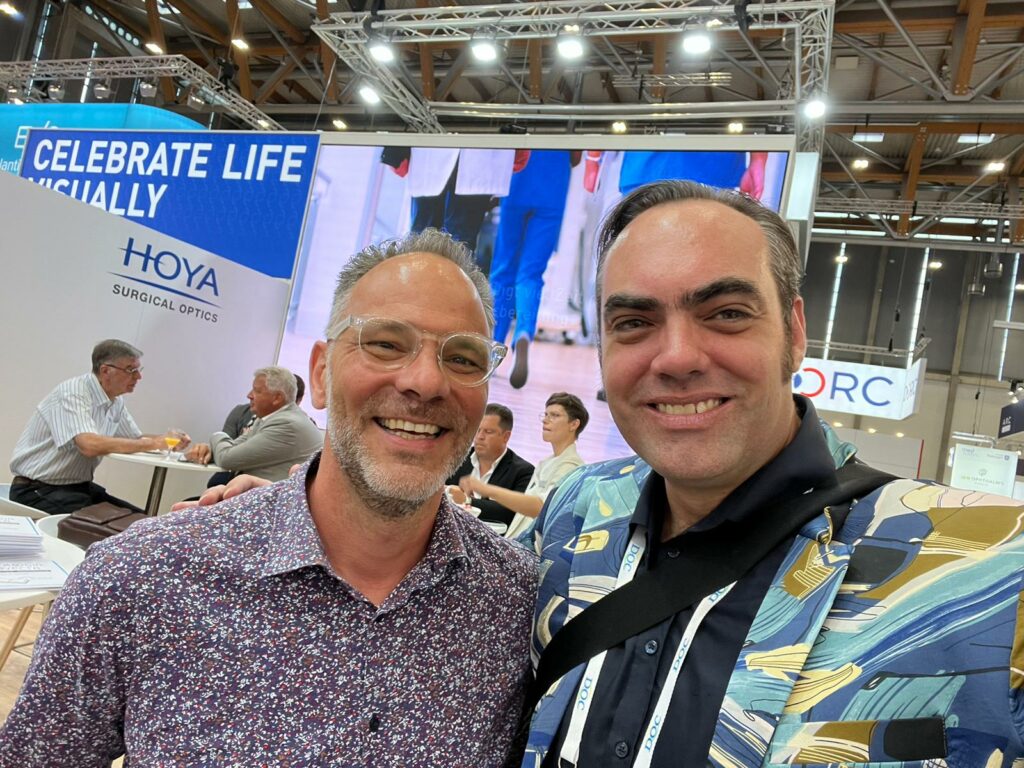 It is remarkable to see vision care and surgical fields becoming more closely aligned. HOYA is another example. Pascal Blaser, Medical Affairs manager for Myopia Global Marketing, was here exhibiting near the HOYA Surgical Optics booth. HOYA MiYOSMART lenses consist of D.I.M.S. Technology, or Defocus Incorporated Multiple Segments, which according to the company, have been clinically proven to control myopia.
Simone Senk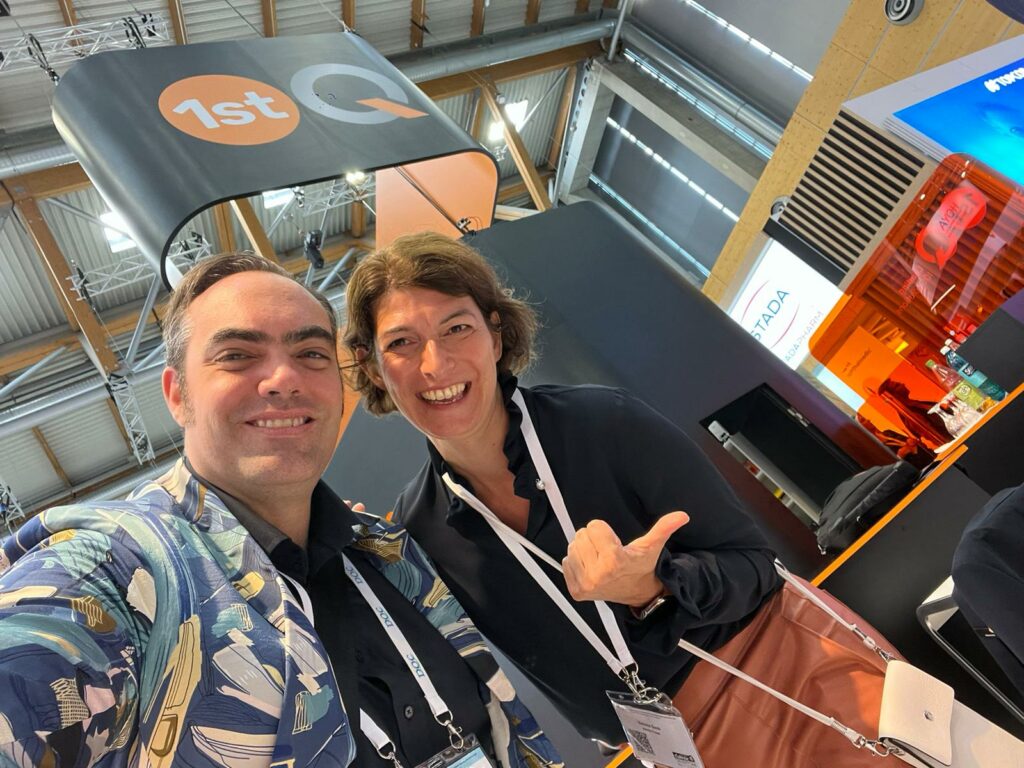 I've always been intrigued by 1stQ (Mannheim, Germany). They always appear first on any exhibitor list. And actually, one of the key partners and investors is Medicontur (Madrid, Spain). Further, they have some great branding colors — very vibrant, which I can relate to. They also had some remarkable news in February. The company shared the first peer-reviewed publication on the dual lens procedure. "Primary [dual lens] procedure appeared equally effective and safe in correcting unaided distance and near vision when compared with an in-the-bag multifocal lens," wrote researchers led by Dr. Brian Harrisburg. Essentially, the 1stQ AddOn® sulcus-based platform, as a total multifocal design, achieved equal functionality to placing a single multifocal IOL in the bag. Kudos and super cool 1stQ!
Beat Linder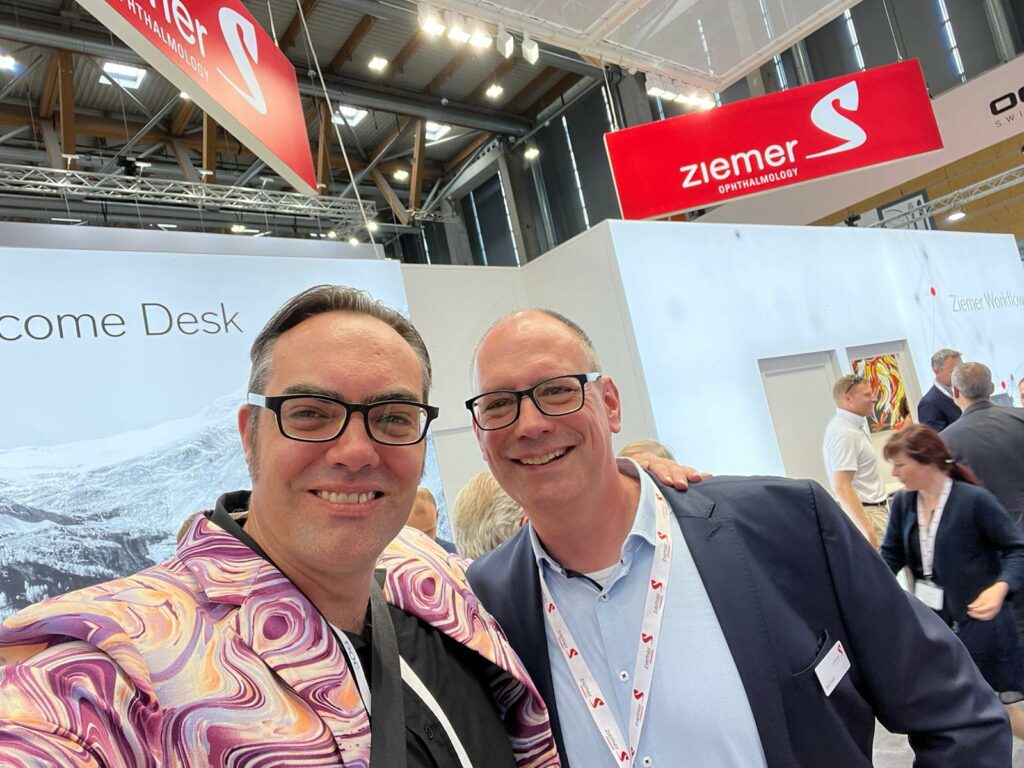 It's not often I get to see Beat at shows, so it was great to see him in Germany. The FEMTO Z8 NEO (Ziemer, Brügg, Switzerland) is the company's new model providing refractive, therapeutic, and cataract surgery. They're calling it: "Small smart Swiss."
Alexander Scholz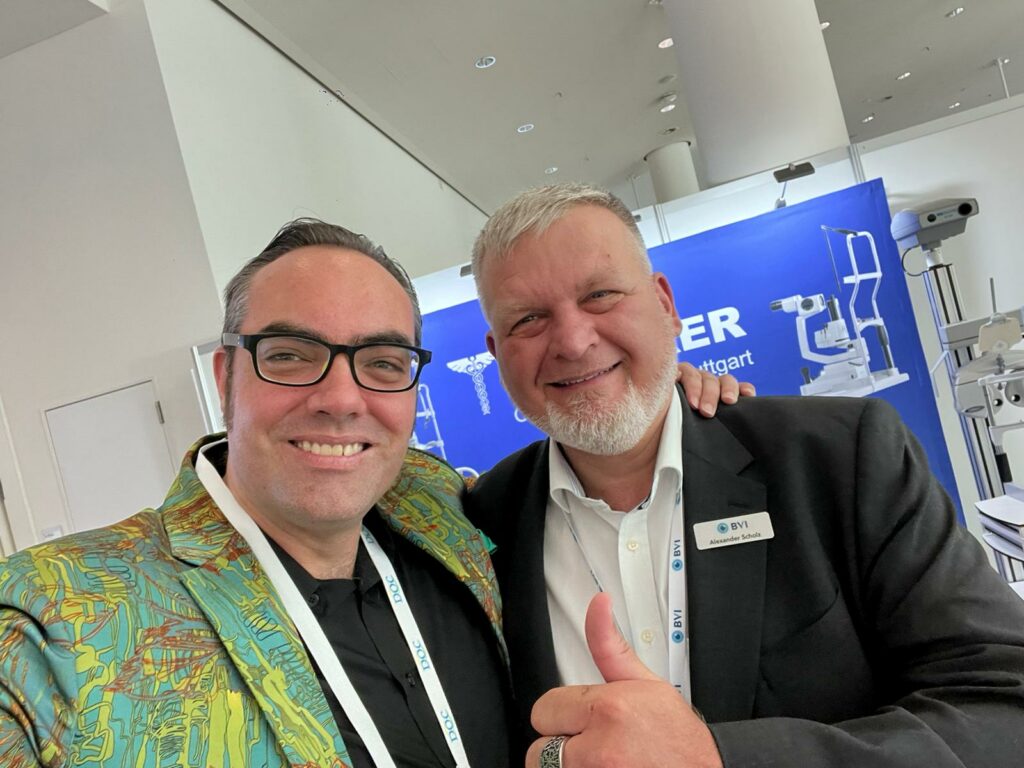 Alexander is an equipment specialist at BVI Medical (Massachusetts, USA), but more importantly, he's a 1st-degree connection on LinkedIn. So it was great to see one another!
Robin Negele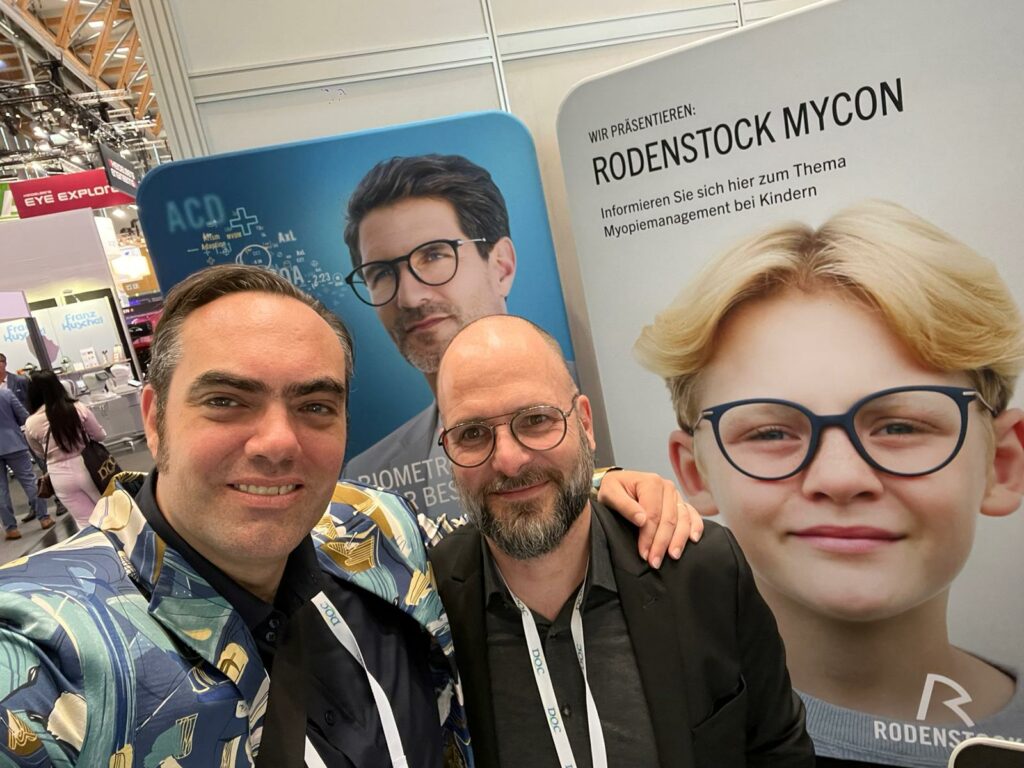 Robin was the first rep I've ever met from Rodenstock (Munich, Germany), which is nonetheless a well-known company in the vision care space. It's important to mention that Rodenstock MyCon lenses are available to, according to the company, "counteract the progression of myopia." Further, "an independent clinical study examining the progression of myopia in European children aged 7 to 14 over a 5-year period has shown that myopia control lenses based on Rodenstock MyCon principles can reduce myopia progression by up to 40%." That's news worth noting.
Marco Dutto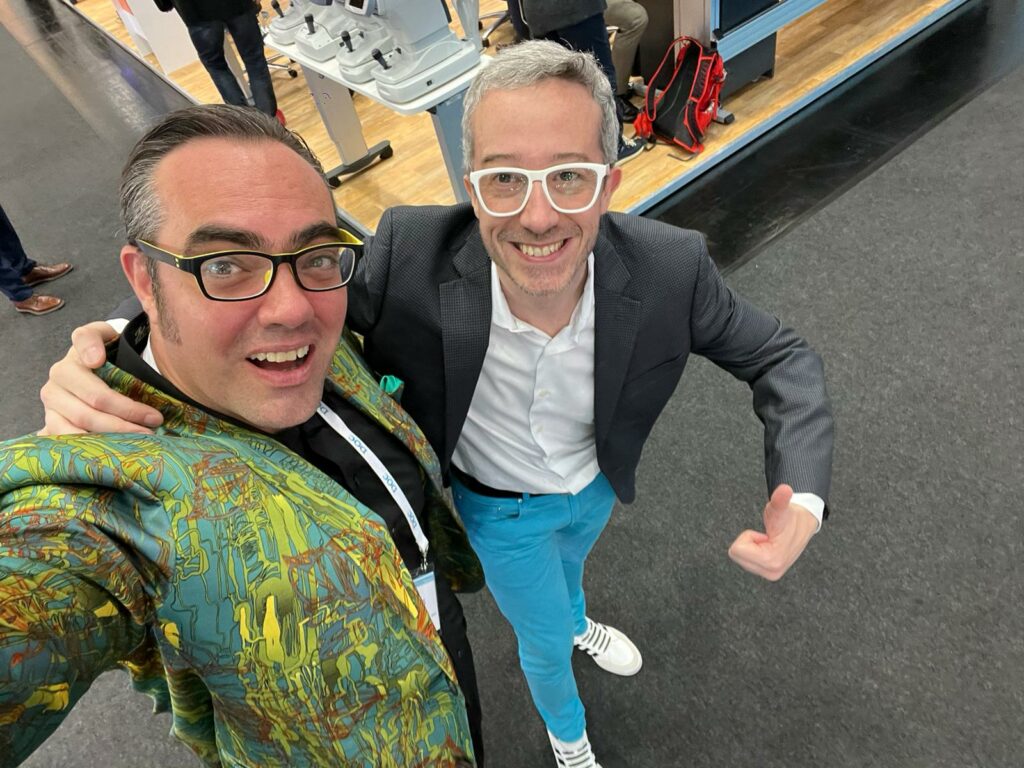 Marco had some of the best pants I saw worn at DOC. I have to say, the DOC was a lot more trendy than I expected. Very trendy, indeed!
Mark Totzke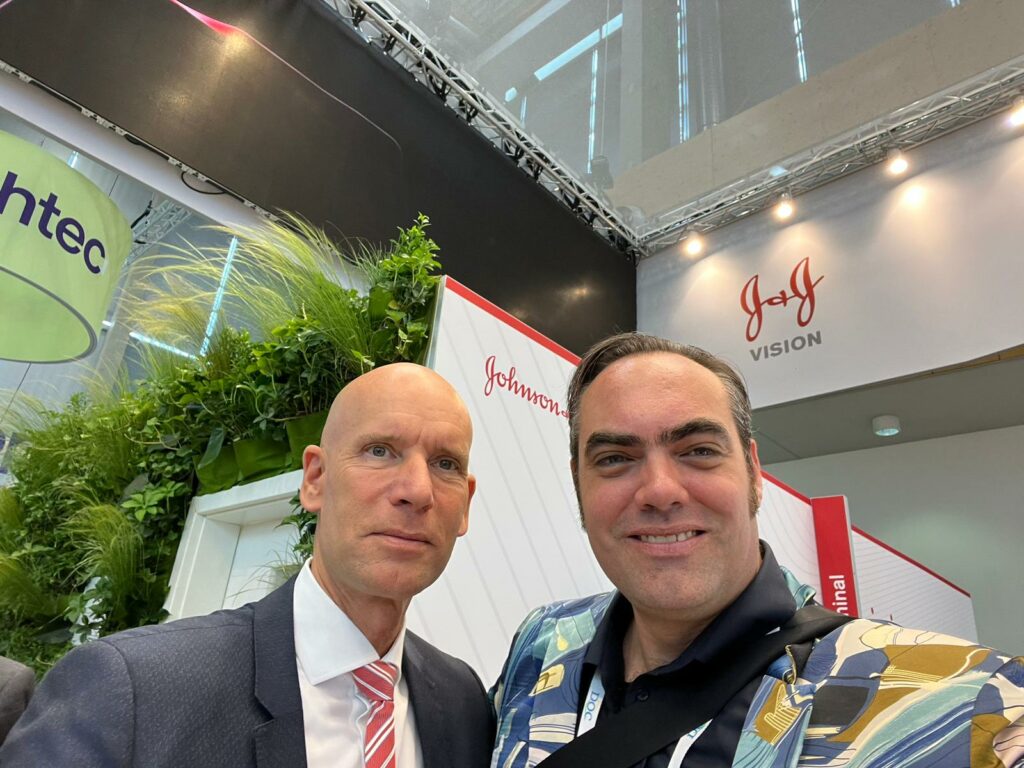 I enjoyed the best ice cream in Nuremberg at the J&J booth, thanks to Mark Totzke.
'Nuff said. Well, that's it from Nuremberg. Until the DOC next year — in the same city, as always — we at Media MICE will see you at most conferences that matter globally, the DOC definitely being one of them.