A lot of challenges happened over the years to the Asia-Pacific Association of Cataract and Refractive Surgeons (APACRS) meeting.
Prior to this year's meeting, the last very strong APACRS meeting I remember was in 2019 in Kyoto, Japan. Kyoto is actually one of my favorite Asian cities – the one that I hope to retire to someday – and so it was a very memorable experience. Battling the humidity in a jacket walking along the riverside from my hotel was about the hardest thing I remember about that meeting.
Then came 2020, 2021 and even the day I arrived in 2022 for APACRS in Seoul was the day that South Korea really opened back up in any meaningful way to foreigners – and not for long. I was recently reminded the country closed down about a month later due to new outbreaks.
But back in Seoul on a layover from the US last month, the airport was the busiest I had ever seen it. My layover was long, but I almost missed my flight nonetheless due to the crowds. Clearly, travel and business were back in Asia. Why this particular time? Maybe the summer season, eager travellers, and the lack of any meaningful contagion had combined in a – not Perfect Storm – but perfect circumstance.
For whatever reason, it was clear APACRS in Singapore was going to be a fairly strong one once again, and it was indeed. Here are 25 of the important industry actors I met around the vicinity because, in life, we're all playing a role aren't we? Hopefully, our selfies together will help tell the story of what movers and shakers came, and why.
Drs. Thomas Kohnen and Oliver Findl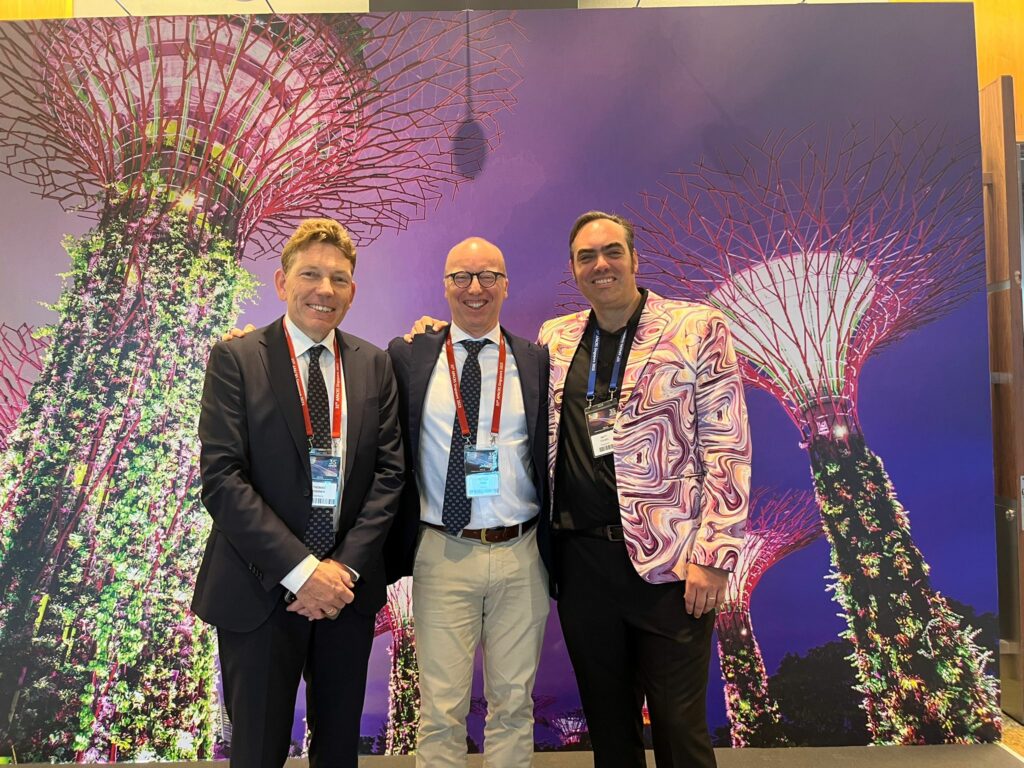 It was great to see this dynamic ESCRS duo over in APAC for APACRS. ESCRS is really the world's dominant ophthalmology meeting now – not only a European show, or a cataract and refractive one. It's also centrally located to welcome a great number of APAC delegates, and is positioned much better than American shows due to simple geographical advantages. ESCRS certainly is pushing to welcome more delegates from the APAC region.
As an official ESCRS digital media partner, I have to say I feel palpable energy around ESCRS executives every time I see them. It's like we all know something big is about to happen in Vienna. Very, very big.
Mr. Ken Tong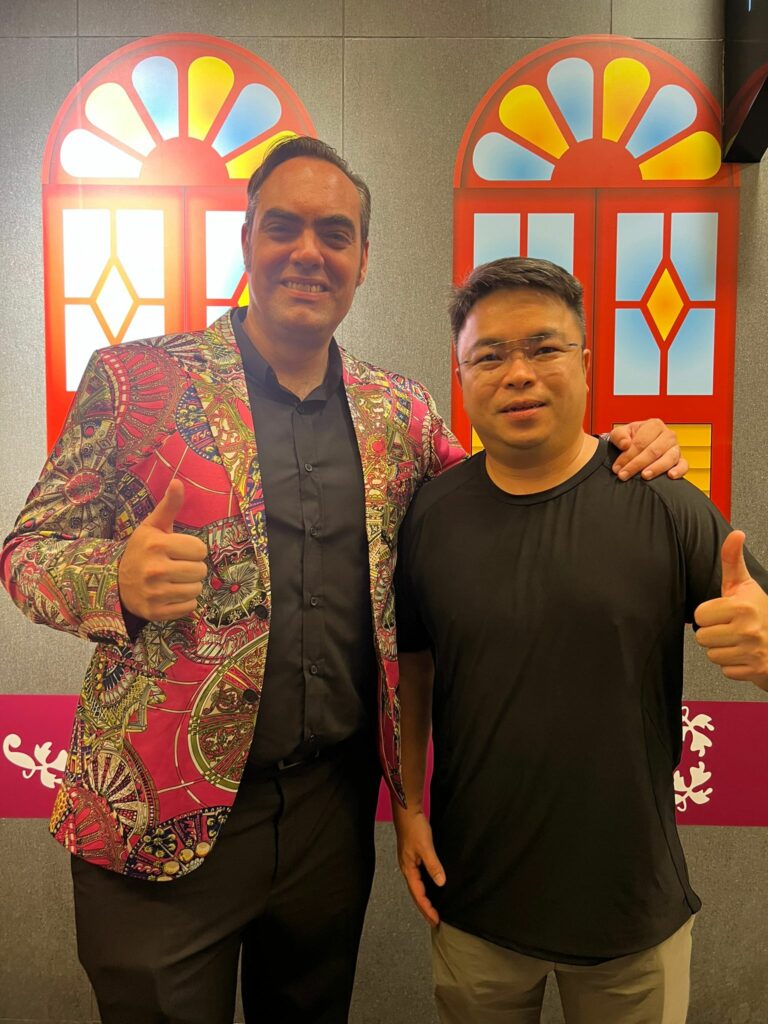 We met on the sidelines of APACRS, at Suntec, to discuss the important role of optometry in the eye care field as well. It's a very relevant topic, as Johnson & Johnson Vision discussed their Abiliti orthokeratology contact lenses.
It was the first time I've noticed that a vision care product was discussed so openly at a cataract and refractive show. Then again, Abiliti won an "Ophthalmology Product Innovation" accolade at the Healthcare Asia Medtech Awards 2023. So, is it an ophthalmology product or an optometry product? Potato, potahto….
Cong Nguyen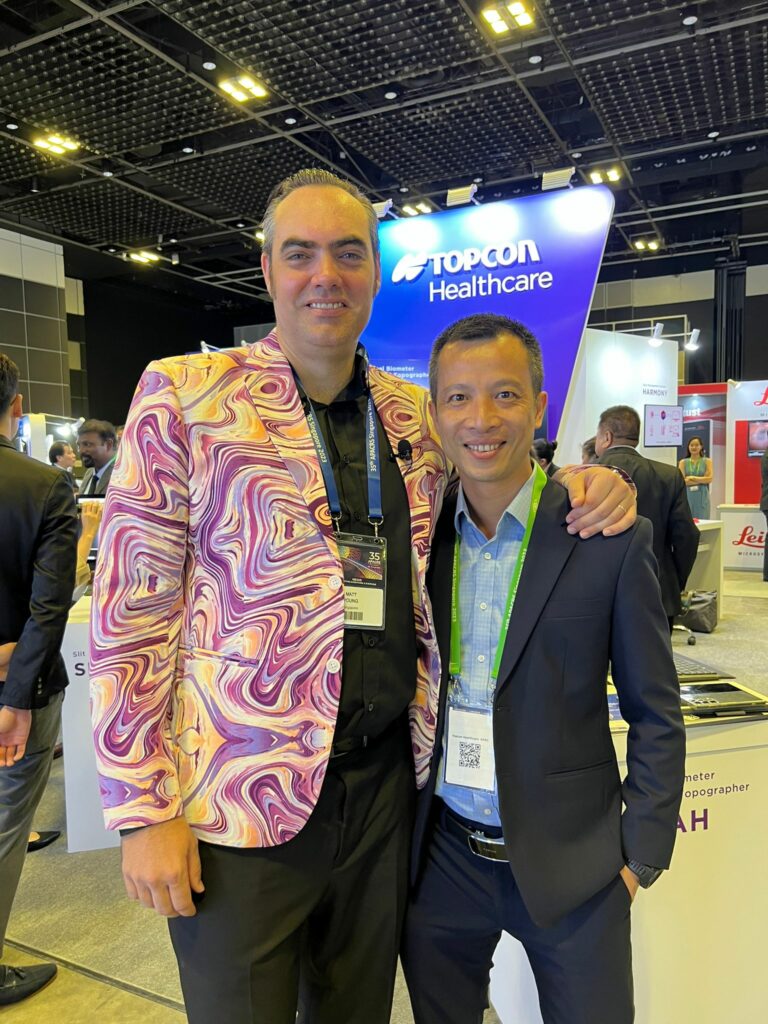 There's a special place in ophthalmic heaven for Cong. Last year, Cong made himself available for us regularly about the Vietnam market in relation to launching our physical/hybrid CAKE and PIE Expo. He didn't have to. His company wasn't involved. And yet, I could see that he beamed at the notion of helping his nation advance an important international meeting at home.
There is a rare, genuine altruistic trait of Cong that I marvel at. I was so glad to see him at APACRS and to call him a friend. Cong works with DKSH now, the distributor of Topcon, and so is supporting their products in Vietnam now.
Luxin Wang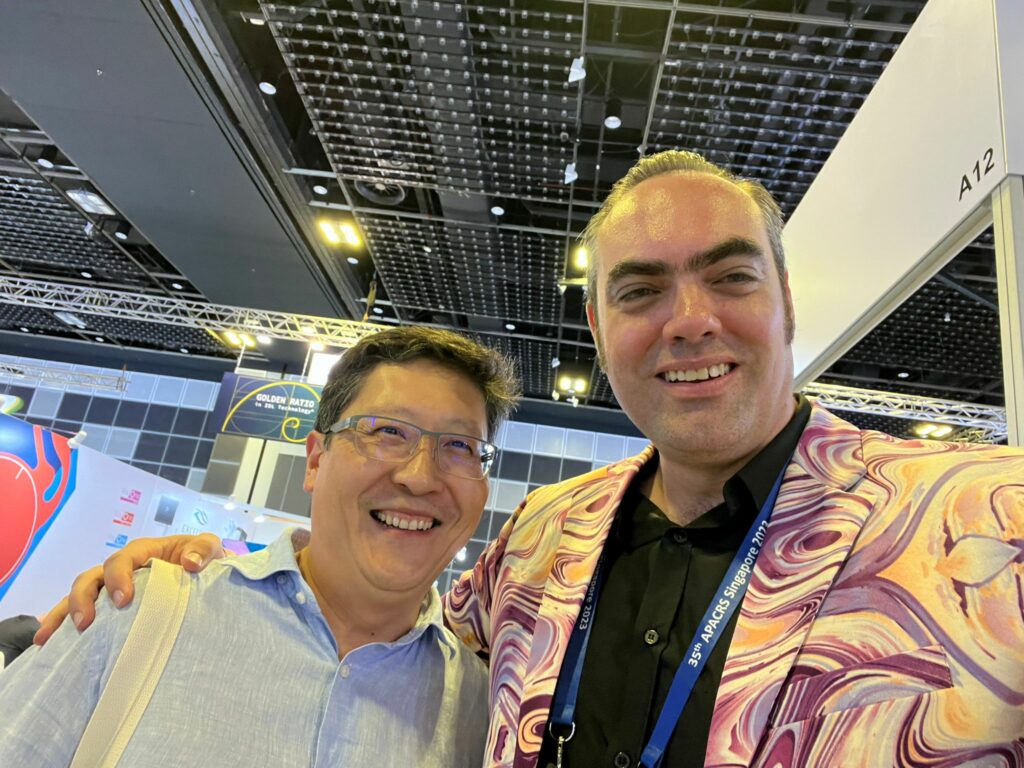 Luxin hasn't been completely immersed in ophthalmology since he left Alcon as the head of APAC Surgical in 2019. And yet, he came back to APACRS to see old friends. I imagine if someday I ever left the industry, I'd do the same. But I'm not leaving. Eye care is a mission for me, while all of medicine seems to be Luxin's calling.
Luxin is CEO of LianMedical, he works with MedTech innovations to accelerate introduction of breakthrough technologies into the Chinese market. The company is backed by Perceptive Advisors, based out of New York, which manages $8 billion USD across its portfolio.
Christoph Vonwiller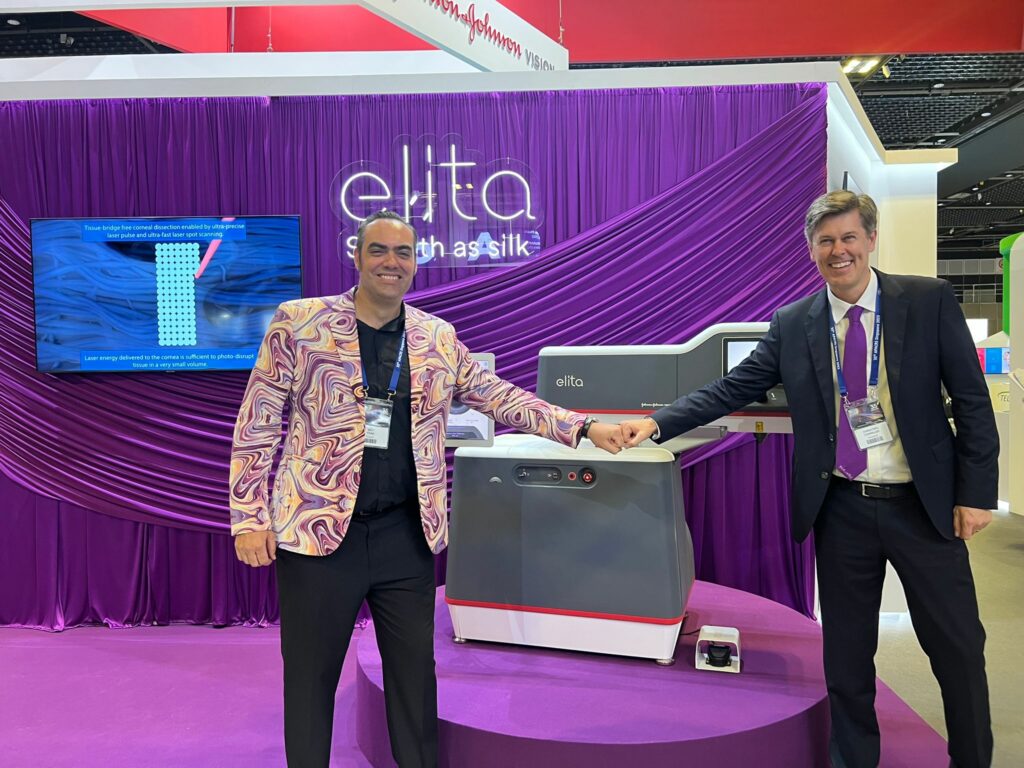 I hadn't seen Christoph since he had been promoted to President of APAC for Johnson & Johnson Vision, and it was so good to do so.
I met Lori Tierney, president of J&J Vision Americas first, right after her promotion to that role at ASCRS.
One thing I can say: These are friendly, thoughtful people. I'm really impressed by Johnson & Johnson Vision's leadership team now. Lori even asked me to make her a funky jacket, which I'm getting around to…
Johnson & Johnson Vision is now navigating closer cooperation between its vision care and the surgical divisions, and that makes sense where it's hard to say whether a product truly is a vision care or ophthalmic one – again note, Abiliti.
Sometimes, that might come down to the country. In China, my understanding is that ophthalmologists actually specialize in optometry. In Malaysia, optometrists are Mr., not Dr., but have a strong profession. And in Vietnam, optometrists started graduating only within the last several years.
So is an ophthalmologist offering Abiliti? Is an optometrist? It seems very largely contextual based on country.
Ulf Nawrocki
Ever since Media MICE broke through to become a mainstream media company in eye care – albeit still funky – Ulf has been one of our champions-in-chief. After our greeting at APACRS, we sat down for dinner at a beautiful Teleon boathouse event alongside DOC. There, Ulf confided in me, telling me that many years ago, he believed 99% of industry was against our success at Media MICE, in part because we were so different and trying to change the way communication was happening.
Now, he noted, 99% of industry – including Teleon – are with us, because of our dogged persistence not to give up where others might have. Ulf is very kind. I think there is more than 1% of industry we still are trying to bring into the Media MICE fold. But it is not the uphill battle that it used to be.
Dr. Samita Moolani and Dr. Ashok Kumar Moolani
These pictures are in fact much more about Dr. Samita Moolani and Dr. Ashok Kumar Moolani than they are about my colleague Brandon Winkeler or myself. Samita recently saw Brandon at the AIOC meeting in Kochi, India, where he shared his story about being a chef prior to joining the ophthalmology industry. Dr. Moolani was so intrigued she decided to send him an Indian spice box alongside the APACRS meeting which they both attended with a note that said "Happy Cooking!"
Meanwhile, Dr. Ashok Kumar Moolani – Samita's father – spotted me at APACRS and had to get a pic to share with his daughter. He overflowed with friendliness, and clearly, the apple doesn't fall far from the tree in this case.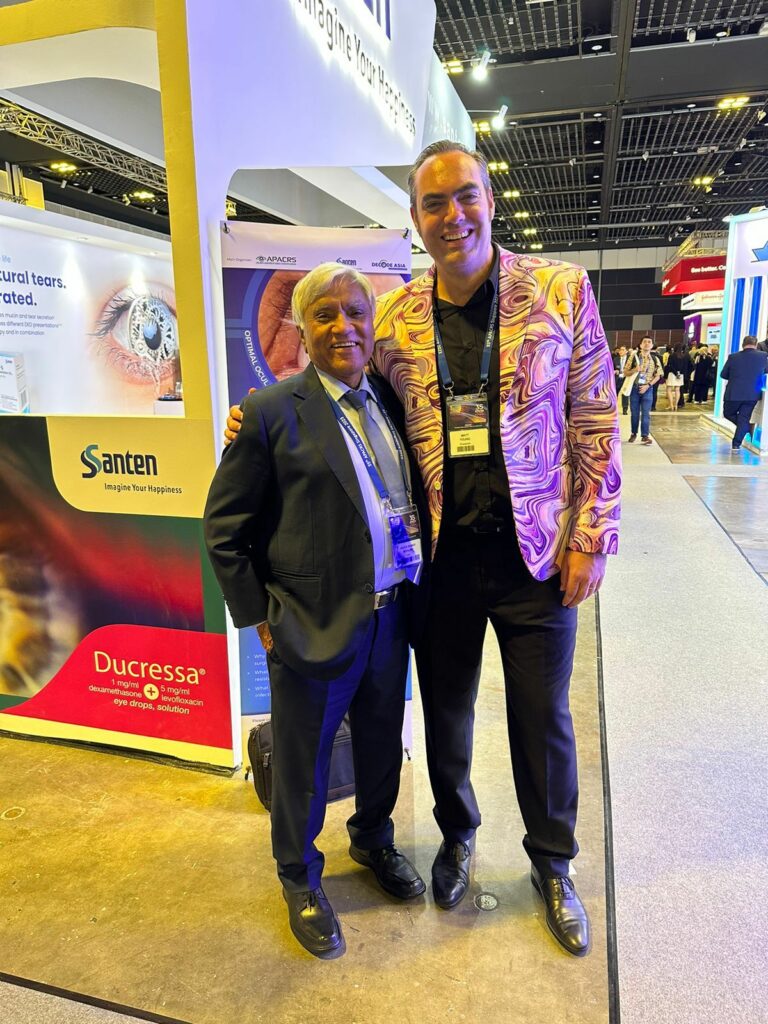 Our friendships with ophthalmologists and their families around the world are sincere, and we are so happy when our friendship overflows with such abundance, such as gifts from India. Thank you Samita and Ashok for making our day alongside a very busy APACRS!
Dr. Tarak Pujara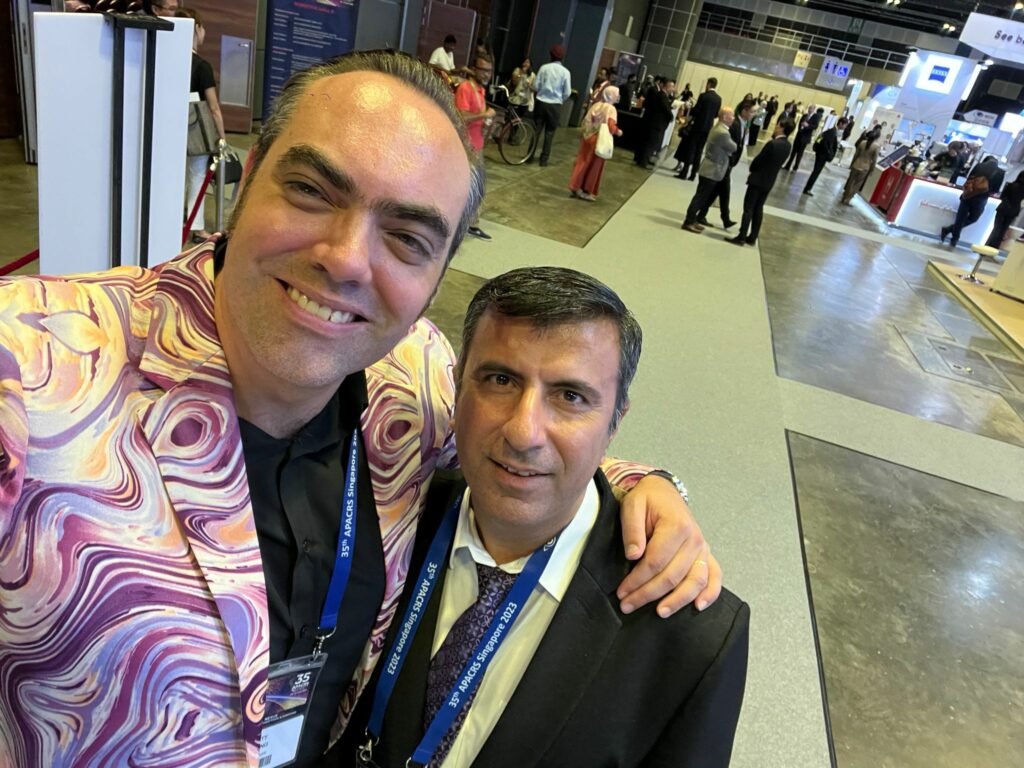 Tarak, now Head of External Clinical Research, Refractive, at ZEISS, is one of my earliest clients on behalf of Media MICE, and it was great to see him at this show. In the early 2010s, we used to head to Wawawa, a cafe in the midst of Bedok Reservoir, to plan how we were going to advance new communication projects with ZEISS. We'd meet every other month over vegetarian pizza and samosas, watch the sunset, and linger until one of us realized it was time to get home to our wives.
It was one of the best client relationships and friendships I've ever had, and I'll always cherish it.
And I think something to be learned here is when planning innovative projects, get out of the office together, and into the park…
Dr. Ken Fong and Dr. Miswan Muiz Mahyudin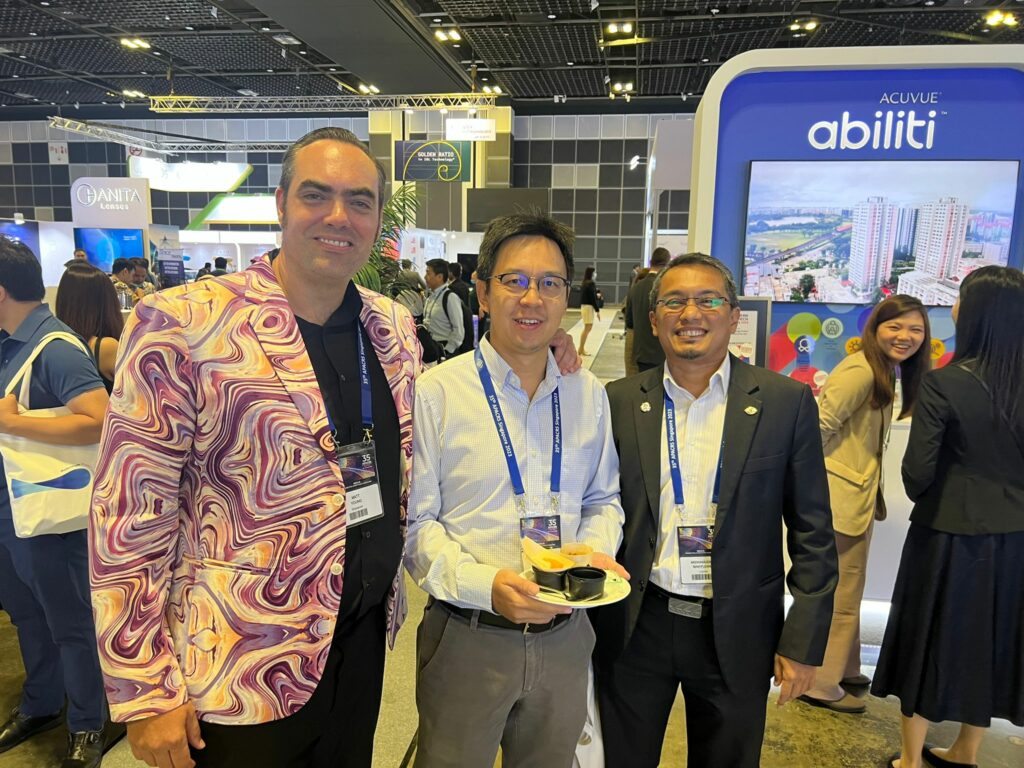 It was great to these Malaysian ophthalmic leaders in Singapore for APACRS.
Ken, of course, was the most recent APAO Congress President in Kuala Lumpur, while Miswan is the President of the Malaysian Society of Ophthalmology.
Dr. Anshu Arundhati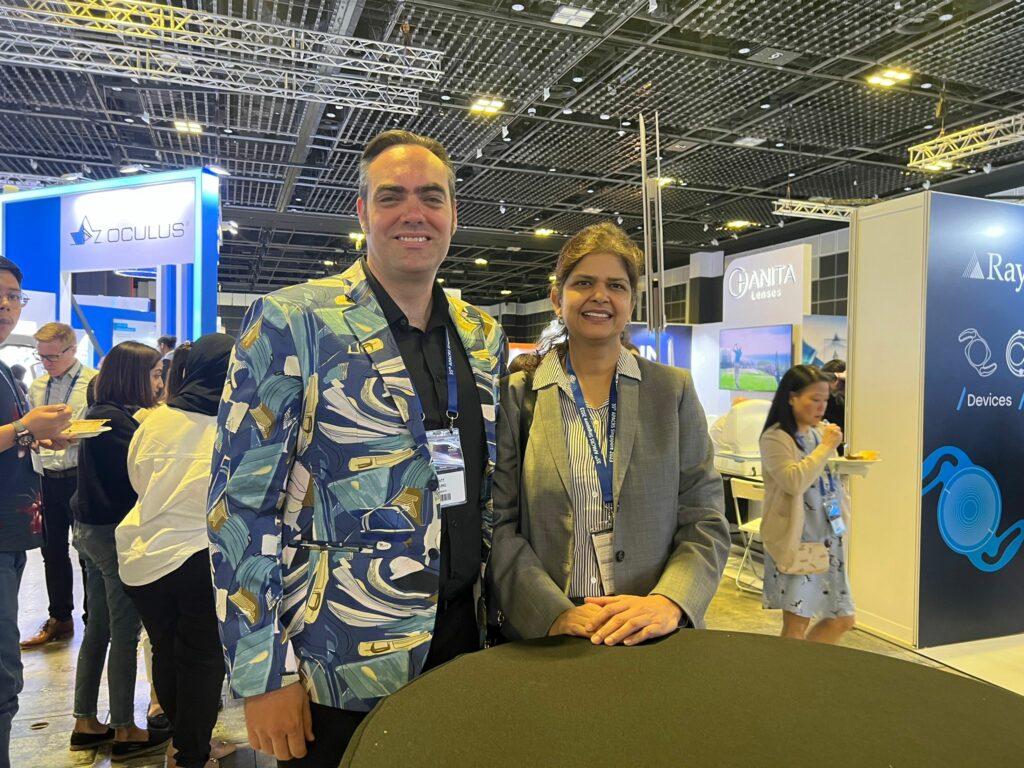 Anshu is the Deputy Chief Executive Officer (Education) at Singapore National Eye Centre, and so it was fantastic to learn about their new initiatives.
In the latest issue of SINGVISION, the magazine of SNEC, we read about the group's integrated partnerships for training in the APAC region. Essentially, SNEC is helping to cultivate APAC's eye care ecosystem.
Fully realizing the disparities in the eye care workforce in the region, SNEC is working on its partnerships in Vietnam, Indonesia, the Philippines, Thailand, and Malaysia. Online learning platforms are being utilized, as well as skills delivery transfer on-site.
We at Media MICE are looking forward to supporting the awareness of such initiatives throughout the region.
Dr. Harun Ur Rashid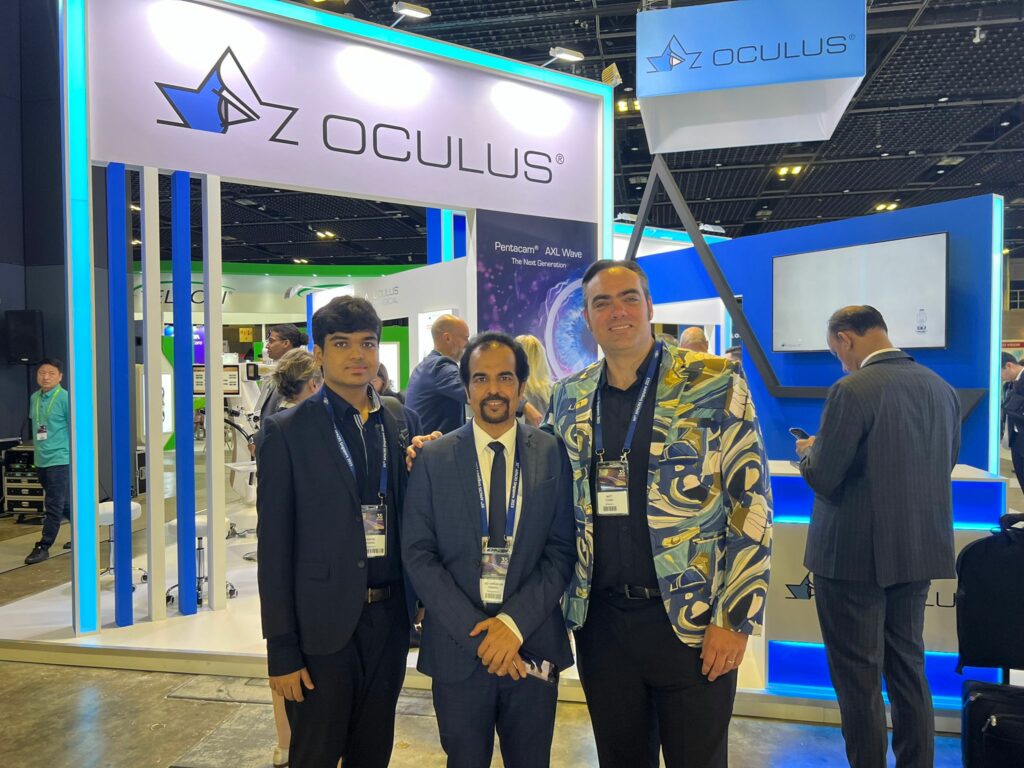 After meeting in front of the Oculus booth, I bumped into Harun and his son, both pictured here, over breakfast at our hotel. I learned that Harun makes the rounds on TV as a medical expert in Bangladesh, but is looking forward to doing more TV-like work in our own field of ophthalmology.
We are excitedly laying new plans together in which we may collaborate further in the realm of video coverage for the globe.
Andreas C. Kühnel and Theo Reininger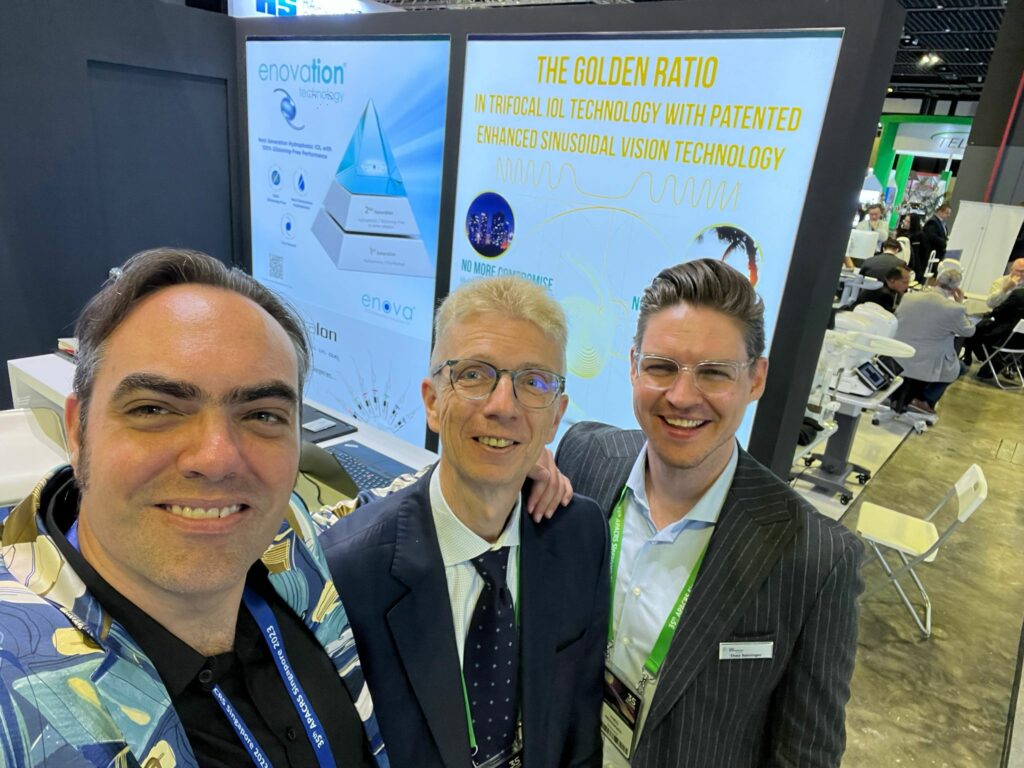 Andreas, the new managing director of VSY Biotechnology, and his colleague Theo, of the marketing department, were a joy to meet at APACRS. We subsequently met up for a night out at the DOC – good times indeed.
One of the things I love about conference life is the ability to meet at one conference and keep the relationship going at the next conference, and the next, often without having to call or write.
Relationships are so organic, and as a result, some of the best friendships of my life are formed within eye care. I have known Andreas for years, ever since he successfully sold his company Vitreq to BVI. He has been an inspiring entrepreneur and leader, and along with Theo's smarts and energy, I'm sure will do great things for VSY.
Mengmeng Yang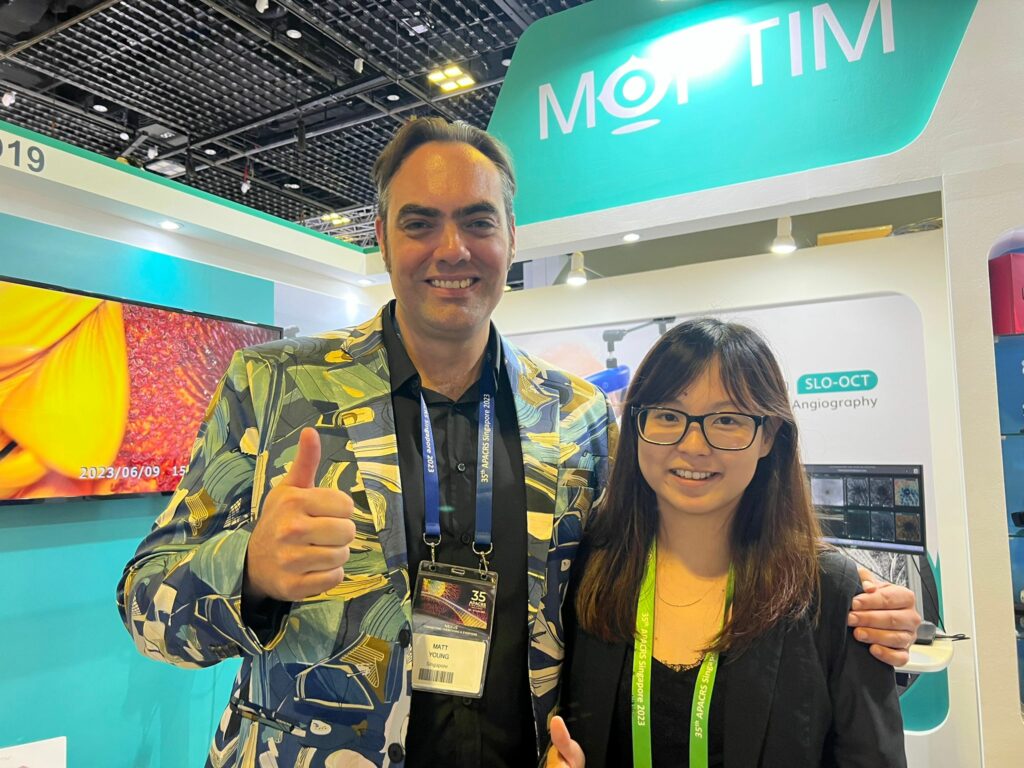 There are some people you haven't seen for years, and yet, when they pop up again, it's just so so nice to see them. That's Mengmeng Yang, VP of Marketing and Sales, for MOPTIM.
She was showcasing the company's OPM 500 Operating Microscope, which according to the company, provides outstanding optics with excellent depth of view, true coaxial illumination, a long-lasting LED light source, and other benefits. We'll be seeing MOPTIM next at ESCRS in Vienna.
Vieri Badalati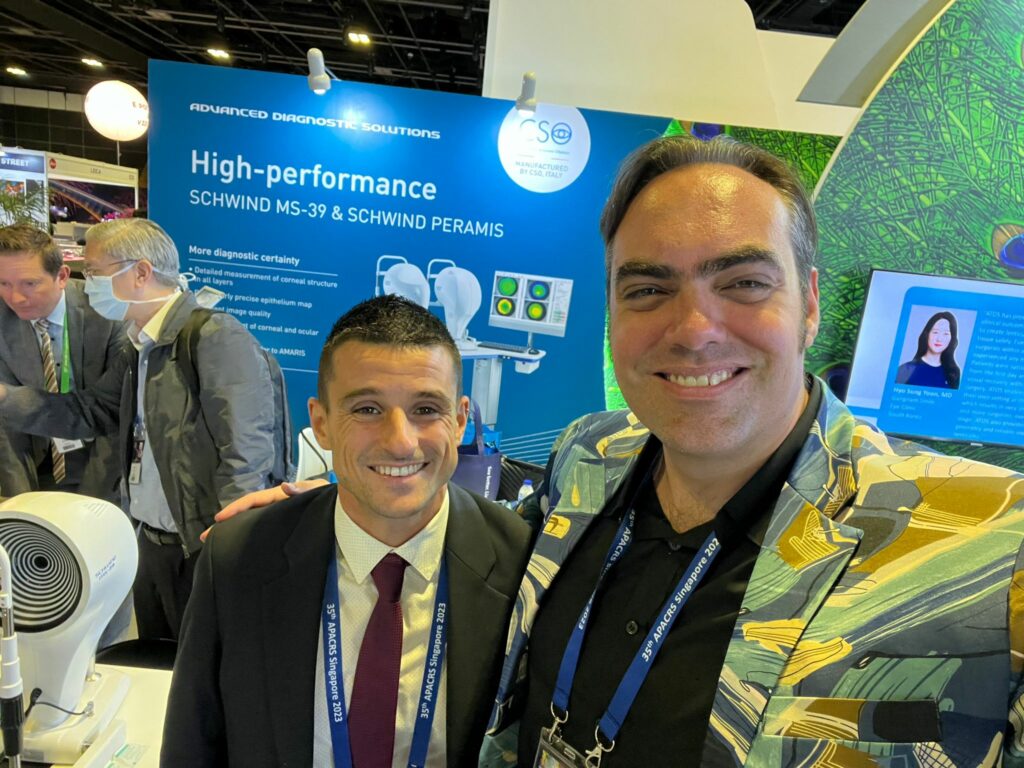 I ran into Vieri Badalati at the Schwind booth. I didn't realize that CSO had partnered with Schwind, but you can see evidence of that in the background. So yes, in fact, the Schwind MS-39 and Schwind Paramis are manufactured by CSO, Italy. According to Schwind, you can expect more diagnostic certainty, including detailed measurement of corneal structure in all layers with such advanced diagnostic solutions.
Dr. John Chang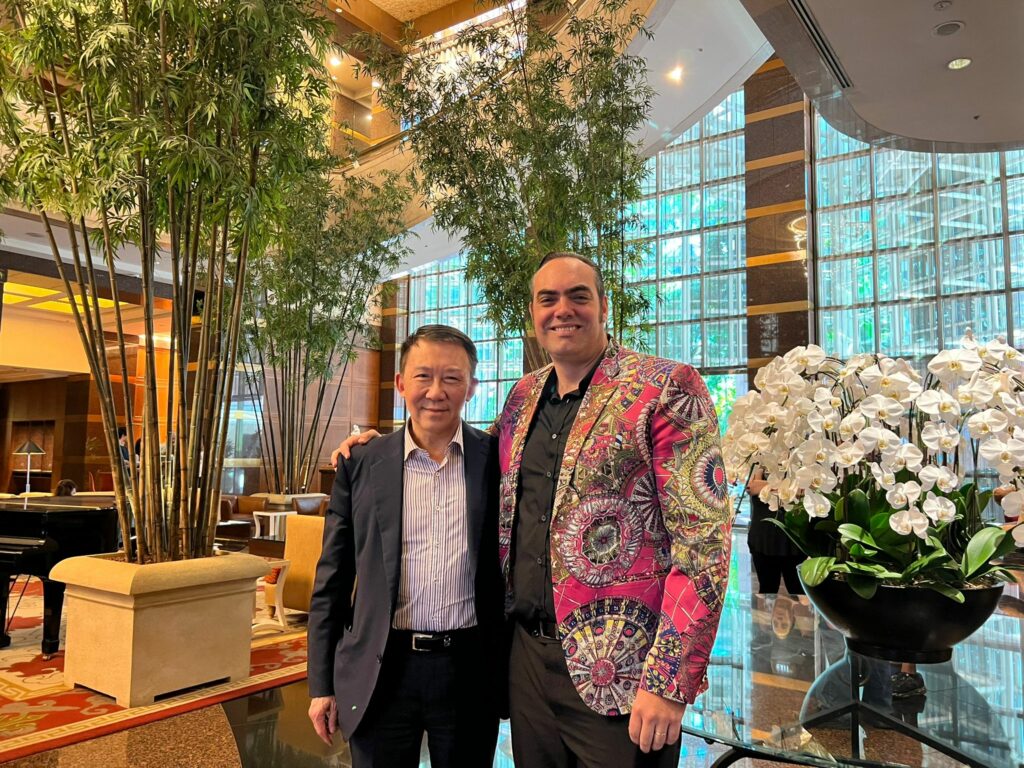 It was a pleasure meeting John at the APACRS. We had some editorial collaboration some time ago, but plan on more great things to come. John, beyond being a member of the Board of Officers of APACRS, also is the Immediate Past President of the International Society of Refractive Surgery (ISRS), whose first president in 1980 was the renowned Dr. Jose I. Barraquer, known as the "father of modern refractive surgery."
Bassem Bou Habib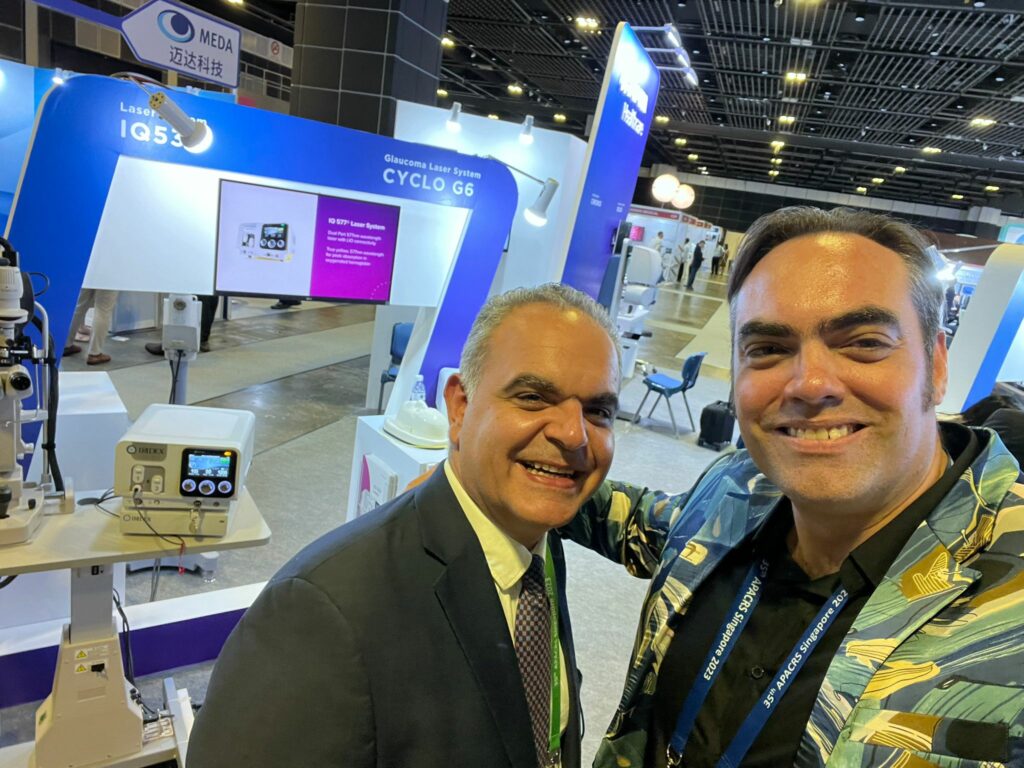 Every time I see Bassem at a conference, it's selfie time. This guy has an irresistible smile and charm. One thing I always have found interesting about Bassem's professional capacity as well is that he has been a member of the Forbes Business Development Council, which is an invitation-only community for senior-level sales and business development executives.
Sometimes, I find that meaningful membership in communities beyond ophthalmology elevates a person's gravitas in a way that emanates breadth of wisdom. This is certainly true in Bassem's case, and he is a refreshing member of our field indeed.
Chintan Desai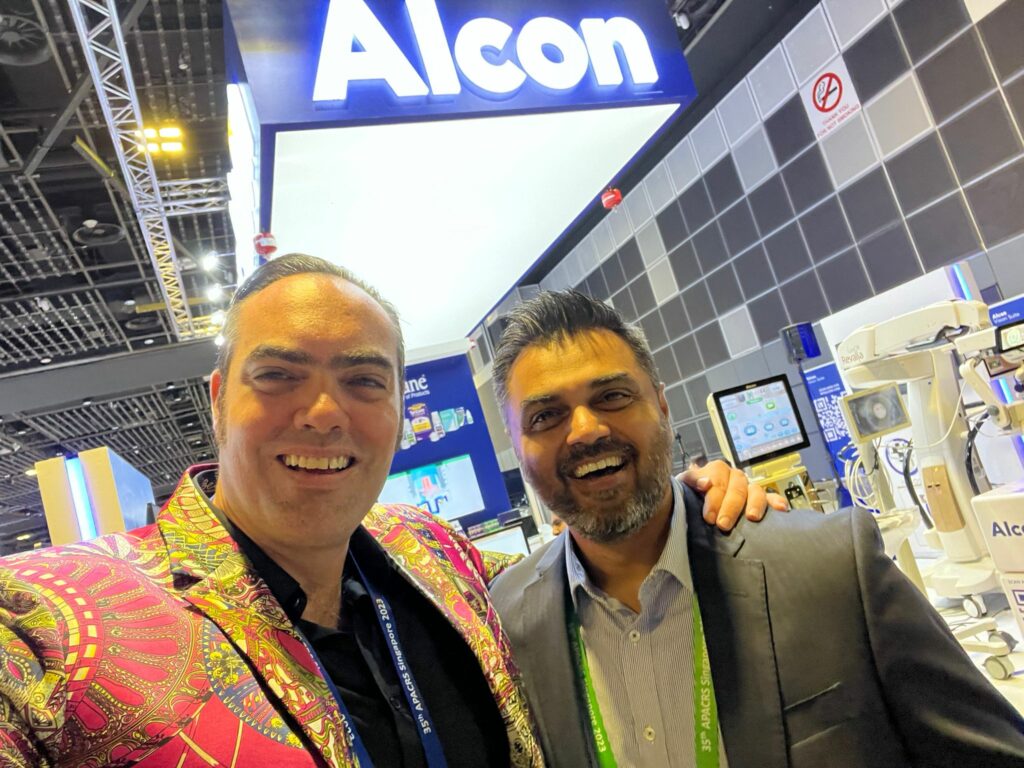 Chintan and I easily share a saying: "Go 'Cats."
That's the athletic phrase of our alma mater, Northwestern University.
Chintan looks like he could be an athlete, but actually has been pushing innovation in the medical sector for years.
Prior to Alcon, Chintan was the GM for Southeast Asia for GE Healthcare, another pioneer.
One of his recent LinkedIn posts was articulate on the topic of sustainability. According to Chintan: "Sustainability in Healthcare – a complex, multi-dimensional nut to crack. Single-use medical devices have been the norm given the hygiene, safety, and convenience they offer. But that makes it doubly important to find ways to offset the waste."
Dr. Sheetal Brar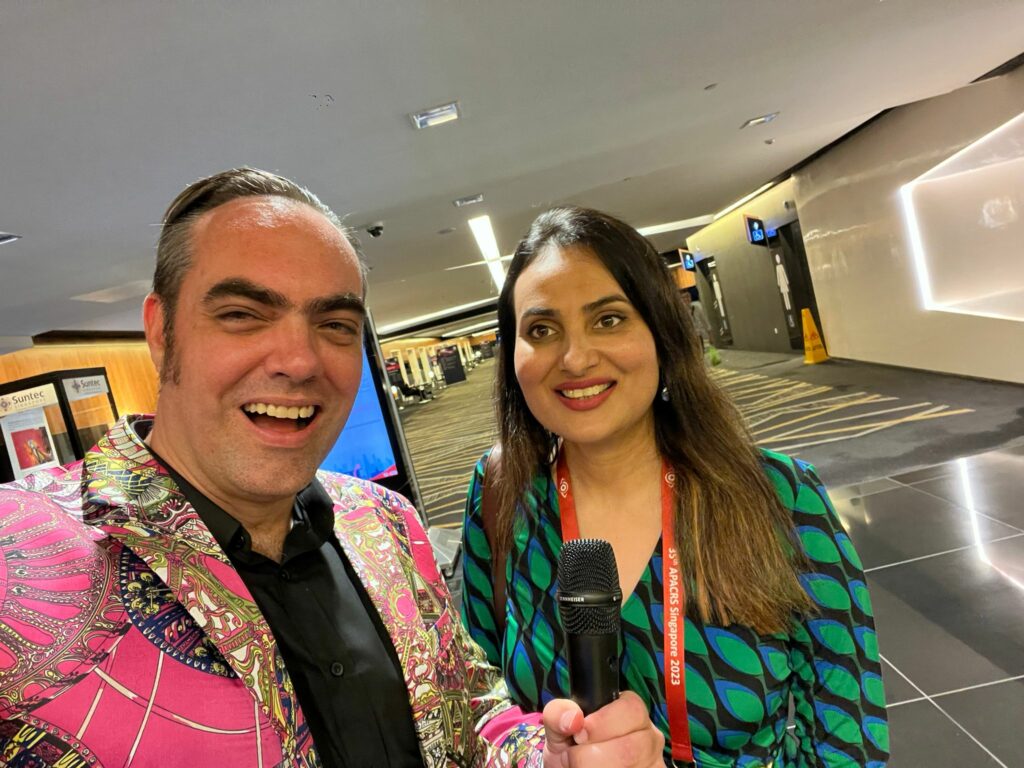 It's always great running into Sheetal. Here, I was in the midst of filming a creative spot for J&J Vision when Sheetal crossed my movie path. It's true, she's the real shining star. A few words, perhaps, Sheetal? Whatever they are, they are sure to be smart, accurate, and effective. There is no more dynamic KOL in Asia-Pacific today than Dr. Sheetal Brar.
Dr. Ashraful Huq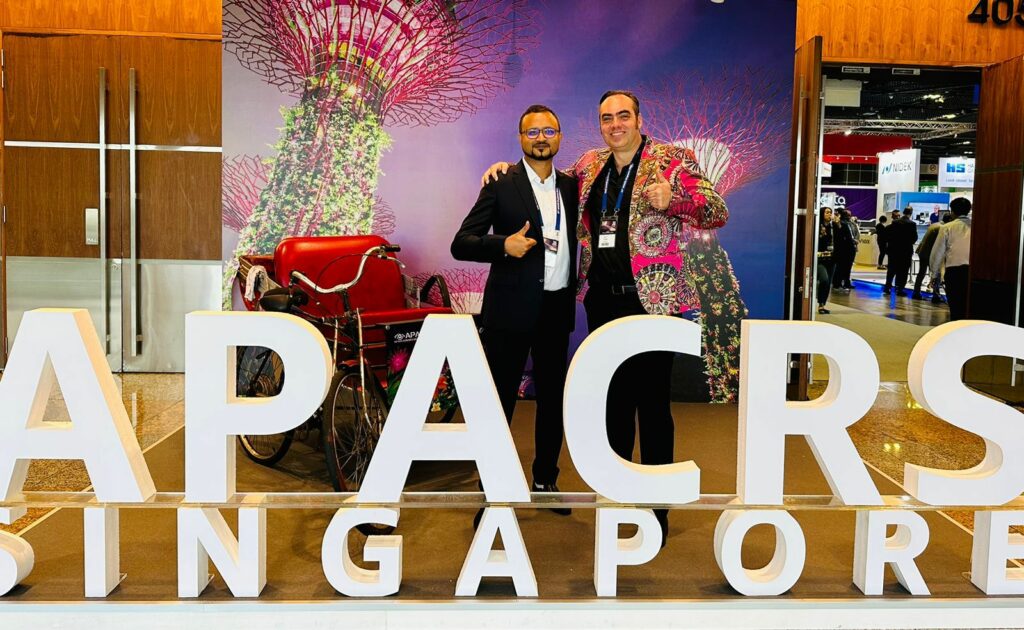 It's always incredible to lean into the charisma of Media MICE's 50 KOL Influencers, and Dr. Ashraful Huq is one indeed! He knows where to stand, knows how to pose, and knows we have to do it all in the blink of an eye.
Meanwhile, he's also the Founding President of the Bangladesh Young Ophthalmologists Society and a busy consultant cornea, cataract, and refractive surgeon at Bangladesh Eye Hospital and Institute.
So while the word "Influencer" may bring to mind superficial characters in other fields, they are indeed much more meaningful and experienced in eye care. Kudos indeed!
Dr. Filomena Ribeiro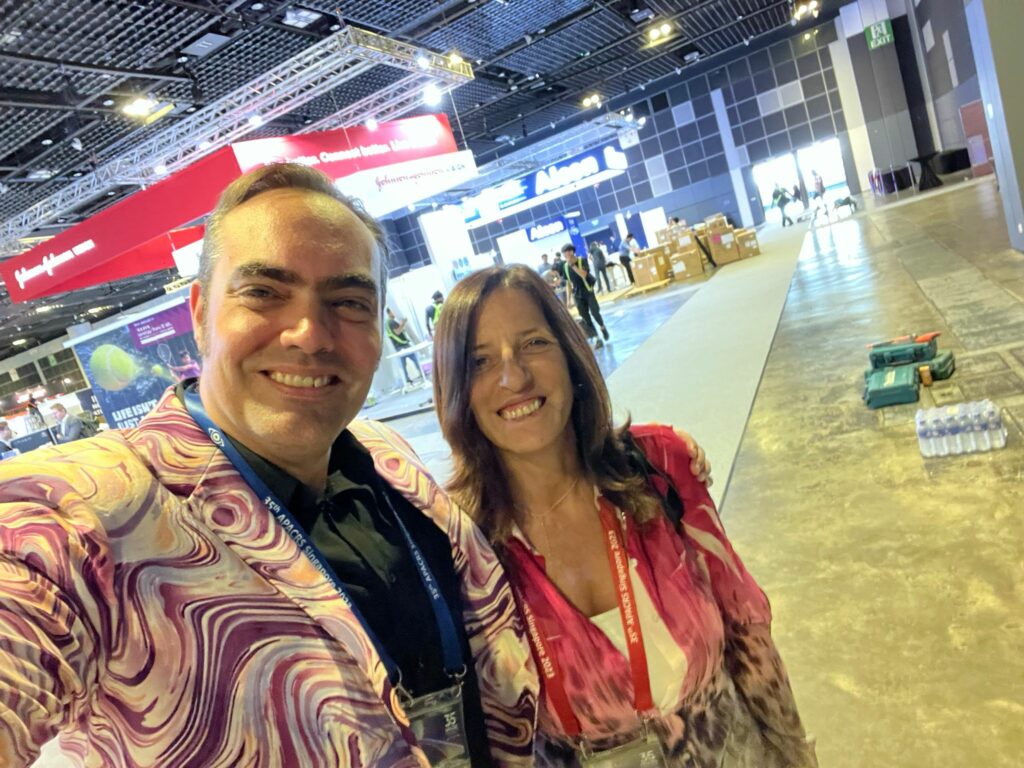 There's very little to say about Dr. Ribeiro that can add anything to her accomplishments substantively. She's already the ESCRS President-Elect. She already is an M.D. and a Ph.D. She already is the Associate Editor for Case Reports of JCRS. But Filomena is also an extraordinary wearer of clothes, which I admire. Both times I met her, she was stunning.
And in case you think style can be overlooked in our field, take it from me – think again!
Team Media MICE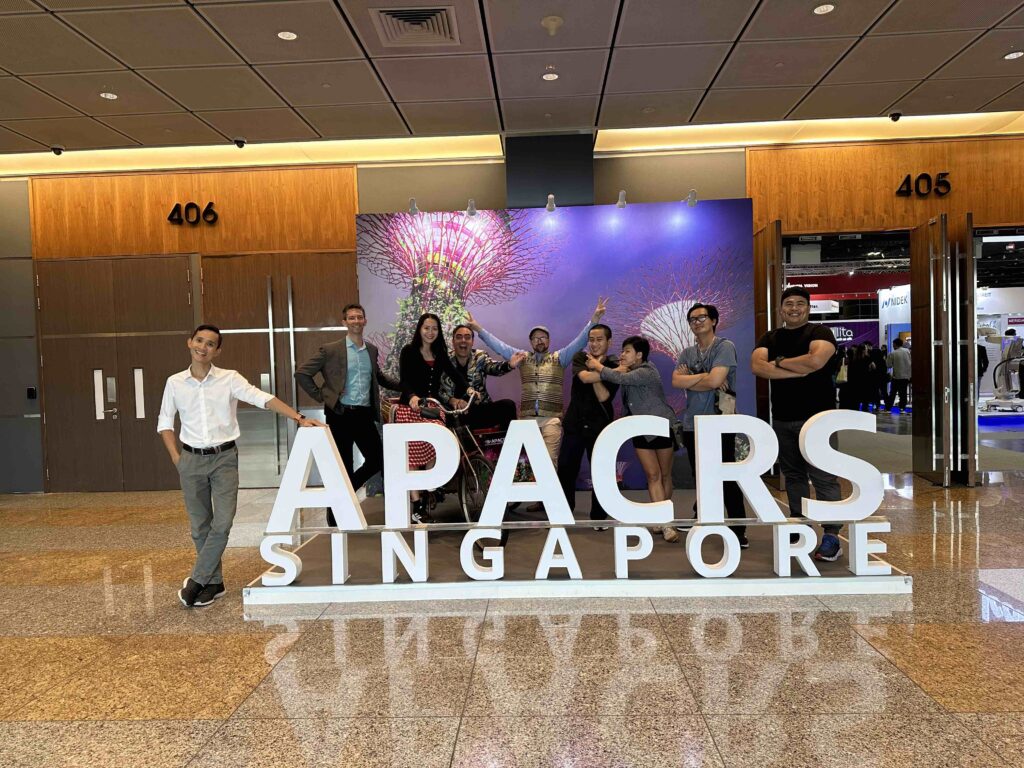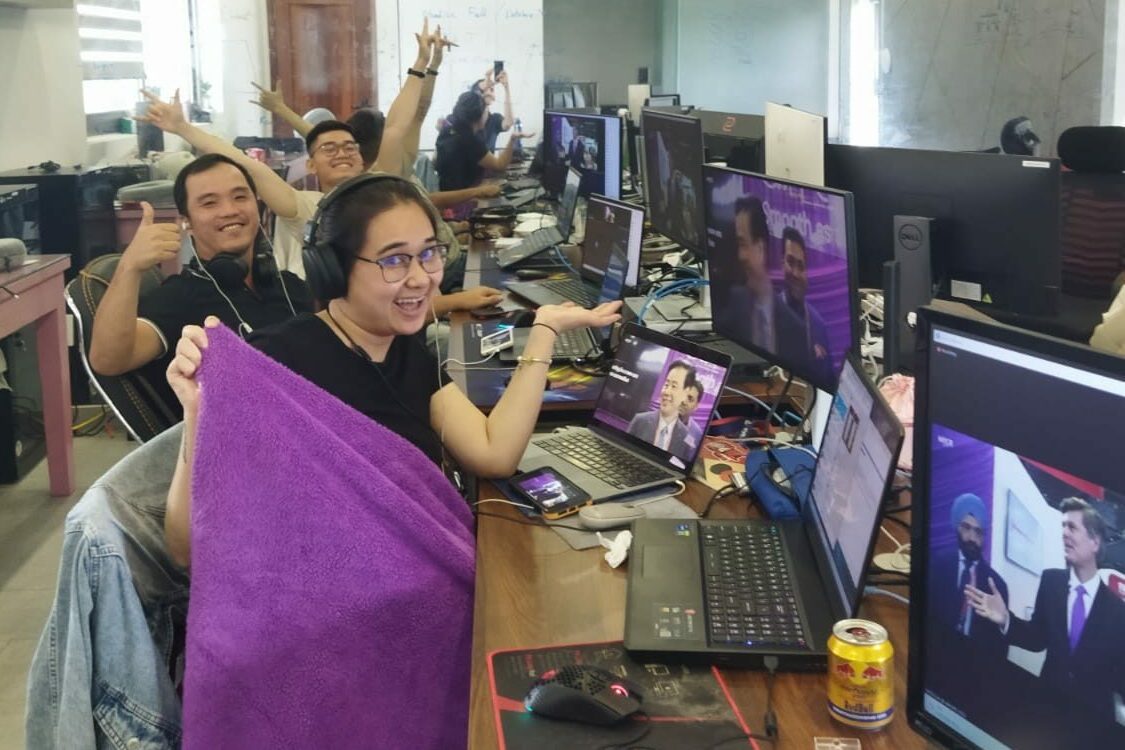 Finally, I have to give a shout-out to all our team members at Media MICE – from those behind the scenes in Vietnam to those on the front lines of APACRS in Singapore. Collectively, they are indeed the 25th mover & shaker.
They performed exceptionally well under pressure – from live streams to video coverages to rapid overnight publishing to social media – and eye care coverage of the latest advancements in APAC is better because of this. Well done team!