On Day 3 of APAO 2023, experts shared how the latest technologies from Alcon increase patient satisfaction and make surgery more enjoyable for surgeons.
The AcrySof IQ Vivity® IOL is a presbyopia-correcting non-diffractive extended-depth-of-focus (EDoF) vision intraocular lens (IOL) that provides cataract patients with a continuous range of vision after cataract surgery. Meanwhile, the AcrySof® IQ PanOptix® is a trifocal lens that reduces the need for glasses or contact lenses after cataract surgery and provides clear vision at all distances. These and more are just some of Alcon's cutting-edge IOLs and innovations that were put in the spotlight during an Alcon-sponsored symposium last February 25.
A balancing act
In his talk, Dr. Thomas Kohnen from Germany shared his experience in correcting presbyopia with both lenses. He said he used multifocal lenses for patients who wanted to have spectacle independence, and non-diffractive lenses for those who were not keen on having multifocal lenses — noting that mini-monovision with non-diffractive EDoF lenses might provide spectacle-free near vision for this group of people.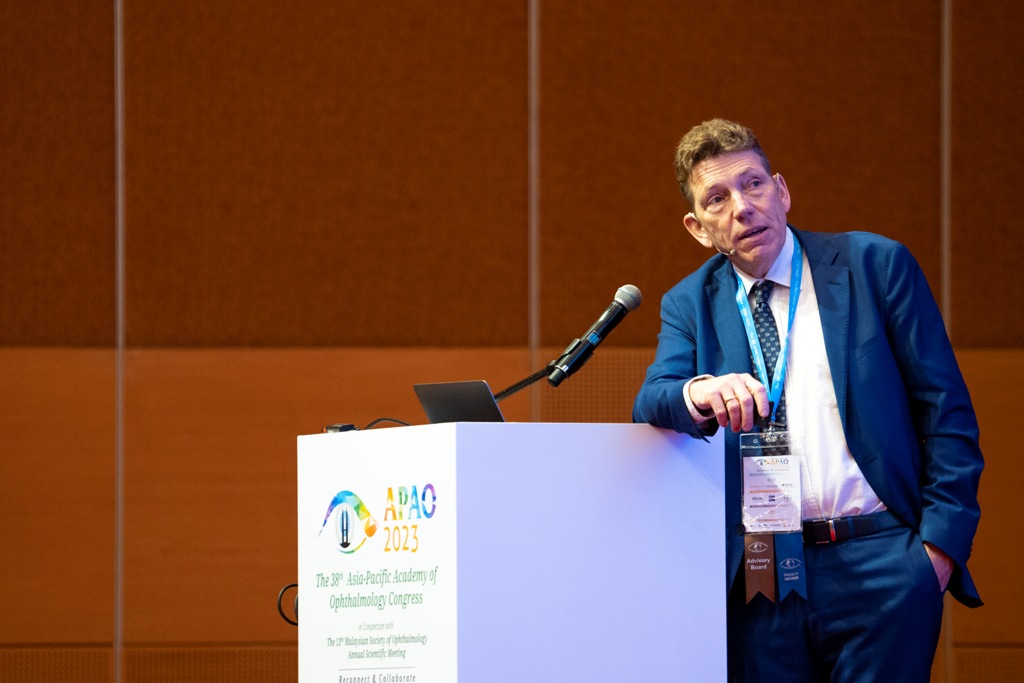 According to him, EDoF IOLs provide excellent distance visual acuity, improved visual acuity in the intermediate range, as well as functional near visual acuity. In addition, the non-diffractive EDoF lens has the benefit of causing less halos compared to a diffractive EDoF as well as a multifocal lens. The non-diffractive EDoF also fares better when it comes to driving at night than the multifocal. However, the multifocal lens has better near vision acuity (VA) than the non-diffractive. Nevertheless, the mini-monovision approach enhances near VA when used with the AcrySof IQ Vivity® IOL, Dr. Kohnen noted.
Furthermore, he shared that in all the IOL implantations he did with the femtosecond laser from 2013 to 2022, the use of CLAREON® PanOptix® IOLs has remained about the same from 2016 to 2022 after an increase in 2015 to 2016, while the use of AcrySof IQ Vivity® IOL has been increasing sharply since 2019.
In terms of real-world evidence, the AcrySof IQ Vivity® and AcrySof IQ Vivity® Registry Study have demonstrated that the lenses provided good VA for distance vision. "Looking at spectacle independence at three to six months, in summary, most patients did not need glasses to see far away or at arm's length in bright and dim conditions. Ninety one percent of patients reported being satisfied with their sight at present. And most importantly, 91% reported no halos, glare, or starbursts," Dr. Kohnen shared.
Looking at the cohort of patients with prior history of myopic post-refractive surgery (n=23), most patients do not need to wear glasses to see far away in bright or dim conditions. Comparing both lenses, "Vivity gives you less optical phenomena and more spectacle independence, while PanOptix gives you more optical phenomena and more spectacle independence," he said.
Dr. Kohnen also shared that he and his colleagues are doing a study looking at AcrySof IQ Vivity® implantation in post-LASIK eyes and CLAREON® PanOptix®, a new material, namely the Clareon material, which is currently being evaluated and had good outcomes so far.
Excellent patient satisfaction with Vivity
Next, Dr. Soon-phaik Chee from Singapore shared various cases in which she implanted AcrySof IQ Vivity®.
Patients are generally happy because not only do they get excellent distance vision, they are also able to read newspapers without glasses and do not experience halos and glares, she noted.
Moreover, the IOL can be used in eyes with conditions like intumescent cataract and irregular astigmatism due to a previous pterygium surgery, mild non-proliferative diabetic retinopathy (NPDR), and epiretinal membrane, as demonstrated by the case studies.
"When targeted at the first minus, Vivity delivers the 'functional near' without compromising far because of the flat landing zone. It can be the presbyopic-correcting IOL of choice for the imperfect eye, such as those with mild macular disease or glaucoma, and when an assessment of the fundus is not possible," Dr. Chee shared.
"When biometric inaccuracies are anticipated, or mild corneal aberrations are present, such as post myopic laser vision correction, or where optical biometry is not possible, AcrySof IQ Vivity® is forgiving. AcrySof IQ Vivity® is a better alternative to a monofocal IOL and should be offered whenever a monofocal IOL is considered," she concluded.
Making surgery an enjoyable experience for the surgeon
Alcon's LuxOR® REVALIATM Ophthalmic Microscope and Centurion® Vision System with ACTIVE SENTRY® Handpiece is the 'perfect pair' in cataract surgery, according to Dr. Anurag Mishra from India.
The LuxOR® REVALIA Ophthalmic Microscope's customized LED illumination provides options of warm white (which enhances the red contrast when viewing red reflex), cool white (which enables one to see neutrally colored structures, like the sclera, in their true color), and mixed white (which customizes the contrast of both central and peripheral field of view when viewing red reflex and lens zonules).
"It provides exceptional brilliance to the surgeon, while to the patient, illumination is low in order to ensure comfort," Dr. Mishra shared. It also provides a wide-field red reflex and has separate sources for coaxial and oblique illumination, resulting in a 6x-larger red reflex area during cataract surgery."
The thing that Dr. Mishra loves about the microscope is the objective lens, which is placed above the light source, creating an extra 33% of enhanced depth of field (DOF). "The whole of the lens tissue, from the cornea to the posterior capsule, is clearly visible to you. You don't need to move the head of the microscope up and down at all," he said.
Meanwhile, the Centurion® Vision System automatically adapts to the eye's changing conditions, providing smoother fluidics, anterior chamber stability, and surgical precision. It also has efficient sentinel in active sentry as well as active surge mitigation. The ACTIVE SENTRY® Handpiece, on the other hand, works with QuickValveTM technology to provide real-time surge minimization, ensuring more consistent volume and IOP maintenance.
"All in all, these two technologies provide a wonderful experience to me while ensuring proper deliverance of promise made to each patient that walks into my office," he concluded.
Editor's Note: The 38th Asia-Pacific Academy of Ophthalmology Congress (APAO 2023) was held on February 23 to 26 in Kuala Lumpur, Malaysia. Reporting for this story took place during the event. A version of this article was first published in Issue 4 of the APAO 2023 Show Daily.