A new year … and with it a new Ophthalmology Innovation Summit (OIS) webinar has arrived for us to sink our teeth into.
The latest OIS webinar was the "Presbyopia Innovation Showcase," which highlighted some of the most exciting companies working in this arena. The webinar began with Dr. Uday Devgan, a cataract, lens and LASIK surgery specialist and head of the eponymous Devgan Eye Surgery, who pointed out that at the age of 50, presbyopia has become a personal concern for him as much as a professional one.
The first speaker was Elad Kadar of Orasis Pharmaceuticals (Herzliya, Israel), a company developing a corrective eye drop (CSF-1) to treat presbyopia as an alternative to using reading glasses. CSF-1 is a proprietary therapy and is designed to improve near visual acuity by pupil modulation, resulting in a "pinhole effect," as well as increasing depth perception. Kadar said his company is studying 600 patients in a phase 2b study; enrollment was completed in October 2020, with results expected in the coming months.
Next up was Dr. Sumit Gar from LensGen (Irvine, California), which is currently developing Juvene, a curvature changing fluid lens designed to eliminate the need for reading glasses. He described how LensGen had repeatedly proven the safety and reliability of its Juvene intraocular lens, in regard to range of vision, ELP (effective lens position) and rotational stability. The company is planning a Food and Drug Administration (FDA) pivotal study in Q2 of 2021, and LensGen has raised $42 million in capital to date for the company as a whole.
Who Doesn't Love Some Brimonidine Tartrate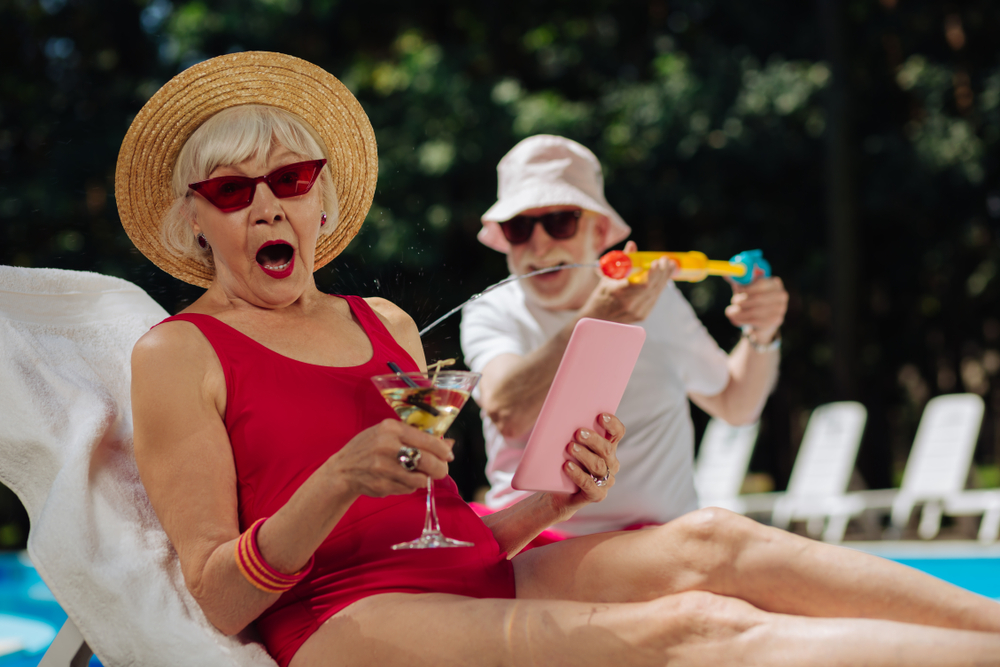 Gar was followed by Ben Bergo, CEO of Visus Therapeutics (Seattle, Washington). Visus Therapeutics produces Brimochol, a proprietary formulation that combines two FDA-approved pharmaceuticals: carbachol and brimonidine tartrate. Bergo told viewers that six clinical studies, including a total of 201 patients have been carried out, with demonstrated visual acuity improvements lasting eight to 12 hours post-dose.
Next was a presentation from Omega Ophthalmics (Lexington, Kentucky) by Dr. Gary Wortz. He described how his company found its "Goldilocks device," the Gemini refractive capsule — a new proprietary lens that he says will increase the number of post-surgery patients who are spectacle-free to over 90%. Three more patents are pending on the capsule.
Going Deep Beneath the Surface
This marked the halfway point of the webinar and we continued on a virtual tour of the United States with Allotex (Boston, Massacheusets). Company President Michael Morchen explained how his company's allograft tissue can be placed right beneath the eye's surface to change the eye's refractive properties. He reported that his company is seeking $18 million series B funding for clinical trials.
Dr. David Wirta of Eyenovia (New York, New York) was up next, who described the bias people have against reading glasses. He believes microdosing with the Optejet ® dispenser, a self-administered eye drop device designed to prevent topical overdosing, is the best solution for presbyopia patients. One benefit is its horizontal corneal dosing, which allows for 75% less drug exposure; this eliminates overflow, thus reducing side effects.
NASDAQ: Not just for Reddit
Listed on the NASDAQ just last November, Occuphire Pharma (Farmington Hills, Michigan) is just three years old and is already making waves. CEO Mina Sooch reported her company holds significant clinical data from over 18 trials on its Nyxol® Eye Drops, a once-daily preservative-free eye drop formulation of phentolamine mesylate. She said that she was excited for phase II and is anticipating the results.
The penultimate speaker was Dr. Mark Blumenkranz representing Kedalion Therapeutics (Menlo Park, California). The company is developing AcuStreamTM, which delivers topical drugs to the eye in a precise and accurate manner, with an 80% reduction in dose relative to standard drops. Dr. Blumenkranz reported that as the device has a low volume with a small profile, and allows for the potential of multiple months of dosing with a single device.
Are You Ready for More, Kids?
Last but not least, was the CEO and Co-founder of Yolia Health (San Diego, California), Alberti Osio. The company produces True Vision Treatment, a patient-administered topical agent designed to change the eye's corneal topography (curvature) into a multi-focused optical system by creating varying focal points of all ranges of near vision. The company reports that with their product, 92% of the patients can read newsprint and 91% increased their distance vision. Currently focused on operations in Mexico, Osio reported his company is eyeing expansion in the United States.
Editor's Note: The OIS Presbyopia Innovation Showcase was held on January 28. Reporting for this story, which covers the first segment of the program, took place during the webinar. Stay tuned for our continued coverage of the Showcase, featuring clinical and industry perspectives.