The Ophthalmic Premiere League (OPL) — the All India Ophthalmological Society's team video competition on managing ophthalmic complications — is in its 8th year and was held on Day 3 of the 80th Annual Conference of the All India Ophthalmological Society (AIOS) in Mumbai, Maharashtra (a.k.a. DREAMCON AIOC 2022).
OPL is the ophthalmic version of the Indian Premiere League games and this year, four teams competed:
Team 1: Delhi Divide and Conqueror (Dr. Mahipal Sachdev, Dr. Kumar Doctor, Dr. Chitra Ramamurthy and Dr. Ajoy Paul)
Team 2: Mumbai Multifocals (Dr. T. P. Lahane, Dr. Rohit Om Parkash, Dr. Gaurav Luthra and Dr. Sonu Goel)
Team 3: Kolkata Knightriders (Dr. Partha Biswas, Dr. Namrata Sharma, Dr. Priya Narang and Dr. Samar Basak)
Team 4: Chennai Capsules (Dr. Mohan Rajan, Dr. Rajini Parekh, Dr. Rajesh Sinha and Dr. Arun Kshetrapal)
It would have been just another series of surgical video presentations to share clinical pearls to both peers and students … but when presented creatively in Bollywood or K-pop MTV-style, the audience witnessed the bantering and teasing among India's prime ophthalmic surgeons. It was a display of entertaining competition among colleagues who, in real life, are obviously close friends too. The captive audience was hanging on to each video presentation like their favorite series on Netflix. Talk about binging on eye surgery for two hours!
And that's what matters most: The sharing of clinical pearls that young ophthalmologists can get from their teachers and mentors was the main objective.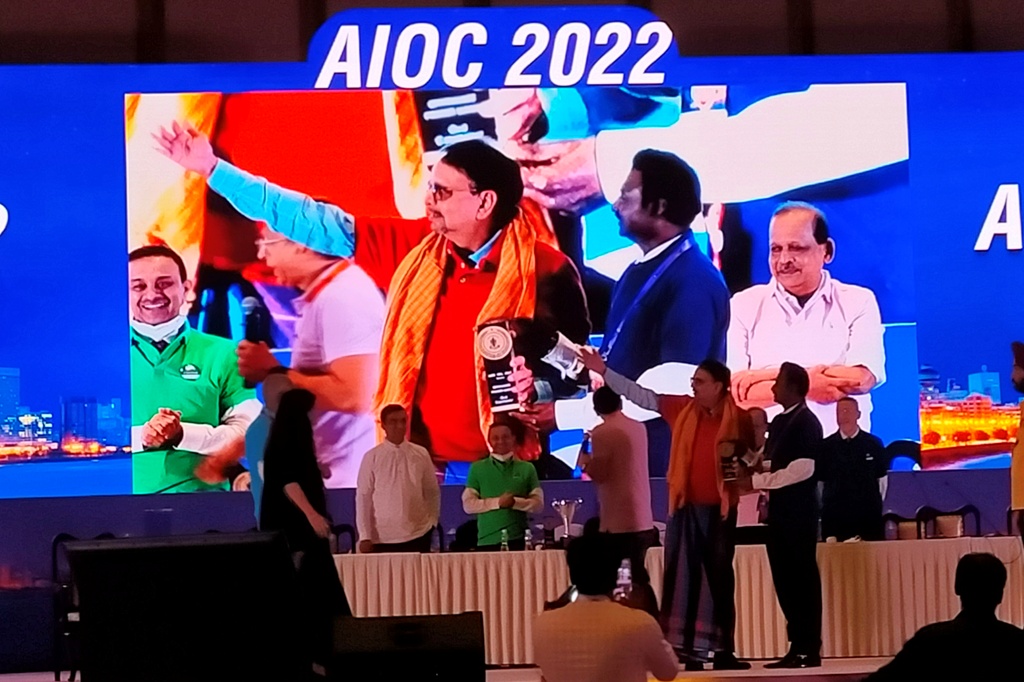 Moderated by Dr. Amar Agarwal, each team member had four minutes each to show a video and narrate the story of how they managed one complicated ophthalmic case after another: 1) a special case of bilateral corneal transplant on a pregnant woman; 2) fibrosed and calcified cortical matter firmly adhered to the anterior and posterior capsule; and 3) a bad case of white cataract during COVID-19 lockdown; among others.
Each team was given 18 minutes in total to present their most complicated surgical case. The audience and the panel of judges were given time to discuss each presentation, and by the end of the exercise, both audience and panel were expected to vote for the "Best Entertainer," "Best Video" and "Best Team."
But this year is special. After all, the 80th AIOC is the first physical conference in Asia, post-pandemic. We all know India had its share of dark periods related to COVID-19. And being among the delegates here in Mumbai is a celebration of life in itself. Like surviving a war, the atmosphere is hopeful that ophthalmology (as in any other industry) is getting back on its feet and is feeling positive that everything will get better in the world again. So it wasn't surprising when the competing OPL teams, instead of nitpicking each other's work, turned into a comedy show (almost!).
Team Chennai Capsules was quite the entertainer. A little bit of "healthy bashing" went on here and there … but it was all delivered in ophthalmic language, of course. The room was full of eye doctors, so obviously, they all got the joke. The captain of Chennai Capsules, Dr. Mohan Rajan, was voted Best Entertainer.
The Best Video award went to Dr. Namrata Sharma, the vice-captain of Team Kolkata Knightriders. The video, entitled Two Eyes Two Lives, is a case of a 28-week pregnant patient who underwent bilateral sclerokeratoplasty using the same donor. The patient was initially not cleared for surgery due to the high chance of preterm labor. But it was a team effort that prevailed to see the patient through. In the end, not only two eyes were saved, but it was also the beginning of a new life. The mother gained her vision back and her baby survived the ordeal. 
Finally, the judges and audience couldn't decide on a single team to win. In the end, everyone got the Best Team award, and shared the trophy.
Editor's Note: The DREAMCON AIOC 2022 is being held as a physical show on 2-5 June at the Jio World Centre in Mumbai, India. Reporting for this story took place during the conference. Media MICE is the Official Media Partner of AIOC 2022.