With a storied lineage of devices reaching back over two decades, the Pentacam® family has long been the gold standard by which all other devices are measured. At a sponsored APAO 2023 lunch symposium, doctors from around the world showcased why the AXL Wave might be OCULUS' best yet.
In the Wild West of ophthalmic device manufacturers, there are the quick and the dead, and nowhere is this more true than in the ever-shifting sands of the cataract and refractive surgical device landscape. The last decade-plus has been a constant parade of innovation in the field, from novel IOL designs to space-age refractive lasers and everything in between. OCULUS' Pentacam line is a household name in the space, and its newest offering, the Pentacam Wave AXL, claims to be designed with this tsunami of new tech in mind.
During a lunch symposium at the 38th Asia-Pacific Academy of Ophthalmology Congress (APAO 2023) held recently in Kuala Lumpur, Malaysia, an international cast of doctors showed why this just might be true.
Hybrid Halcyon days?
The first speaker was Dr. Gairik Kundu of India, a decorated young ophthalmologist who knows what modern cataract and refractive surgeons need. His presentation, Pentacam AXL Wave – Using New Hybrid Technology, went over how the Pentacam AXL Wave leads the way in the new crop of hybrid biometers.
More is not necessarily better, and Dr. Kundu began by praising the device's curated selection of functionality. The AXL Wave's unprecedented combination of Scheimpflug tomography, total wavefront, axial length, refraction, and retroillumination is exactly what ophthalmologists need for everything anterior segment.
"What the AXL Wave has done is take [hybrid devices] to another level in terms of building a tool which is multipurpose and can encompass not only refractive surgery, but also cataract practice," he raved.
But all this functionality amounts to nothing if the accuracy isn't there. Dr. Kundu detailed the Pentacam's empirically proven reliability over the past decade, from studies done on its repeatability for keratoconus1 to a study he co-authored with famed Dr. Rohit Shetty on the AXL Wave2 and its new wavefront aberrometer.
All in all, as a young ophthalmologist, Dr. Kundu sees hybrid devices like the AXL Wave as the future for surgeons around the world. "You need to have a tool that can give you a lot of functionalities and is affordable," he stated, concluding his talk. "Hybrid imaging is the future and [the AXL Wave] is going to revolutionize the way we go forward in the next decade."
The best of the best for a top doc
Prof. Gerd Auffarth needs no introduction to the cataract and refractive world, and he added his voice to the global chorus singing the praises of the Pentacam AXL Wave in his presentation, State of the Art Cataract and Refractive Surgery. He began by detailing the new functionalities that make the device so invaluable in his practice, including objective refraction, visual performance analysis for patient education, pre- and post-op management, and integration of enhanced IOL formulas.
One unique feature for Prof. Auffarth is how the AXL Wave by default ensures the largest possible pupil size when making its measurements. "Without any pupil dilation, we can do any measurement. This is excellent for making decisions for cataract, refractive, or corneal surgeons." This especially rings true for ocular aberrometry, where research has shown how vital the largest possible pupil diameter is for reliability.
Prof. Auffarth also illuminated the edge the AXL Wave has over the competition. In one case, a competing device was used which resulted in an overcorrection and axis flip. But the AXL Wave came to the rescue, and with its next-level accuracy in combination with the Barrett RX formula, the post-op surprise was dealt with.
So what's the takeaway from one of the field's leading lights? There's no need to look elsewhere for the modern cataract and refractive surgeon when you have the AXL Wave at hand. "The Pentacam AXL Wave is an ideal fit for any large university clinic or any surgical practice that needs high data quality, predictability, implementation of normative data, and how to compare what you have in these patients," Prof. Auffarth concluded. "I think it's worth the investment."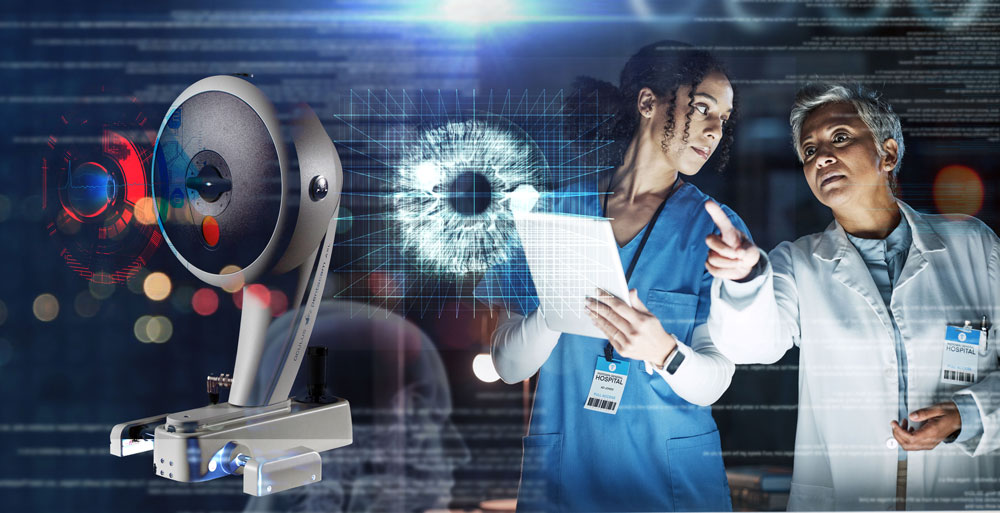 Taking refractive practice beyond
The last speaker of the symposium was Dr. Robert Ang of the Phillippines, whose talk, Improving our Refractive Practice with Pentacam Wave, discussed the Pentacam AXL Wave's ability to push refractive outcomes to the next level. Dr. Ang uses the AXL Wave in almost all facets of his refractive practice, and began his talk by highlighting this, pointing to screening as one area of massive added value.
Refractive surgery is notorious for patient litigation, and the AXL Wave has the screening tools to put surgeons' minds at ease. "Any [measurement] that makes me choose an alternative other than LASIK keeps us safe from a lawsuit from ectasia," Dr. Ang shared.
He then went on to explain the boost to productivity the AXL Wave gives. "What I appreciate is that [the AXL Wave] gives accurate, full information and it's very quick for our technician," he began. "If you have the Pentacam AXL Wave, you eliminate the need for [other machines] so you save space, you save time, you save technicians' time, and most importantly, you save the patient from moving room to room."
Dr. Ang is also a big fan of the AXL Wave's easy-to-use visual interface. "There are so many numbers [to keep track of], but I'm very visual," he said. In one case he shared, the combined visual output of the Pentacam AXL Wave and the OCULUS Corvis® helped Dr. Ang identify an issue with a patient's right cornea in an otherwise normal eye, leading to the decision to implant an ICL over LASIK.
And surgeons aren't the only beneficiary. The user-friendliness of the report generated is critical for patient education, as in the above case where the patient wanted to know why LASIK was off the table. "We want to explain to the patient what they have and what led us to decide on the procedure they should have, because they might go for a second opinion, and you want them
to know that you made a decision based on objective parameters," he explained.
In another case, the AXL Wave's post-op prowess was on full display when it was called on to identify an ICL that needed axis rotation, and Dr. Ang saw a crucial takeaway in this. "We do need to check things after surgery. That's the lesson here — it's not that we do the surgeries correctly and everybody's always happy. Sometimes there's troubleshooting. And with the AXL Wave, you have the tools to do this," he stated.
Dr. Ang's final thoughts on what the AXL Wave has to offer to existing practice echoed the prevailing theme at OCULUS' APAO 2023 lunch symposium. "[The AXL Wave] streamlined our refractive process," he stated matter-of-factly. "We have now a complete workup with one machine… it is for me a very versatile and comprehensive tool."
References
Shetty R, Arora V, Jayadev C, et al. Repeatability and agreement of three Scheimpflug-based imaging systems for measuring anterior segment parameters in keratoconus. Invest Ophthalmol
Vis Sci. 2014;55(8):5263-5268.
Shetty, R, Trivedi D, Ranade R, et al. Repeatability and agreement of wavefront aberrations of a new hybrid topographer and aberrometer in healthy eyes. J Cataract Refract Surg. 2022;48(4):408-416.
Editor's Note: The 38th Asia-Pacific Academy of Ophthalmology Congress (APAO 2023) was held on February 23 to 26 in Kuala Lumpur, Malaysia. Reporting for this story took place during the event. This article was first published in CAKE magazine Issue 18.