Top names in cataract released the latest on Teleon's FEMTIS and ACUNEX IOLs in a symposium and series of booth talks on Day 2 of ESCRS 2023.
A bewildering variety of optical designs, materials and defocus curves awaits the modern cataract surgeon navigating the crowded intraocular lens (IOL) market in 2023. And nowhere else is this more apparent than the proverbial World Cup of cataract and refractive surgery – the annual congress of the European Society of Cataract and Refractive Surgeons (ESCRS).
This year's 41st version of the Congress (ESCRS 2023) was no exception. For its part, Teleon Surgical BV (Spankeren, The Netherlands) was content to let the data and patient outcomes with their latest ACUNEX and FEMTIS IOLs speak for itself. A round of presentations and booth talks showcasing the latest research from renowned names like Dr. Florian Kretz, Prof. Thomas Kohnen, Prof. Rudy Nuijts, Prof. Oliver Findl and more showed just what Teleon's optics offer cataract surgeons and their patients.
Nailing the target with FEMTIS
Dr. Florian Kretz kicked off the day at the Teleon booth with his presentation entitled, Precision and Accuracy Counts: Auto-CCC and the FEMTIS IOL Family. In his talk, Dr. Kretz demonstrated the many advantages surgeons and patients can expect when opting for automated continuous curvilinear capsulorhexis (CCC) and FEMTIS IOLs.
For Dr. Kretz, choosing FEMTIS IOLs is all about nailing the target. "If you use a FEMTIS IOL then you actually fix it into the capsulotomy, meaning that the optics align perfectly because the capsulotomy was aligned to the visual axis. That gives you a very precise target with very good centration," he commented on using the FEMTIS IOL in conjunction with the Lensar ALLY™ Adaptive Cataract Treatment System and other options to perform automated capsulotomies.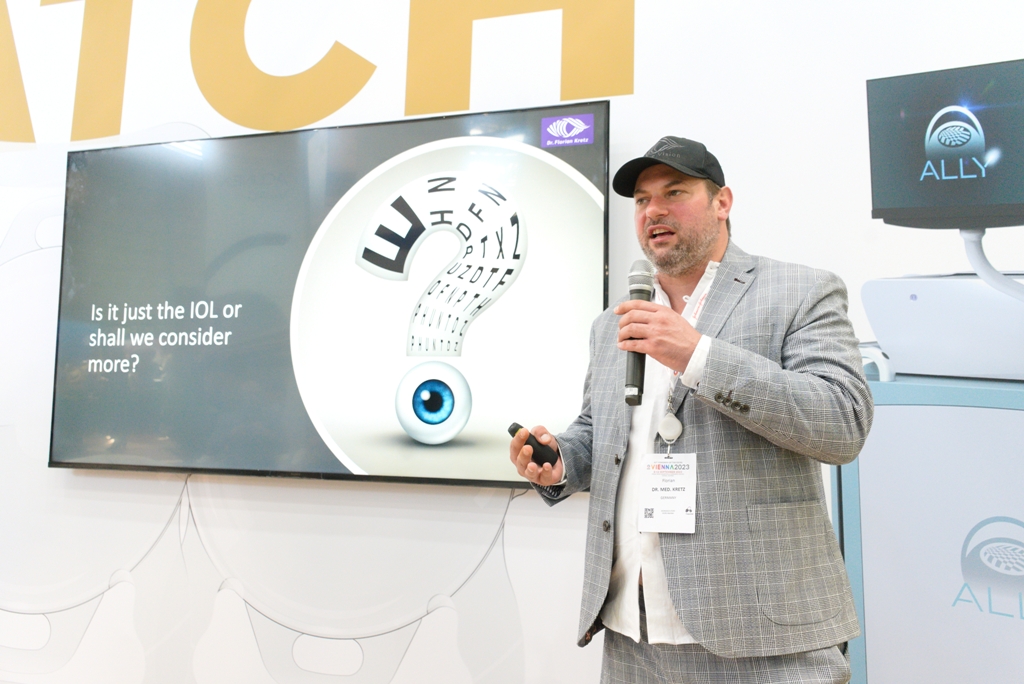 The results the lens produces are eye opening across the board. Results from multiple studies showed FEMTIS IOLs producing postoperative best corrected visual acuity (BCVA) of 6/12 or better in 84-100% of patients, an improvement from preoperative BCVA of 6/12 or better in 27-54% of patients, respectively.
More research from an international trial at the prestigious University of Heidelberg demonstrated more advantages. Preoperative spherical equivalent was reduced from 0.5 to around 0.25 D, monocular corrected distance visual acuity (CDVA) from 0.19 to -0.12 (logMAR), and monocular uncorrected distance visual acuity (UDVA) from 0.51 to 0.02 (logMAR) at 12 months postoperatively.
One of the main reasons for this performance for Dr. Kretz was the exceptional centration performance of the FEMTIS IOLs. The 12-month postoperative rotation was an exceptional 0.22°, and decentration of 0.02 mm, compared to a competitor measured at 0.30°.1 "These are significantly better results than any other IOL on the market," said Dr. Kretz.
The data from Dr. Kretz kept coming, but in the end his conclusions were straightforward. For Dr. Kretz, the FEMTIS family of IOLs shows highly predictable results with excellent rotational stability, minimal tilt and decentration and all with the ease of implantation he has come to expect with Teleon's FEMTIS lenses. "With FEMTIS IOLs, we have never been closer to nailing our target," he concluded.
The ACUNEX advantage
Up next at the Teleon booth was a talk presented by Dutch optometrist Astrid van Os entitled, ACUNEX Vario – Case reports in practice. In this talk, Ms. van Os presented cases featuring patients implanted with the ACUNEX® family of IOLs, Teleon's hydrophobic line of refractive premium lenses made from a cutting-edge non-glistening material.
Ms. van Os presented two very different patients, but the unifying theme was clear. IOL selection is multifactorial, and for Ms. van Os, Teleon's ACUNEX family offers the flexibility needed to suit a wide variety of patients.
In the first case, a 67 year-old male cataract patient, Ms. van Os went with a mix and match approach. She implanted the ACUNEX Vario extended-depth-of-focus (EDoF) lens in the dominant eye, and an ACUNEX VarioMax Toric varifocal IOL in the non-dominant eye. The results were a binocular UCDVA of 1.0 and an uncorrected near visual acuity (UNVA) of 0.63. But more than this, the patient was very satisfied with his spectacle-independent intermediate vision, which aligned with his preoperative expectations.
The second case of a 71 year old female involved a passionate musician with a desire to play the saxophone and read music sheets without glasses. Ms. van Os opted for binocular ACUNEX Vario implantation.
The outcome matched the patient's expectations very well and she could play the saxophone and read notes without glasses even in dim light. End UDVA in the dominant eye was 0.8 and UDVA in the non-dominant eye was 1.0, hitting Ms. van Os' preoperative targets. Even more noteworthy for Ms. van Os were the near vision results – 0.5 in the right eye and 0.32 in the left.
And Ms. van Os' conclusions? "With the ACUNEX lens options, patients get an optimal cataract or clear lens treatment, with excellent depth of focus at all ranges", she said.
The flexibility this offers means even patients with high requirements, like the ability to read music or use a smartphone with natural image and color perception and improved contrast and depth of focus will be satisfied. "This high patient satisfaction rate after surgery ensures a high degree of word-of-mouth recommendations," she concluded.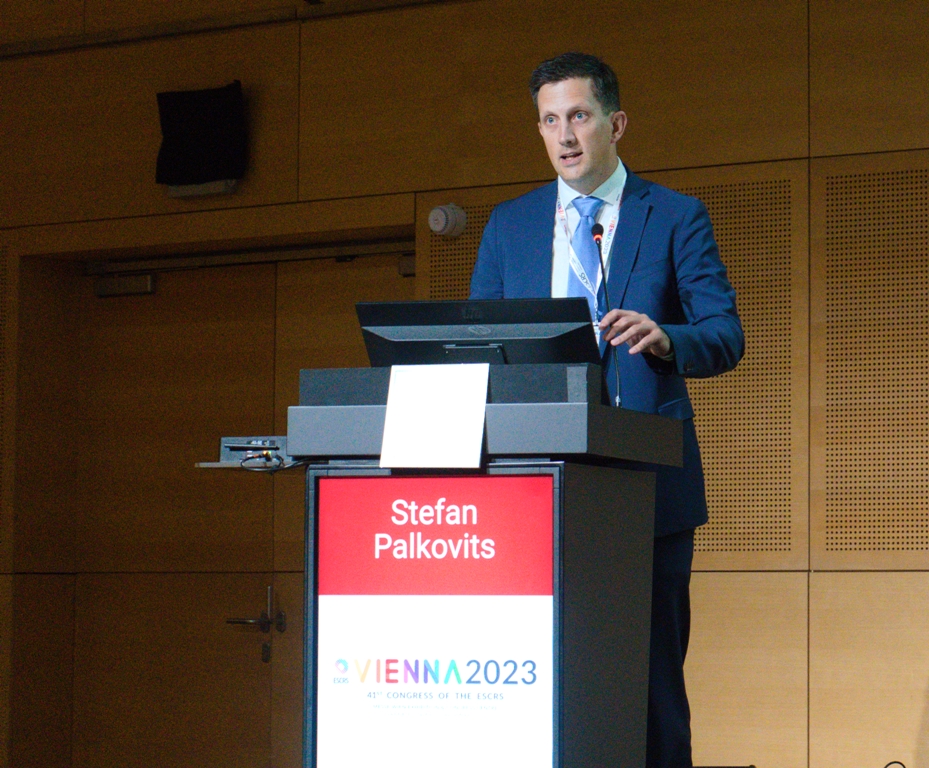 A sneak peek of what's to come
To wrap up its ESCRS 2023 Day 2 offerings, Teleon brought out some of the brightest stars in ophthalmology to showcase the ACUNEX family's merits in a symposium moderated by Prof. Jod Mehta of the Singapore National Eye Centre (SNEC). A live recording and report of the complete findings presented will be available soon, but in the meantime – some highlights.
Presenting for Prof. Rudy Nuijts, Dr. Noël Bauer compared the AcrySof IQ Vivity with the ACUNEX Vario. In this study, the ACUNEX Vario demonstrated better binocular uncorrected intermediate visual acuity (UIVA), a larger continuous range of vision, fewer visual disturbances – and most importantly for Drs. Bauer and Nuijts, higher spectacle independence for ACUNEX Vario.
In a study led by ESCRS President Prof. Oliver Findl, presenter Dr. Stefan Palkovits talked through a randomized trial comparing binocular ACUNEX Vario lenses vs. monofocals. Spectacle independence was the focal point here, with ACUNEX Vario showing significant increases in visual acuity over monofocal lenses. "ACUNEX Vario is a safe option for increasing spectacle independence," Dr. Palkovits reported in his concluding remarks.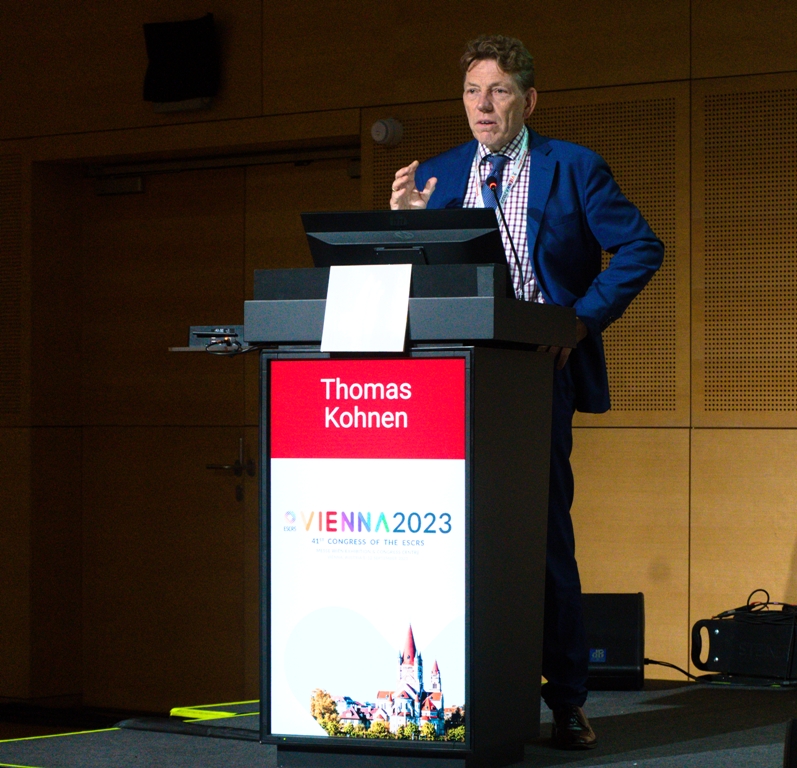 And finally, the venerable Prof. Thomas Kohnen presented preliminary three-month follow-up results on the ACUNEX VarioMax varifocal IOL. Praising the lens' refractive design, Prof. Kohnen was encouraged by visual acuities at all ranges, high patient satisfaction, and over 80% reported spectacle independence – all with excellent contrast sensitivity.
Editor's Note: The 41st ESCRS Congress is being held in Vienna, Austria from 8-12 September. Reporting for this story took place during the event.
Reference
Choi SK, Kim JH, Lee D, et al. IOL tilt and decentration. Ophthalmology. 2010;117(9):1862-1862.e18624.