We deep dive into the international faces that showed up to the first regional LATAM show in many years, and why they did
One of the most obligatory social media posts for conference-goers is the selfie with industry friends, sometime toward the end of the show. The conference at its core is about the meeting, and so it is a really good note to end on to show unity in friendship with the industry we all are a part of.
And yet, conference after conference, I often see similar friends with similar friends. Instead of a picture speaking 1,000 words, these photos start to feel like they speak fewer, like they are expressing less in redundancy.
While neither myself nor anyone I know will start posting fewer pictures with friends at conferences anytime soon – nor should we – I thought to at least in this article go beyond visual pleasantries and share what I know about these moments we had together at the Pan American Association of Ophthalmology (PAAO) meeting in Buenos Aires, Argentina, the past several days.
First, a couple of article housekeeping items: The PAAO hasn't happened as a show since before the pandemic. My overall sense is that this was the first time the global community in ophthalmology had to re-embrace Latin America in a long time. Hence, who you see represented in these photos will say a lot about the interest they and their companies have in Latin America in particular.
Second, these photos are disproportionate to my global industry friends at PAAO, but not comprehensive. As we ourselves at Media MICE expand into Latin America, we do so to support our industry community. In other words, we ride each others' coattails around the world in the best of ways, certainly advancing eye care.
Third, although so much of our time is spent in the exhibition halls of conferences, it was interesting that at the end of the day, the most meaningful pictures are of the people. Exhibition cities rise and fall, and always by the hands of people that are in a completely different industry – convention staff and vendors. But it is neither the booth, the society acronym, nor any other conference matter that ultimately makes our industry what it is. It is the people. You. And me. And without us, our eye care world would be a very different place.
So m'eye friends, in honor of you, here's what we did at the conference this time.
Dr. Ivo Ferreira Rios, M.D.
Ivo is the man when it comes to Latin American doctors. He is the doctor I saw single-handedly build a crowd in the PAAO exhibition area. It's great to see crowds in symposium rooms learning about ophthalmic education, but you expect to see crowds there sometimes. What is less expected is show halls around a single booth jammed with human pedestrian traffic. Every booth would love to be the center of attention, but it's a rarity.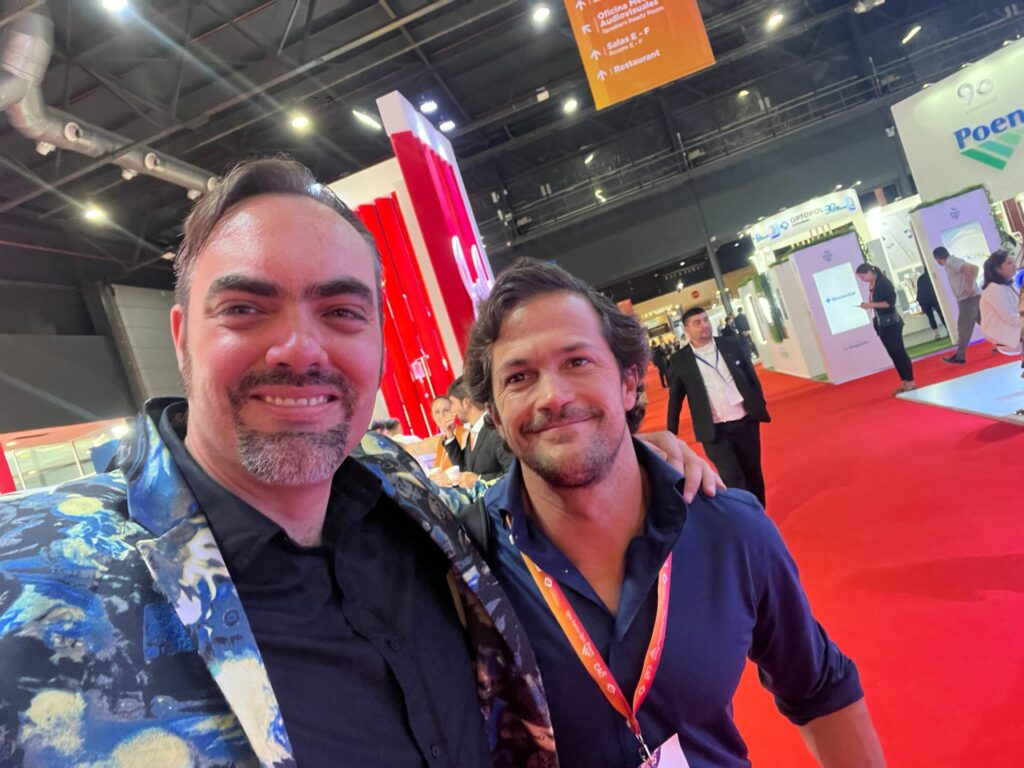 His topic: Simulation, en vivo. Or, live simulation. Simulation for ophthalmic education is a topic that has been gaining steam worldwide. We just saw our friend Dr. David Lockington present on a similar topic at the Winter ESCRS in Portugal. Ivo directed a mega booth event on this at the Poen booth, which is a Latin-American pharmaceutical company. So they don't sell simulators. Rather, they have a vested interest in ophthalmic education as part of EduPoen.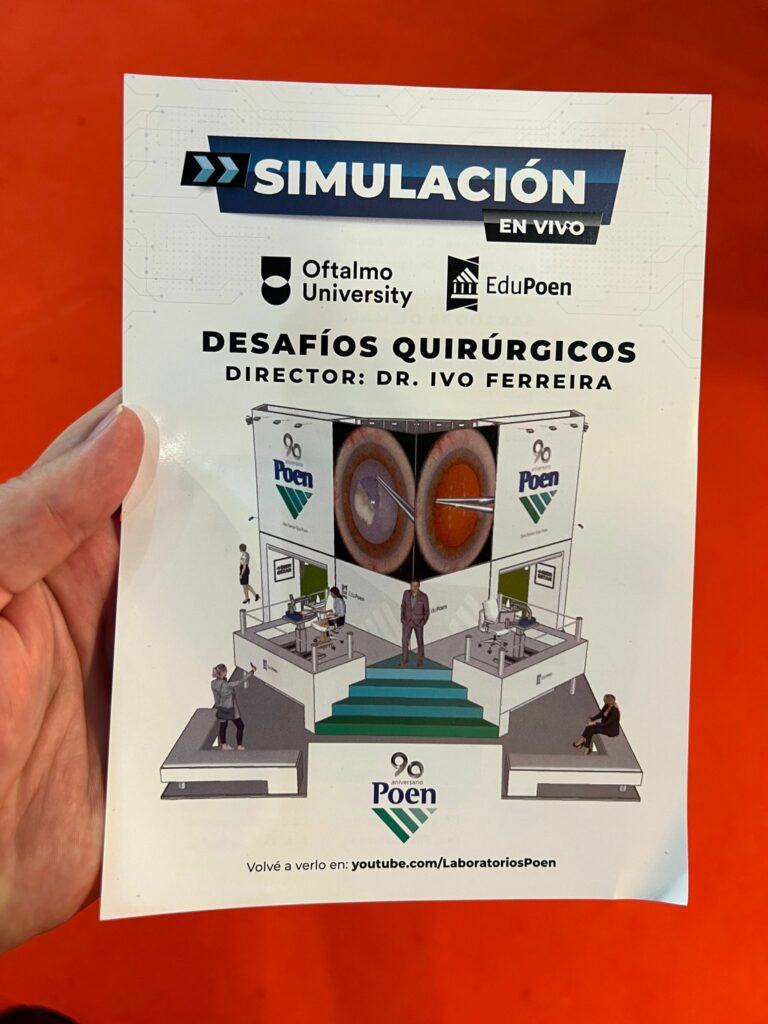 Bottom line: Ivo's Ofthalmo University teamed up with Poen on this dynamic booth course, using Eyesi Haag-Streit simulation elevated on literally another booth level, and broadcast via screens to exhibition delegates. We'll be covering this further as part of our full PAAO MICE TV social media coverage, so stay tuned to LinkedIn.
Far out. In yet another crowd at the Alcon booth, Ivo then demonstrated simulated cataract surgery with the Centurion® phacoemulsification and Active Sentry® handpiece (using an IOP of 20 mmHg), all with the LuxOR® Revalia™ Ophthalmic Microscope and NGENUITY® 3D Visualization System devices.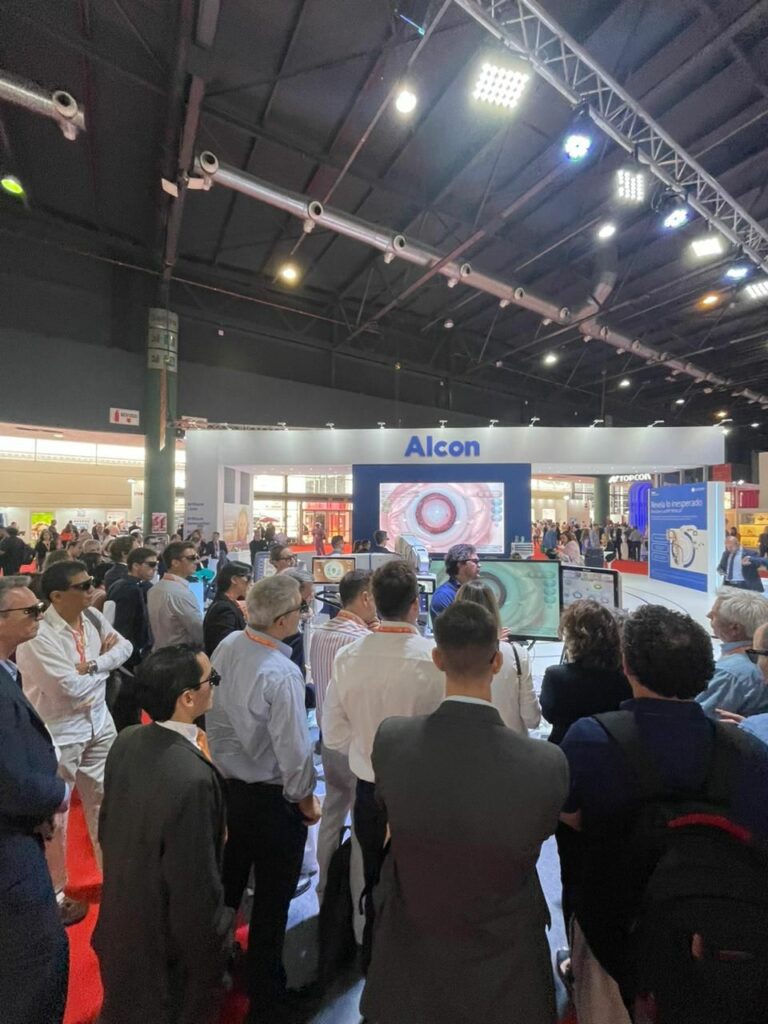 Meanwhile, we met our new LATAM marketing contact at Alcon, Alejandro Ochoa, who knew our APAC marketing liaison, Sahana Prabhakar. It was great to hear of regional counterparts collaborating for the betterment of eye care.
Expect ophthalmic simulation for training to be a hot topic both in Latin America and beyond for years to come.
Shelley Sun and Jack Che
Shelley and Jack represent another topic we'll be covering soon enough on MICE TV: ophthalmic collaborations between Asia-Pacific and Latin America. Shelley, of MAIN MediTech, and Jack of MediWorks, represented China's industrial expansion into Latin America.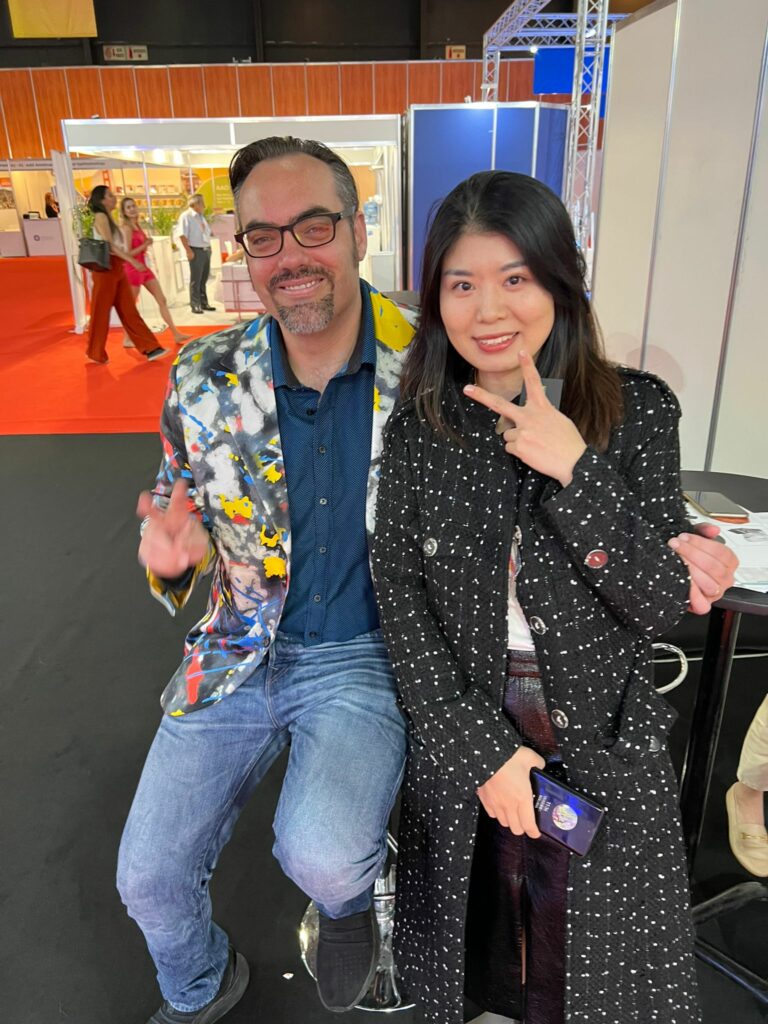 We learned from Ivo that there are considerable market synergies between Asia-Pacific and Latin America. For his part, Ivo has used speakers both from Asia-Pacific and Latin America on the same webinars to promote educational sharing between regions. But he also knows the Latin American region, as an emerging market, is cost conscious. And Asia-Pacific, also as a growth market, has homegrown suppliers that can provide instruments at a more affordable price than in the West.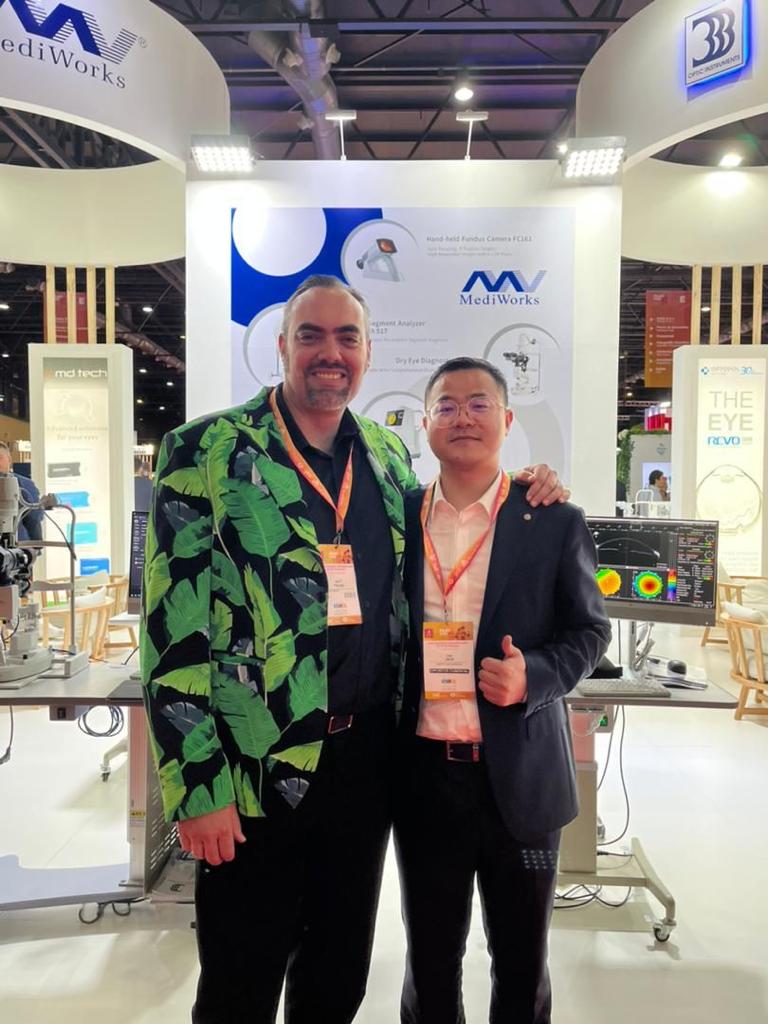 Coincidentally, I learned from Shelley and Jack that I have quite a personal fan base within China, them included, as they said they often accessed my LinkedIn content by using a VPN, as ophthalmic professionals often do, they said. WeChat remains the key social media communication platform domestically, but they noted the importance of other social media in ophthalmology accessed via VPN. 
Dr. Samir Sayegh, Pavolos Samaras and Monika Ranta
Dr. Samir Sayegh and I got into an ad-hoc Spanish language competition, and he won, consequently explaining to me certain words that are conjugated as masculine and feminine in Spanish, that don't appear to be. Samir is an ophthalmic philosopher… if ever there was one, and I had a refreshing Spanish ophthalmic language moment in time with him.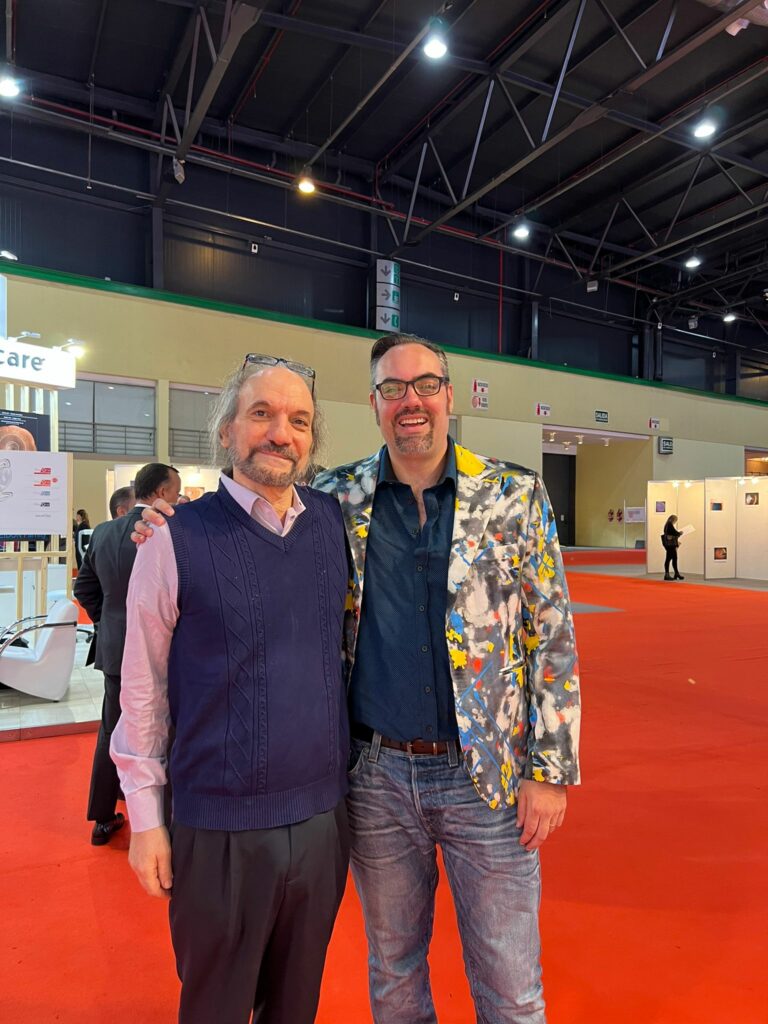 Pavolos Samaras from Sidapharm, and colleagues complimented me on Media MICE's global growth, but it was easy to do the same for them. Sidapharm is one of the few global Greek ophthalmic companies I know, and they manufacture CE-certified IOLs, knives, cannulas, viscoelastic, BSS, cataract kits, and more. Years ago at the ESCRS, they were one of my early champions when others – rightly so – thought it was odd that I was carrying around designer toilet brushes and the like (true story). But they saw something in me, and now I had the great fortune to witness their LATAM growth, as they were directly exhibiting at PAAO.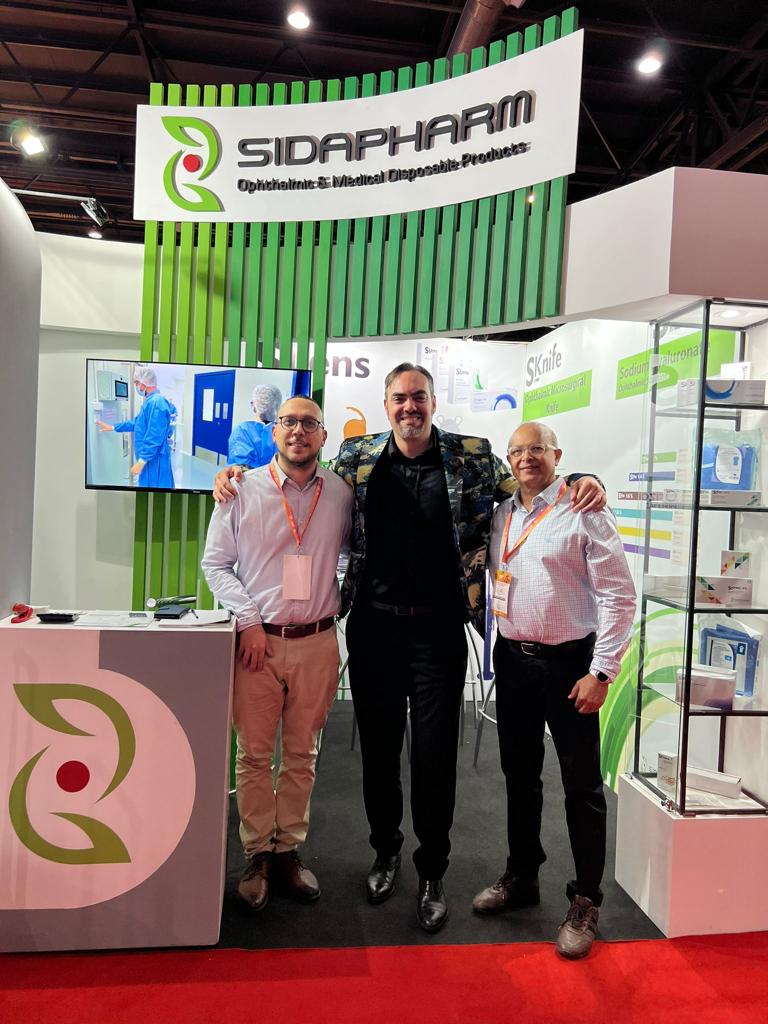 Monika Ranta got to play casting director at the LKC booth. We had some last-minute switch-ups in the KOL interviews that we were filming for LKC, as Monika spotted some hot shots. One was Dr. Viviane Lanzelotte, who earlier had presented on Retinopathy of Prematurity and ERG, a topic of huge interest among symposium delegates.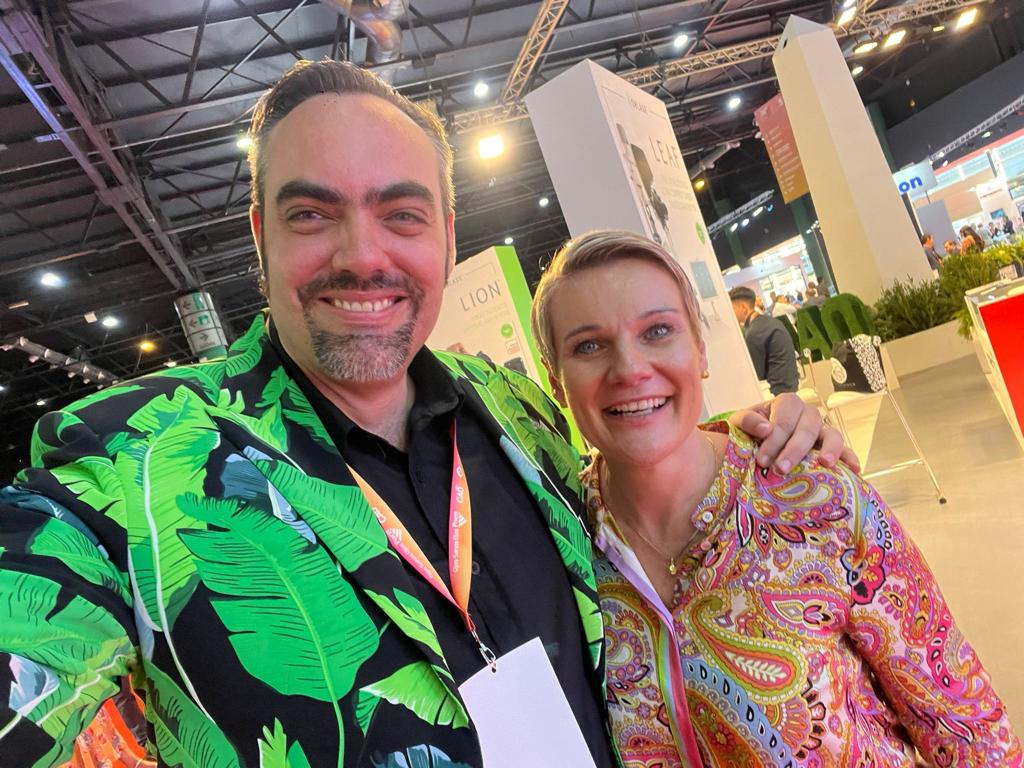 We are literally following LKC around the world from APAO to PAAO to many other conference spots, in order to film on what has become a global tour de force of LKC education on ERG testing and the RETeval® device, the only FDA-cleared, portable, battery-powered, non-mydriatic ERG/VEP testing device.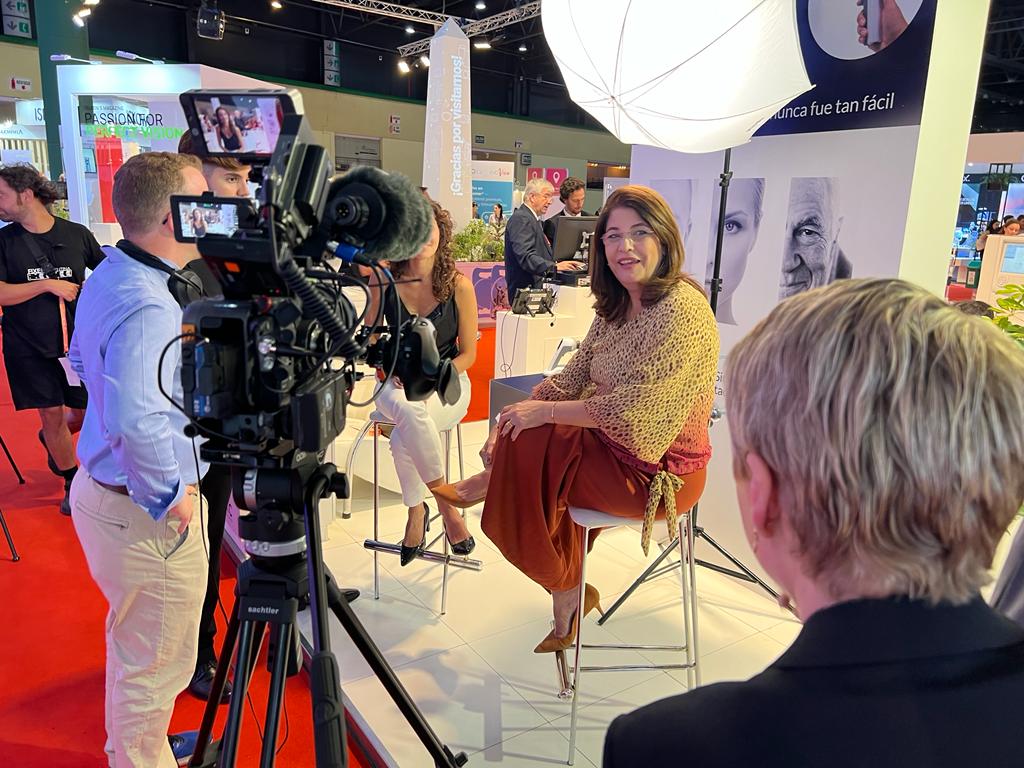 Dominic Batt, Bassem Bou Habib and Ulf Nawrocki
Or maybe they're following us? Dominic Batt, Director of North American Surgical Sales (and a whole lot more) for Rayner, sat down for a Media MICE filming about the RayOne family journey into Latin America. The RayOne EMV Toric launched at the PAAO into Latin America.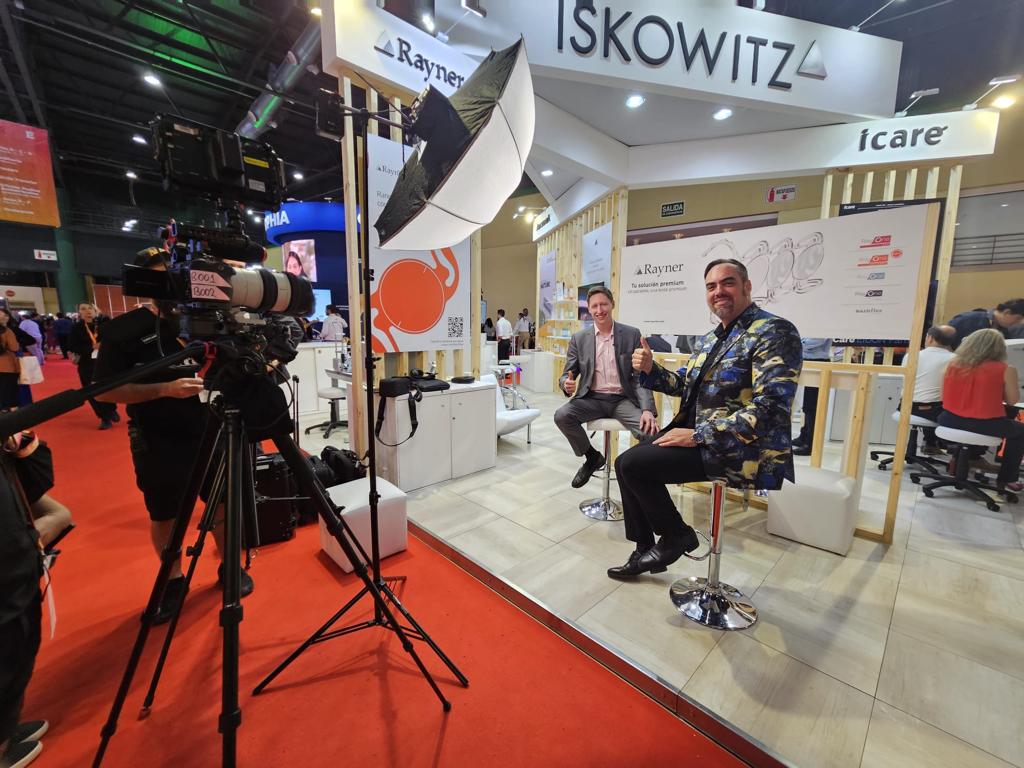 Developed in collaboration with Prof. Graham Barrett, RayOne EMV is a non-diffractive optic that uses positive spherical aberration to extend vision while avoiding challenges that can arise with diffractive lenses and is now available in a toric version for much of Latin America.
Bassem Bou Habib, VP of Iridex, helped to test my Spanish translation, with his Spanish-language booth wall: "Sonda Micropulse P3: Tratamiento versatil y sin incisiones para el glaucoma con Terapia Laser Transscleral Micropulse. Tasa de exito del 60%-80% y reduccion de la PIO del 25-45%. Mas de 200,000 pacientes tratados en 80 paises desde el 2015."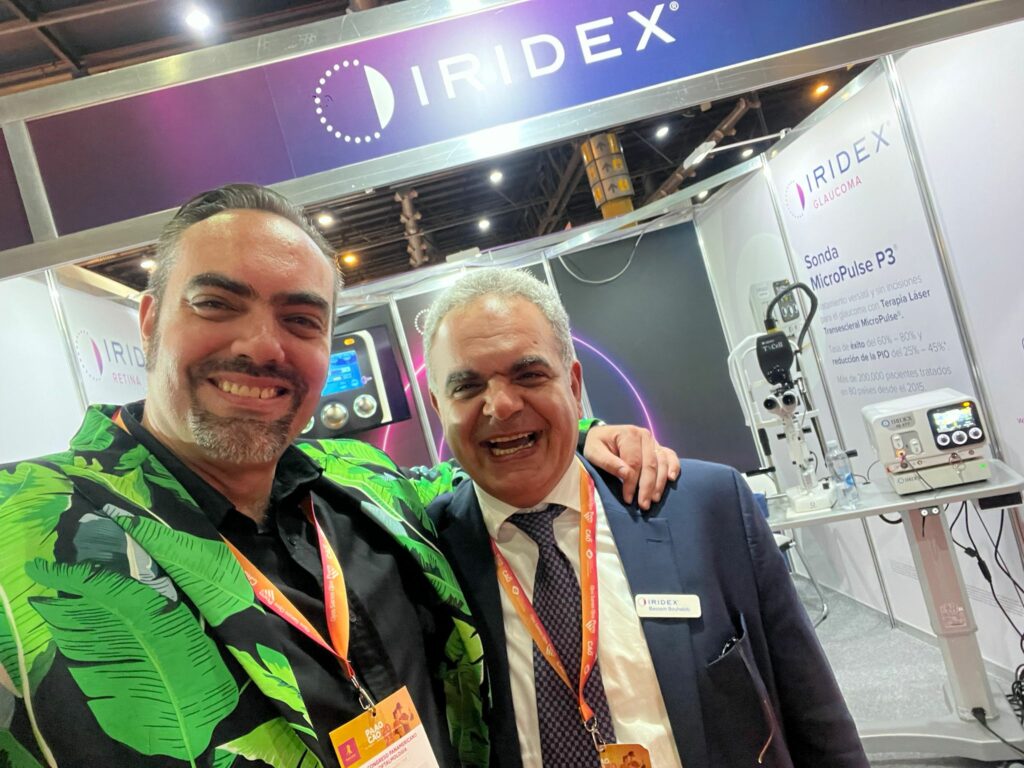 Ok, here we go: "Sonda Micropulse P3: Versatile treatment without incisions for glaucoma, with laser therapy transscleral Micropulse. Success rate of 60-80% and reduction of IOP from 25-45%. More than 200,000 patients treated in 80 countries from 2015." No Google Translate needed. Interestingly, I notice IOP is PIO in Spanish. I didn't know that until now but guessed correctly. Also, sonda means probe, but it appears to be part of the device name in Spanish, so I left it untranslated.
Ulf Nawrocki, marketing director for Teleon, continued to promote the LENTIS and FEMTIS IOL collections in Latin America. He also spoke to me about how critically he values direct and clear communication in our industry, something he very much appreciates from my fellow colleague, Brandon Winkeler, who is home in Vietnam becoming a father for the second time. Speaking of direct and clear, I noticed after an entire day of speaking mostly Spanish, I was extremely tired by 6 pm and went back to my Airbnb to sleep early. It could have been jetlag, but I would be curious about the effect of speaking a second language after a long hiatus on energy levels.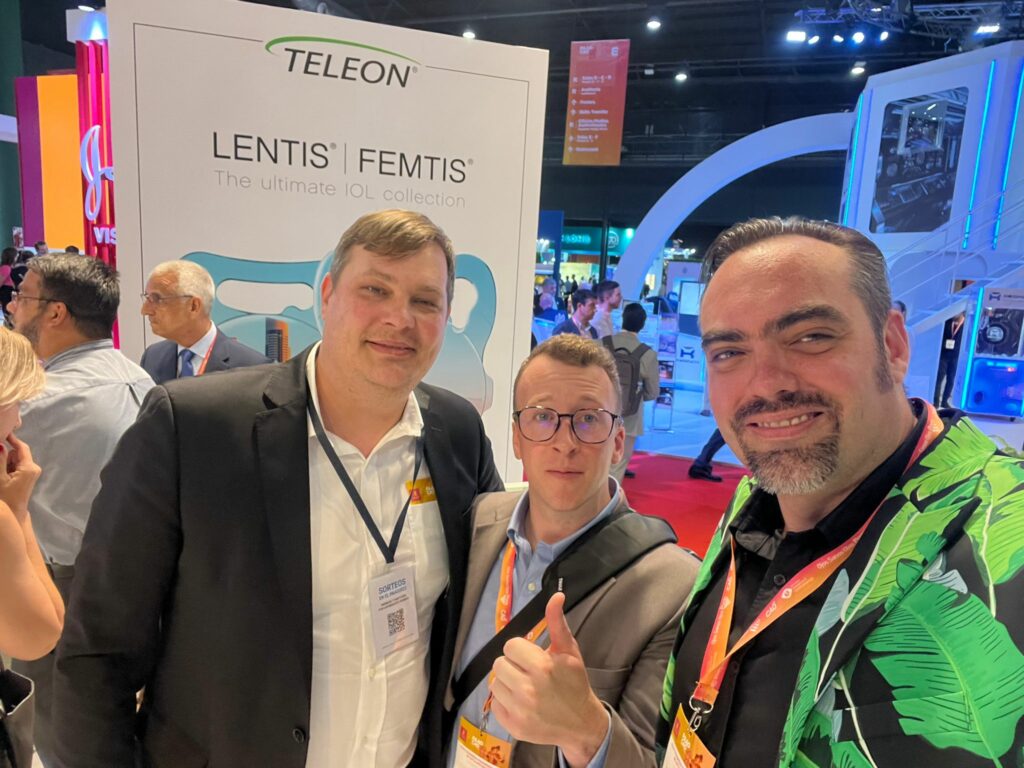 Benjamin Graf, Ezequiel Lukin and Dr. Carlos H. Gordillo
We have a running small joke that we continuously bring up with Benjamin Graf, head of sales and marketing at Sophi. Basically, Benjamin lives in Switzerland, and we consider Switzerland to be one of the best countries in the world. But when we first met him prior to the pandemic he was talking about the benefits of living in nearby Liechtenstein, which admittedly sounded great. Still, every time we meet him we ask about his neighbor Liechtenstein. Meanwhile, some interesting news from Sophi. They recently launched Sophi A, which stands for Anterior, which has all the necessary features of anterior segment surgery, but with a smaller footprint.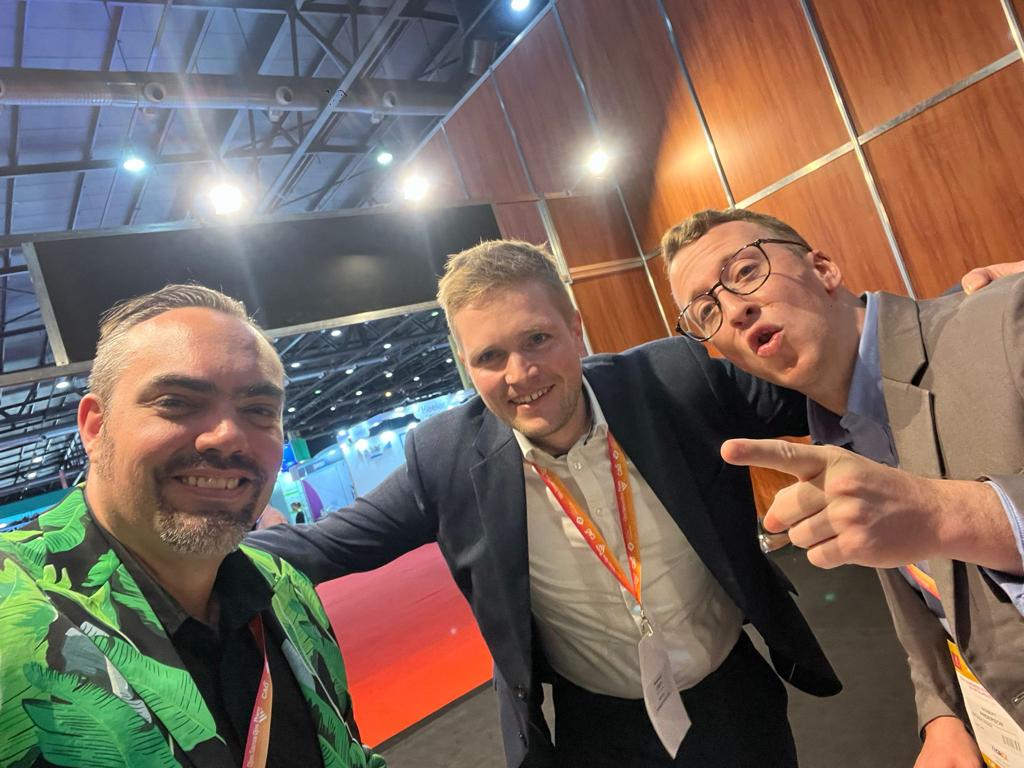 I still remember Ezequiel Lukin's smile from when I first met him at Volk years ago, but he has moved on to Miami-based Riex Medical, which specializes in affordable, easy-to-use medical devices for vision care. These include retinal and anterior imaging, turn-key telemedicine solutions for diabetic retinopathy screening, dry eye, and other conditions.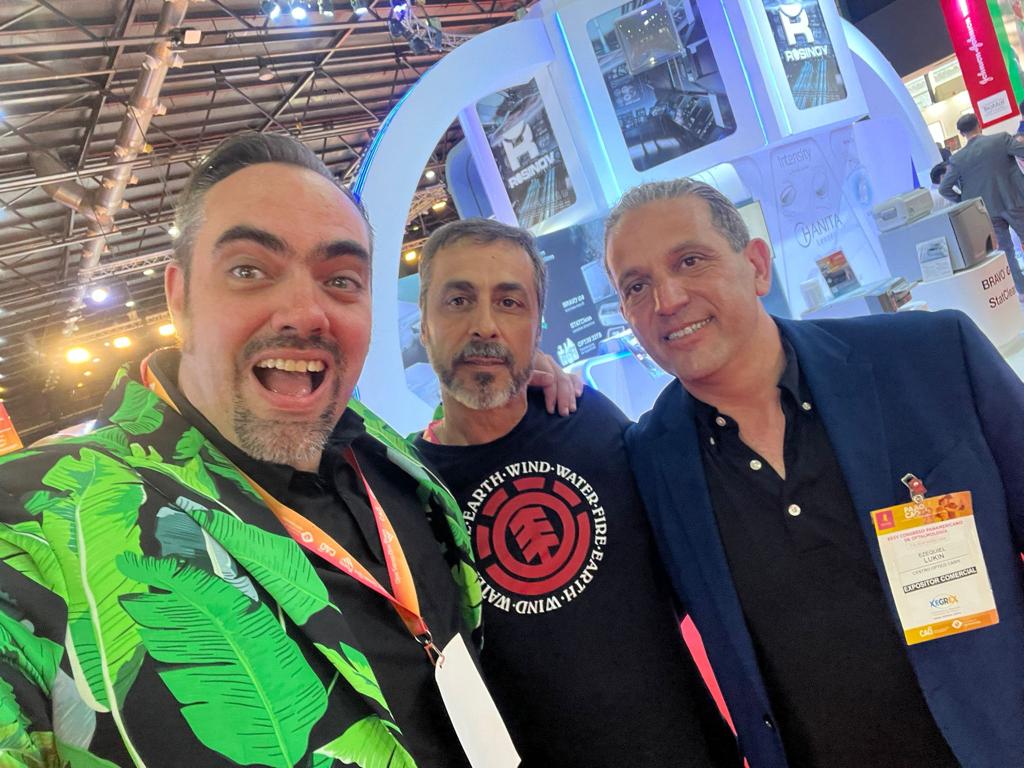 Dr. Carlos H. Gordillo, head of the Cornea Department, Zaldivar Institute of Mendoza, Instituto Zaldivar, Argentina, came out of the blue to say hello as a fan on LinkedIn. Carlos himself has participated in the organization of regional conferences of the Argentine Council of Ophthalmology. He mentioned on his own LinkedIn post two key issues at the PAAO: "Sustainability issues related to visual health were discussed and one of the most important meetings of cornea specialists was held in search of updating global consensus for the treatment of keratoconus." It was great to know we have friends in high places in Argentina after all!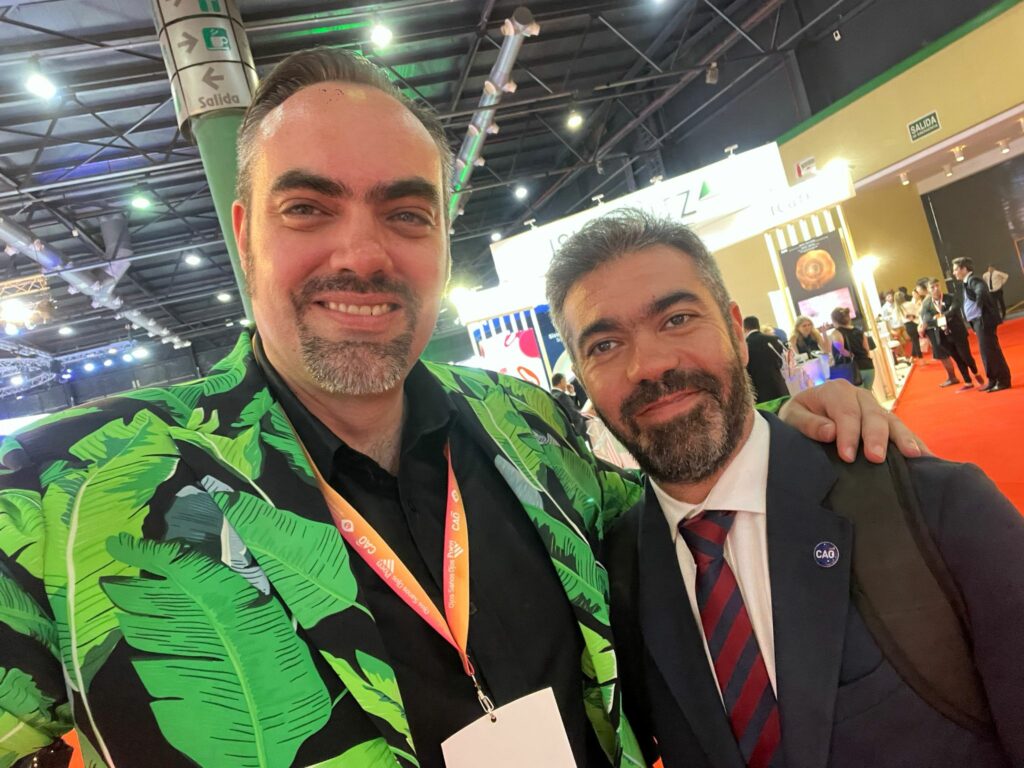 Sertan Yilmaz, Edson Chaccur and Peter Baranovic
Sertan Yilmaz, I recall, we first met at an ARVO many years ago. Those were the days when we were in Media MICE wilderness, not making much progress at some shows, yet Sertan introduced himself to us with such enthusiasm. It is great to see him still globe-trotting so many years later with just as much enthusiasm. He is the EUSAM Area Head for VSY Biotechnology, which produces IOLs, OVDs, and injector systems to treat cataracts, presbyopia, and astigmatism.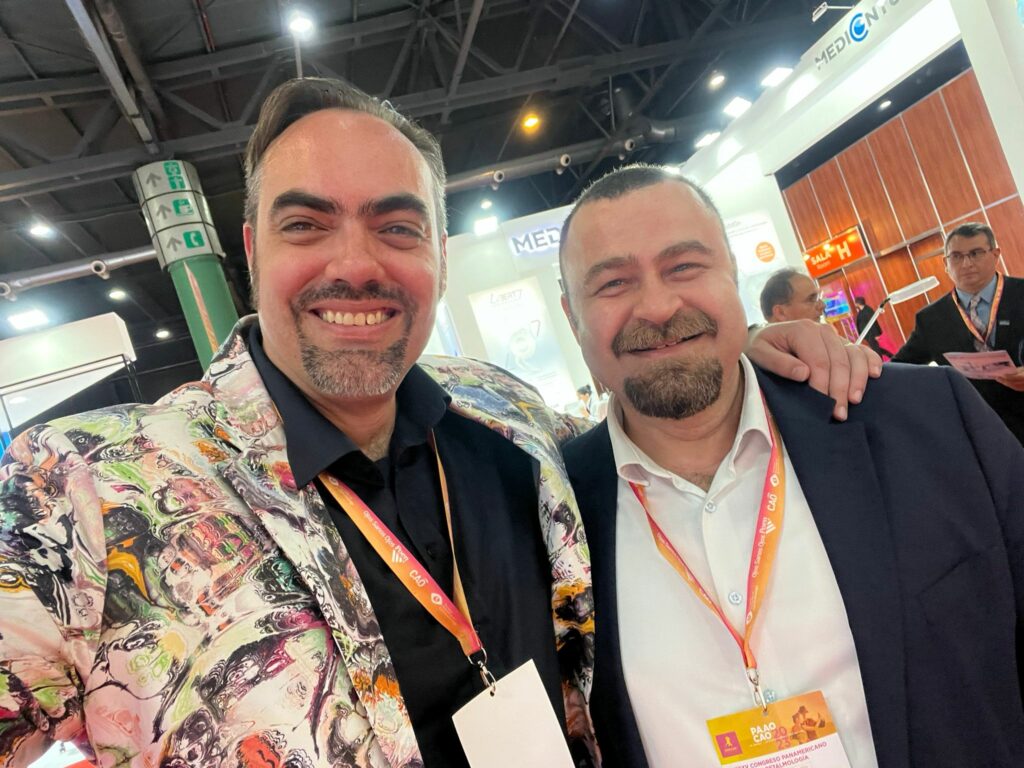 Edson Chaccur, LATAM market and Commercial Excellence Head, J&J Surgical Vision, spoke to us about significant synergies between LATAM and APAC, and we were all ears. More on that on MICE TV coming up soon on LinkedIn.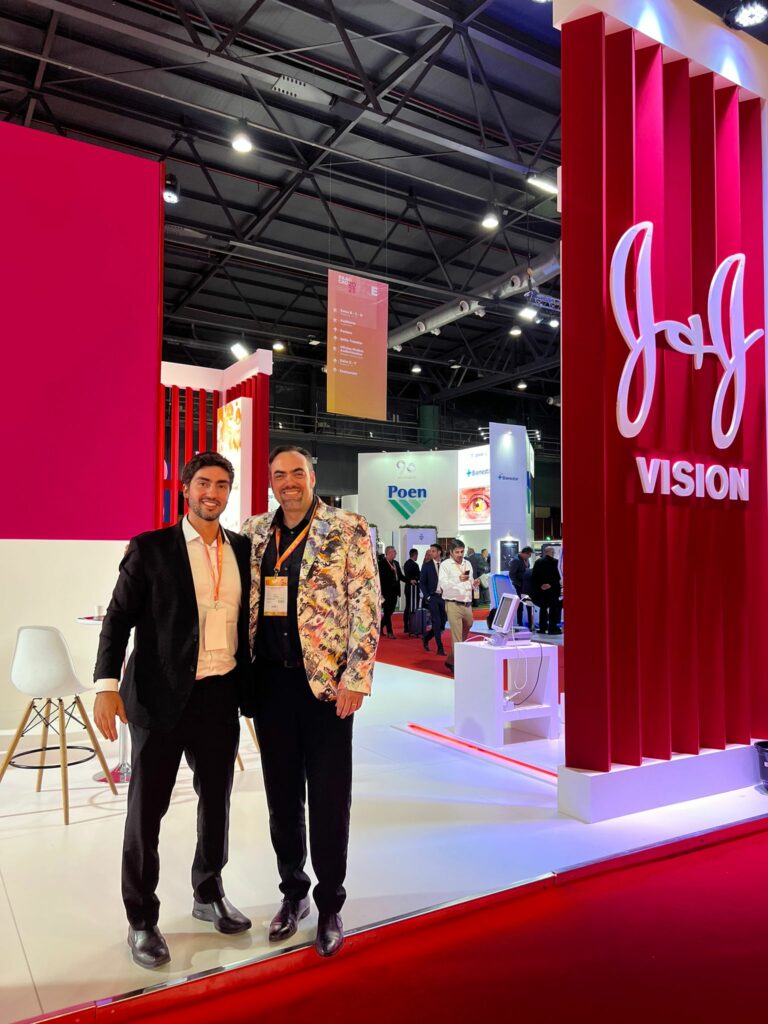 Peter Baranovic, Commercial Director International of ESW Vision, a leader in dry eye management, is another globe trotter from the APAO over to the PAAO. It really was astounding how many ocular souls made it from one show to the other, with plenty of energy to boot. The geographical distance between regions is smaller than ever.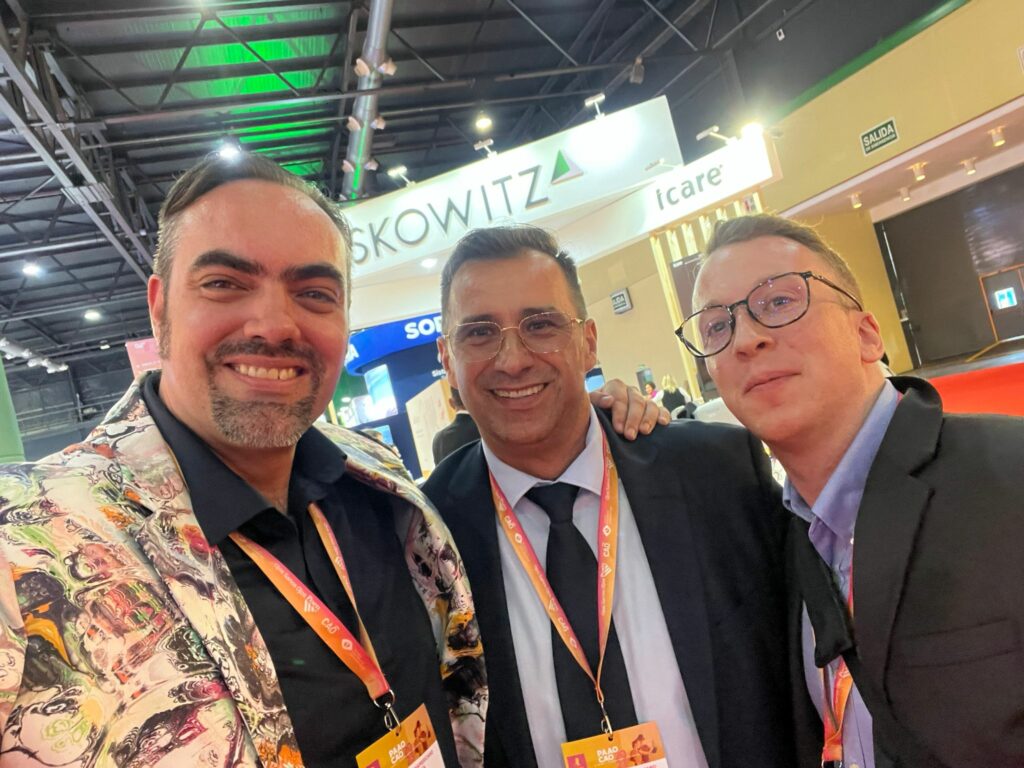 Friends at B+L LatAm Team, Geuder, and Lumibird Medical
The Bausch + Lomb team, headed by Jose Carlos Coutinho Manhaes Junior as LatAm Surgical Director, was doing a great job promoting LuxSmartTM, with this cool motto: Adios A La Presbicia – Goodbye to Presbyopia. The transition zone is designed to smoothly decrease optical vergence from the center to the periphery.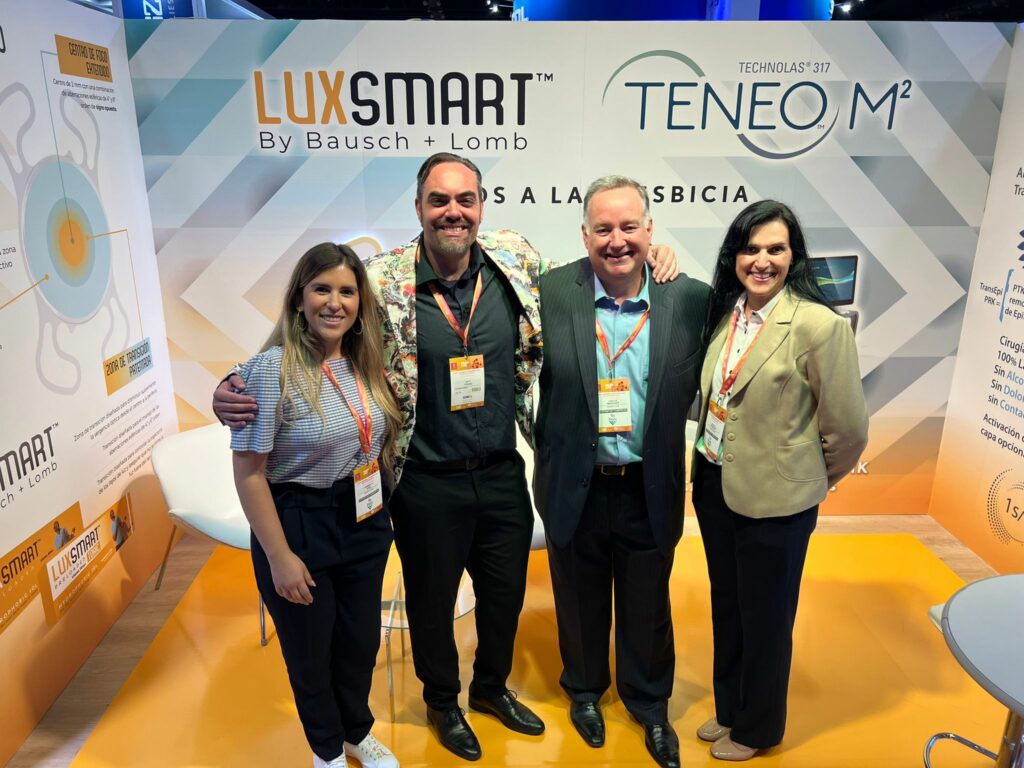 It was great to see Carlos Vargas, a product manager at Geuder, which is moving up in the world. Geuder now produces the megaTRON S4 HPS, which is a phaco/vitrectomy system for the anterior and posterior segments. And you thought Geuder was just a handheld instrument maker! No longer…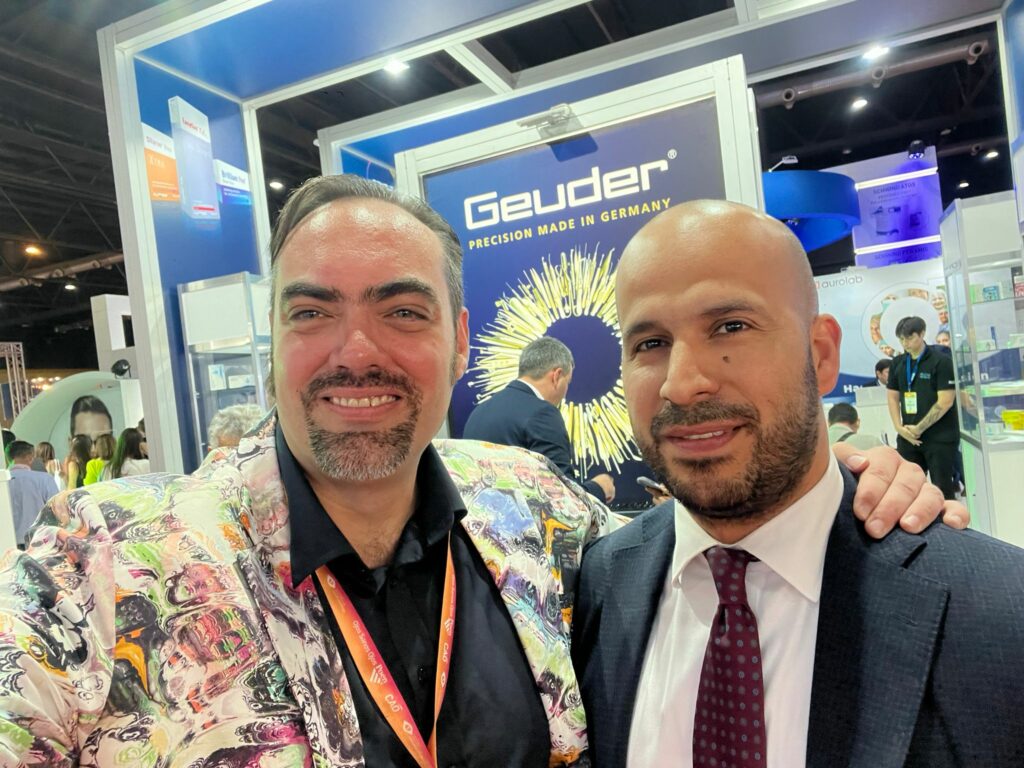 Our friends at Lumibird Medical, including Julien Tixier and Francois Checinski, were on hand and represented by Rosinov, which had the coolest spaceship-like booth. Lumibird, from what I can tell, has done a great job folding Quantel Medical and Ellex under the same umbrella group and is clearly continuing to go places worldwide.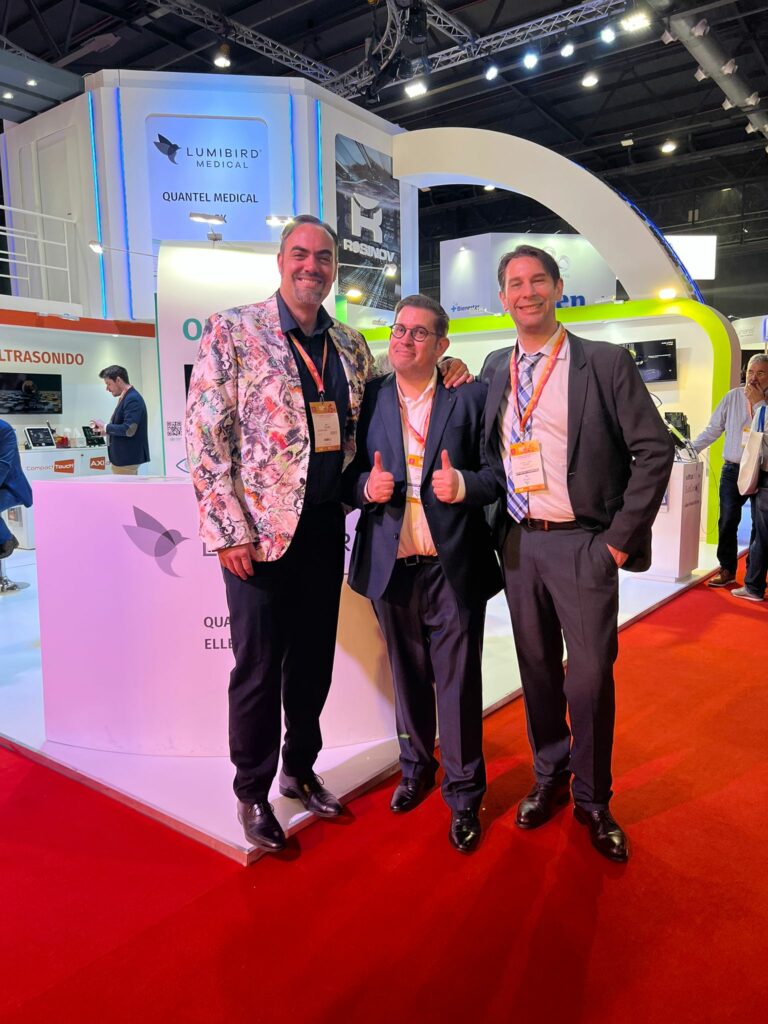 Teresa Cavalinhos Filho, Yvette Viscuso, Rick Soto and Eugene VanArsdale
Teresa Cavalinhos Filho was one of the few friends we saw who came over directly to PAAO from Winter ESCRS in Portugal. She's had her hands full promoting Ophtec's new logo, launched at Winter ESCRS, which looks fantastic in purple.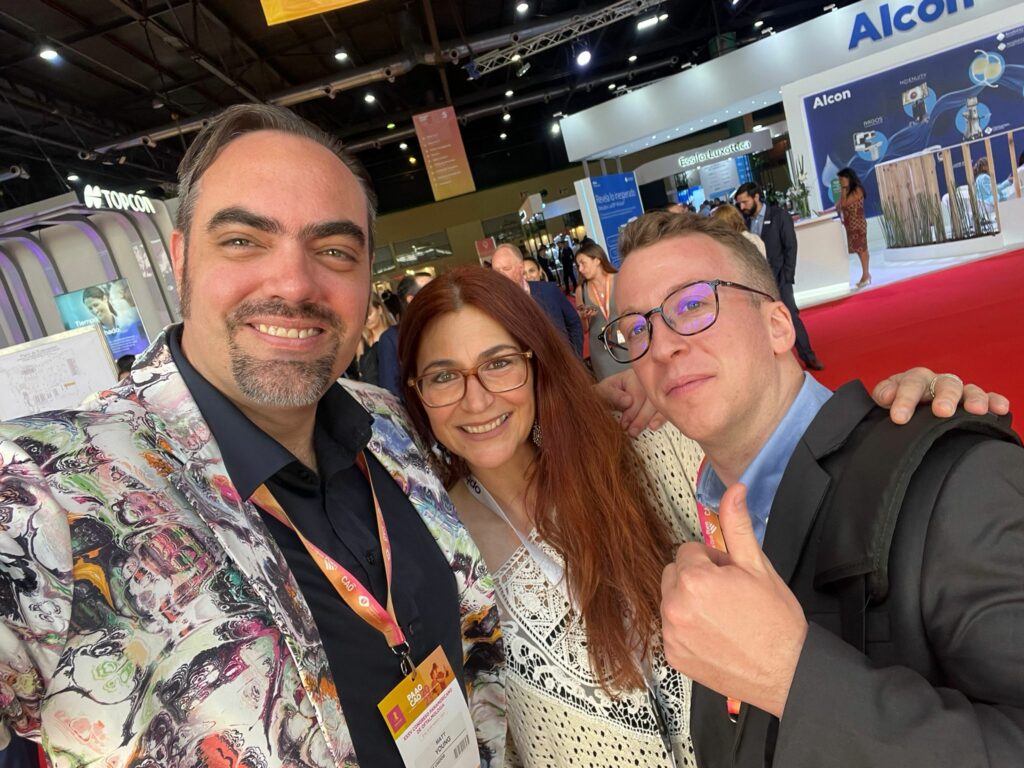 Yvette Viscuso, head of Peschke Trade, was getting into mischief once again, not with yours truly, but regaled to yours truly. She had just gotten to the conference when it started pouring in Buenos Aires, the rain hitting the roof as if it were hail. Yvette always brings with her a certain kind of luck – I won't say what type. Just kidding, she's an absolute great friend since we met long ago at yet another Winter ESCRS in Istanbul, and travels the world supporting the company's novel cross-linking procedure.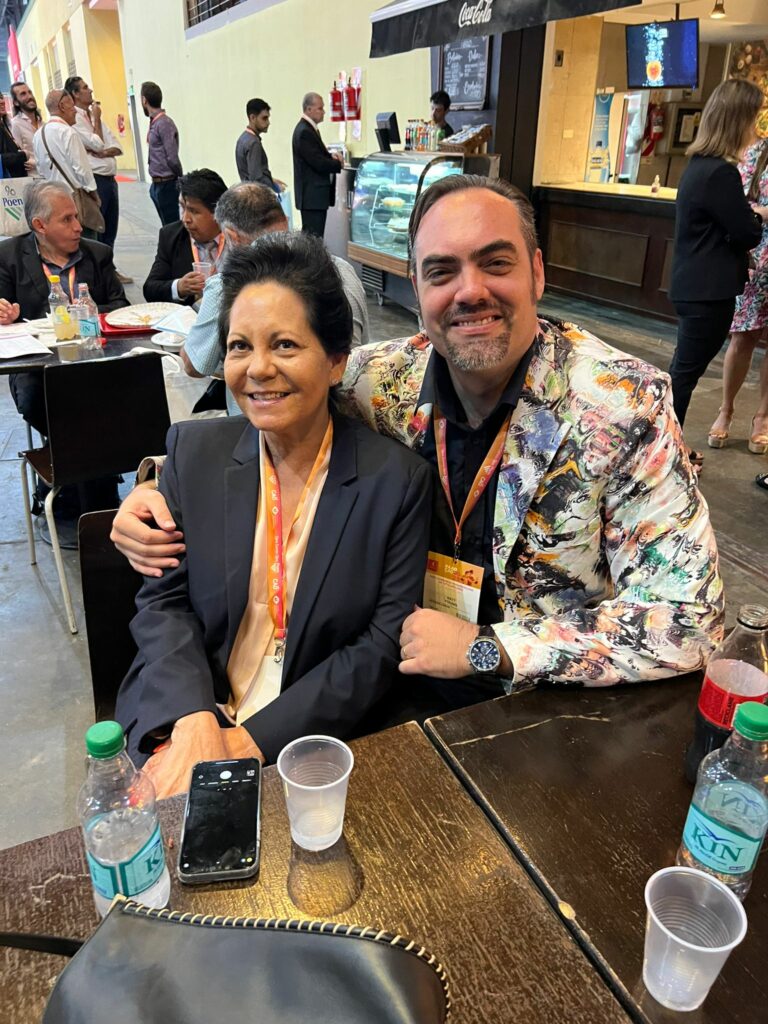 Rick Soto now represents Corza Medical, which is an interesting company in the space as it has been acquiring or partnering with many other familiar industry names like Katena and Vortex Surgical.
Eugene VanArsdale – Gino – is just one of the greatest guys in the field I have had the honor to know. Now Vice President of Business and Channel Management at Keeler Americas, Gino said it best to end PAAO 2023: "Last day for #paao2023 and thank you doctors for all the wonderful conversations our team had with you. Clearly, #Keeler's vision is making a difference in the lives of people around the world. It makes me proud to hear from our customers the difference we make in the lives of their patients. To our partners, your industry expertise, hospitality, and friendship ensure we deliver the best possible solution to your home market. Thank you."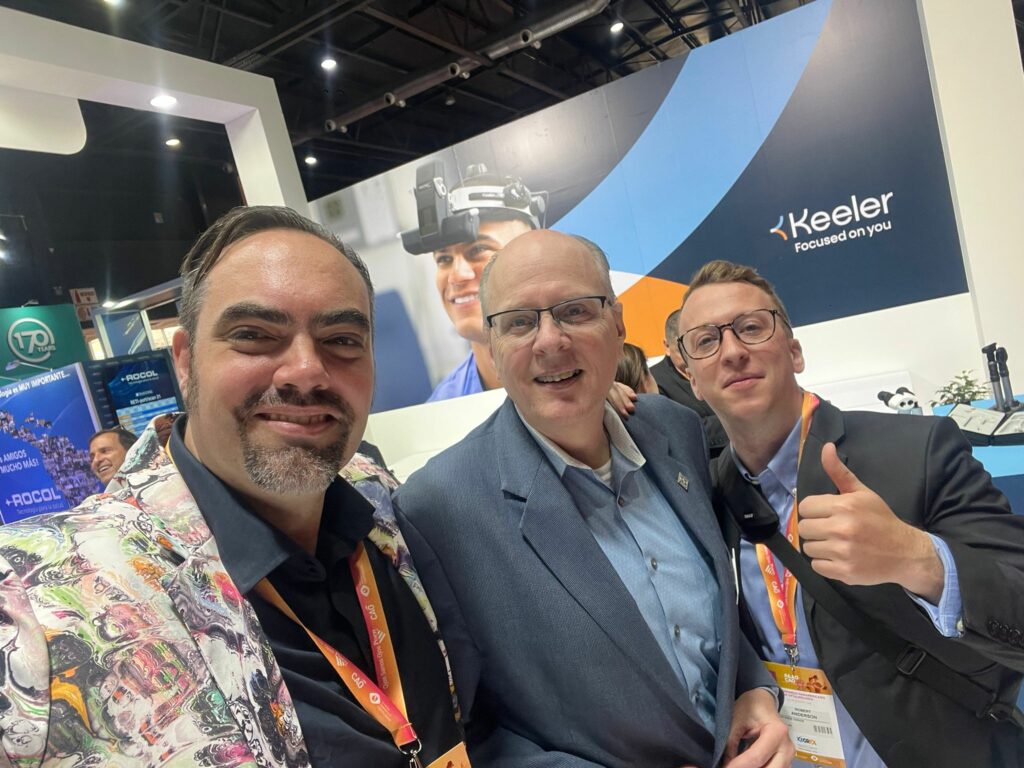 'Nuff said.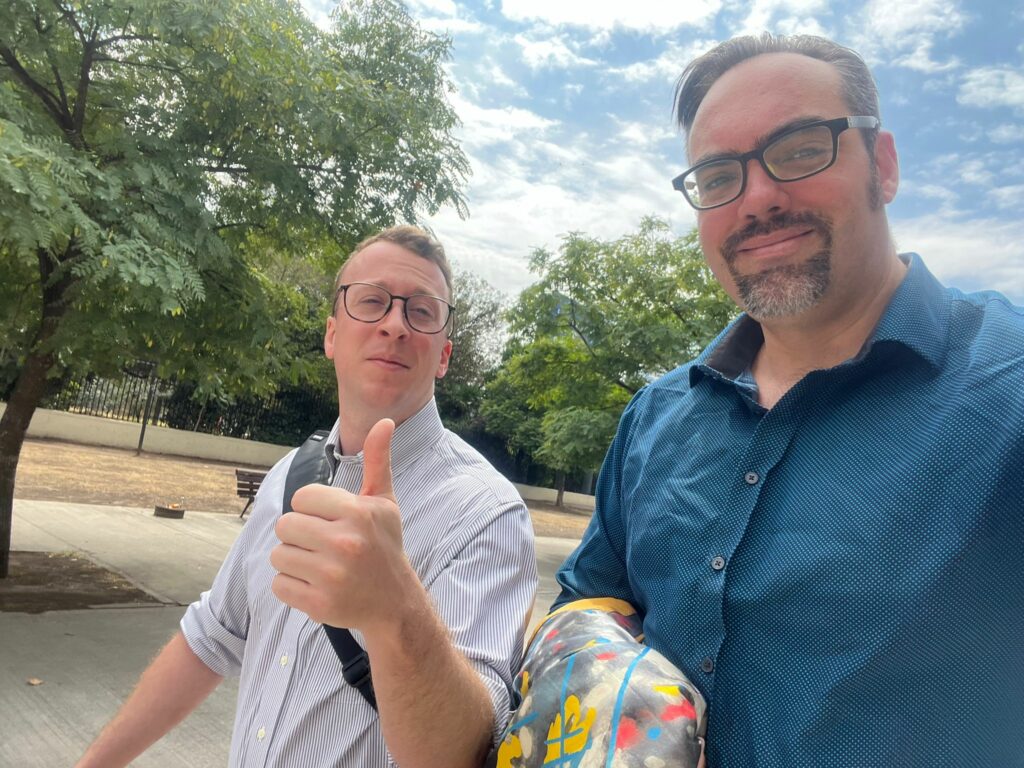 Let's walk toward the future, and see you at the next show!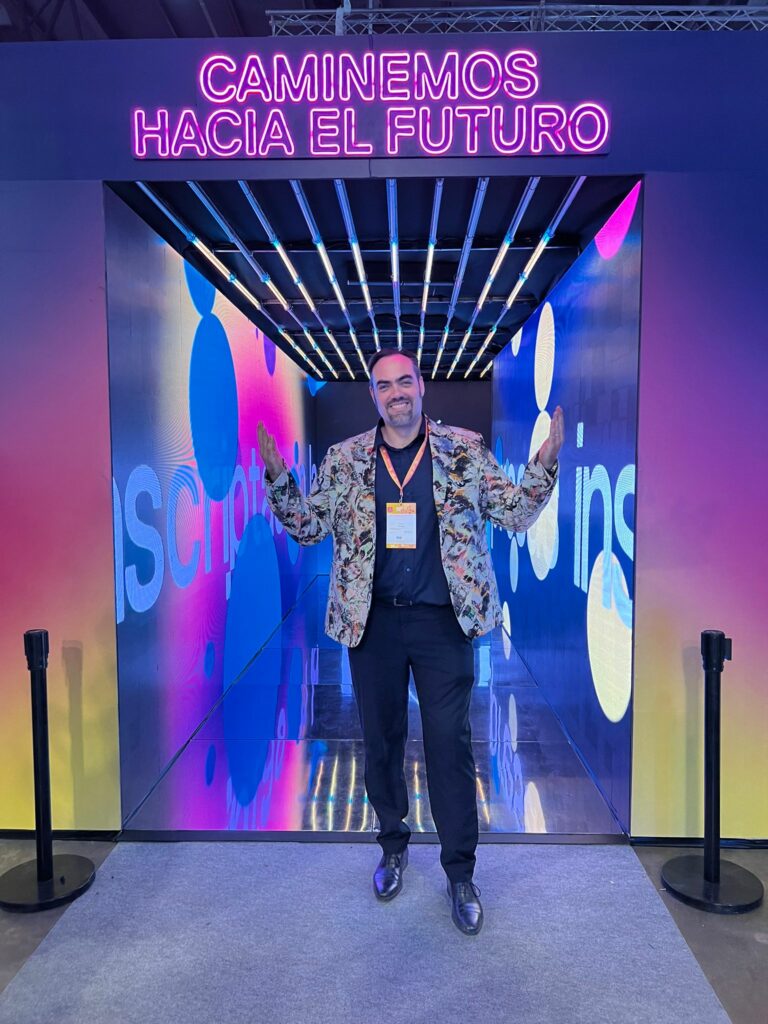 P. S.